January is the perfect time for some coloring printables such as my Martin Luther King Jr Day Color By Number.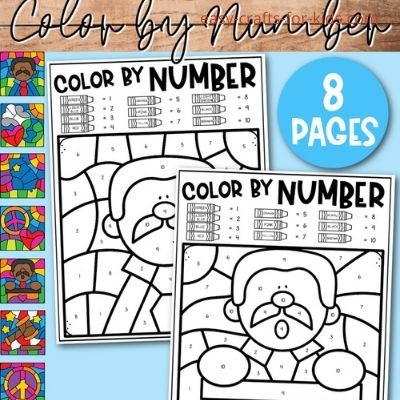 I love featuring seasonal crafts and printables for all year round and one of my favorites for January is these brilliant Martin Luther King Jr Day coloring pages.
They of course can be used at any time of the year but I would recommend them for the third Monday of January, around his Birthday time which was mid January ;15th to be exact. In 2022 it was celebrated on 17th January and in 2023 it will be the 26th of January.
I love color by number for several reasons:-
It teaches number recognition and is therefore great for preschool as well as older kids. It also helps kids learn color names. This particular Martin Luther King Jr printable is probably better for older kids, however my pirate color by number is perfect for 3 and 4 year olds.
Great for developing fine motor skills, which in turn will help their child when they start writing numbers and letters. I really wish I had done more of these with my son before he started school.
They are educational, for example this one gets kids asking about Martin Luther King Jr. Of course he has won a Noble Peace Prize for his work on racial equality for all.
What is included in my Martin Luther King Jr Coloring Page Set
This easy color by number set includes 8 different pages to color. The color you use is written on the crayon beside each number. My 6 year old can read the colors but my 5 year old cannot so I color the crayons in for him. This will help him learn the names of the colors too.
You can see what each coloring page looks like when it is completed below.
Make sure your child colors in each number correctly. It does actually take a great deal of concentration to get it right.
Which page is your favorite? I like the ones of the great man himself, but I also love the dove with the heart.
Before you go remember to print your free PDF printable:-
Do you like this Martin Luther King Jr Day Color By Number?