If you have kids that are kitty cat mad they will love making this cute cat pop up card which can be used to send greetings at various times of the year. These homemade cat cards come with a free printable template to make things super duper easy for little kids to make!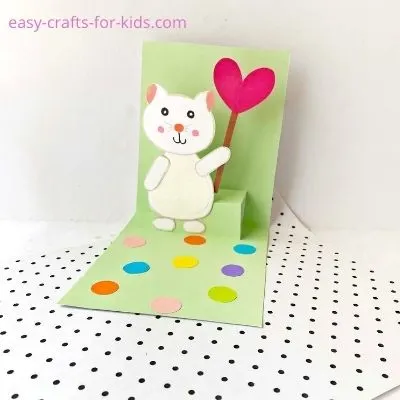 DIY Cat Birthday Card
Making your own pop up cards is great! After all little kids all love making cards for friends and family as they cannot physically go into a shop and buy them.
It is a more personal to send a homemade card to someone than one you bought in a shop. My pop up cat card craft can be sent to anyone who loves cats. You can also use some of my cat coloring pages for the front of a card. Just color in and then stick onto some cardstock!
I think it would make a great greeting card for Valentine's Day, Mother's Day, a Birthday or even a get well soon card. You can ask the child to personalize it with whichever message they wish.
Before you start crafting you might want to check out my other DIY Pop Up Cards for more inspiration.
Below you can find my cat pop up card instructions with images to help you.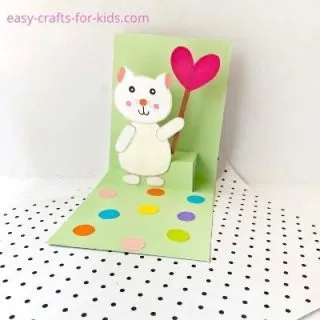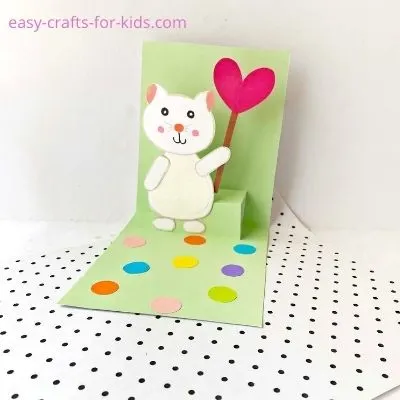 Cat Pop Up Card Craft for Kids
This cute cat pop up card craft is the perfect paper craft for kids who want to make a greeting card for various times of the year.
Materials
Cardstock paper.
Craft papers.
Pencil.
Ruler.
Scissors.
Glue.
Marker Pens.
Instructions
Step 1:
Gather the supplies and print out the templates.

Cut out the pieces to make the cat from the PDF template.
Step 2:
Glue the cat's ears to the head, and then glue the belly to the body.
Step 3:
Join the head to the body using glue.
Step 4:
Glue the cat's paws.
Step 5:
Glue the nose onto the face.
Step 6:
Draw the mouth, eyes and whiskers using marker pens.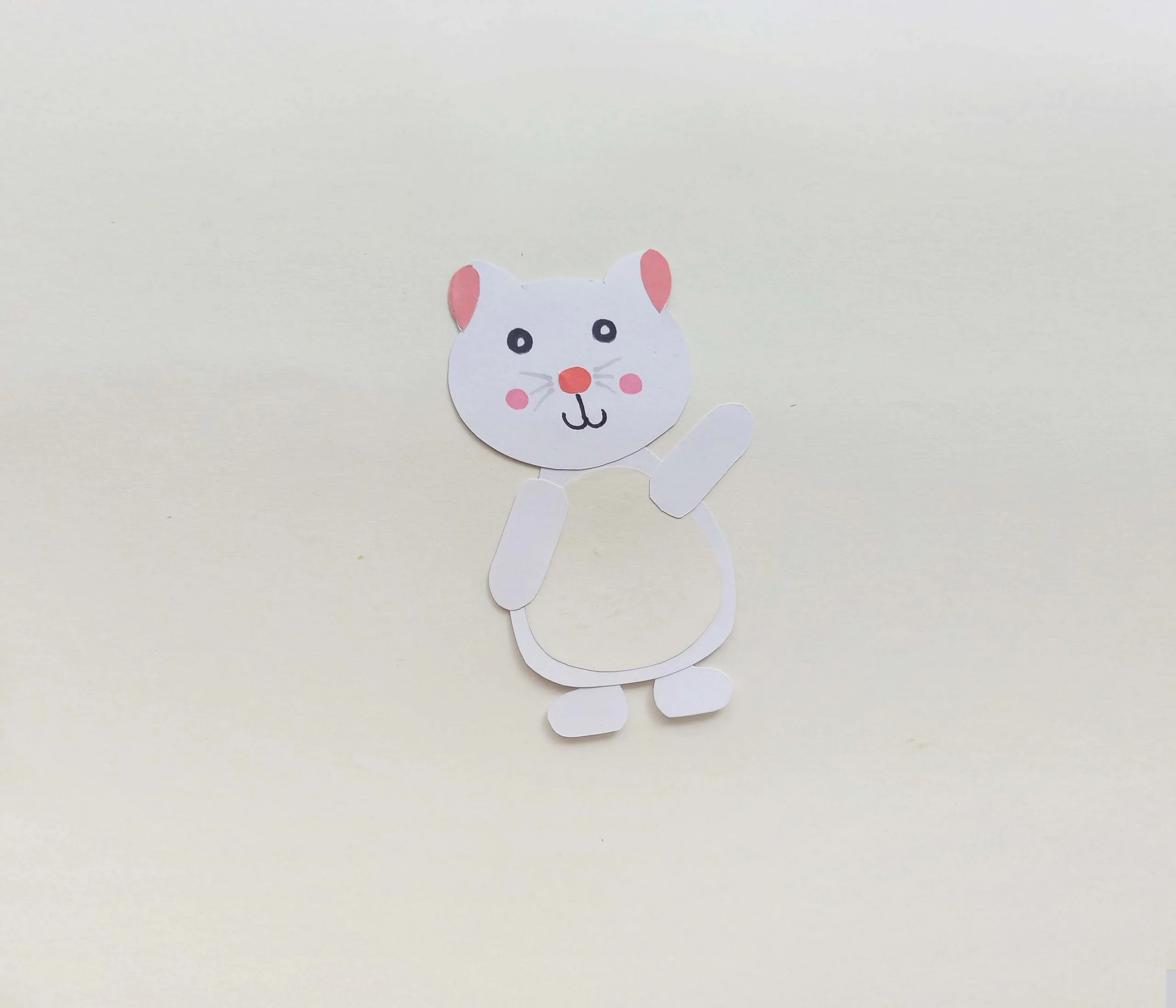 Step 7:
Prepare your card.
Step 8:
Cut two vertical lines on the closed side of the card using the "card template".
Step 9:
Put the cut-out part inside the card.
Step 10:
Open up the card.
Step 11:
Cut out a cover for your card.
Step 12:
Glue the cover over the card.
Step 13:
Cut out the heart balloon and the paper strip from the PDF template.
Step 14:
Glue the heart on top of the strip.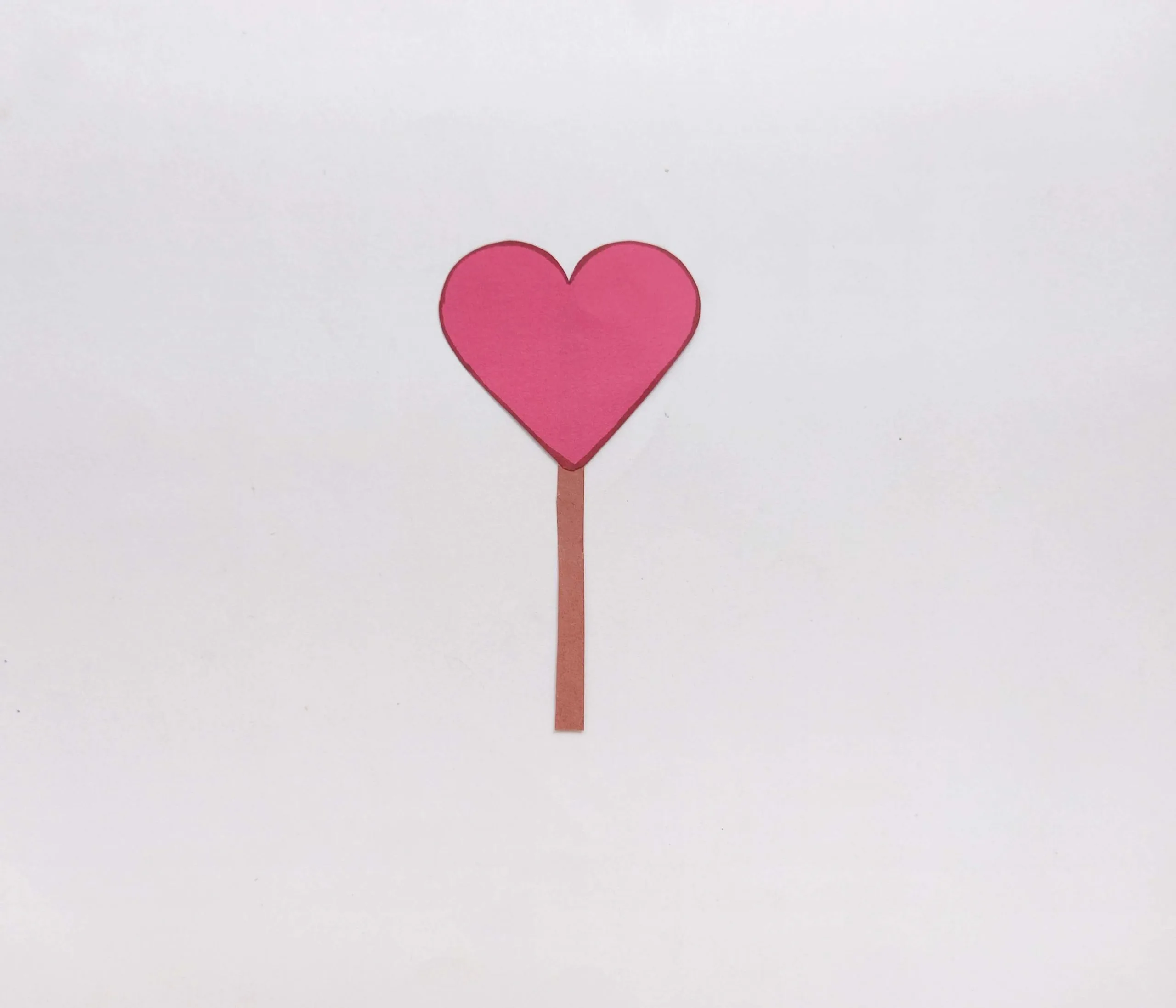 Step 15:
Glue the cat on the pop socket of the card.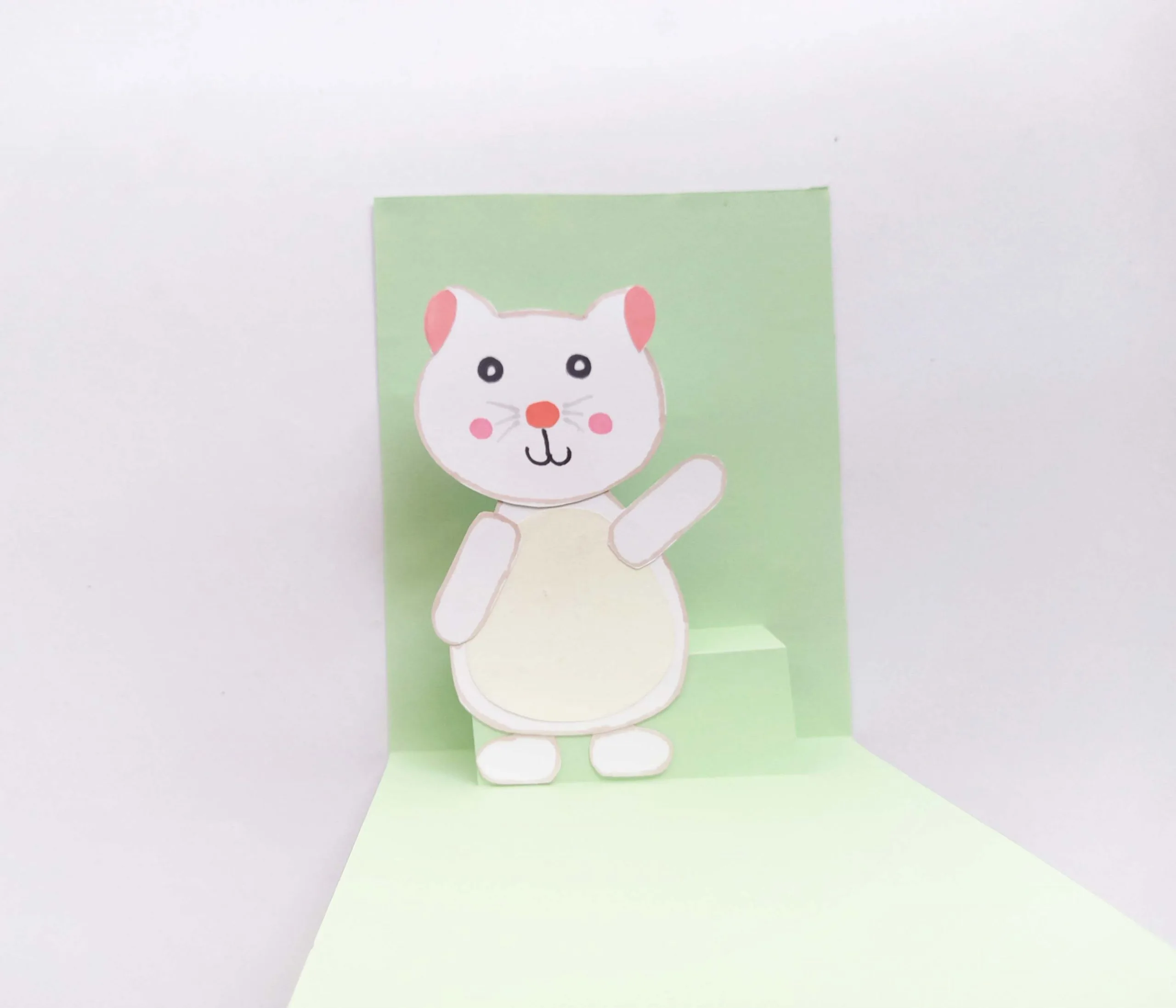 Step 16:
Glue the heart balloon on the cat's hand/paw.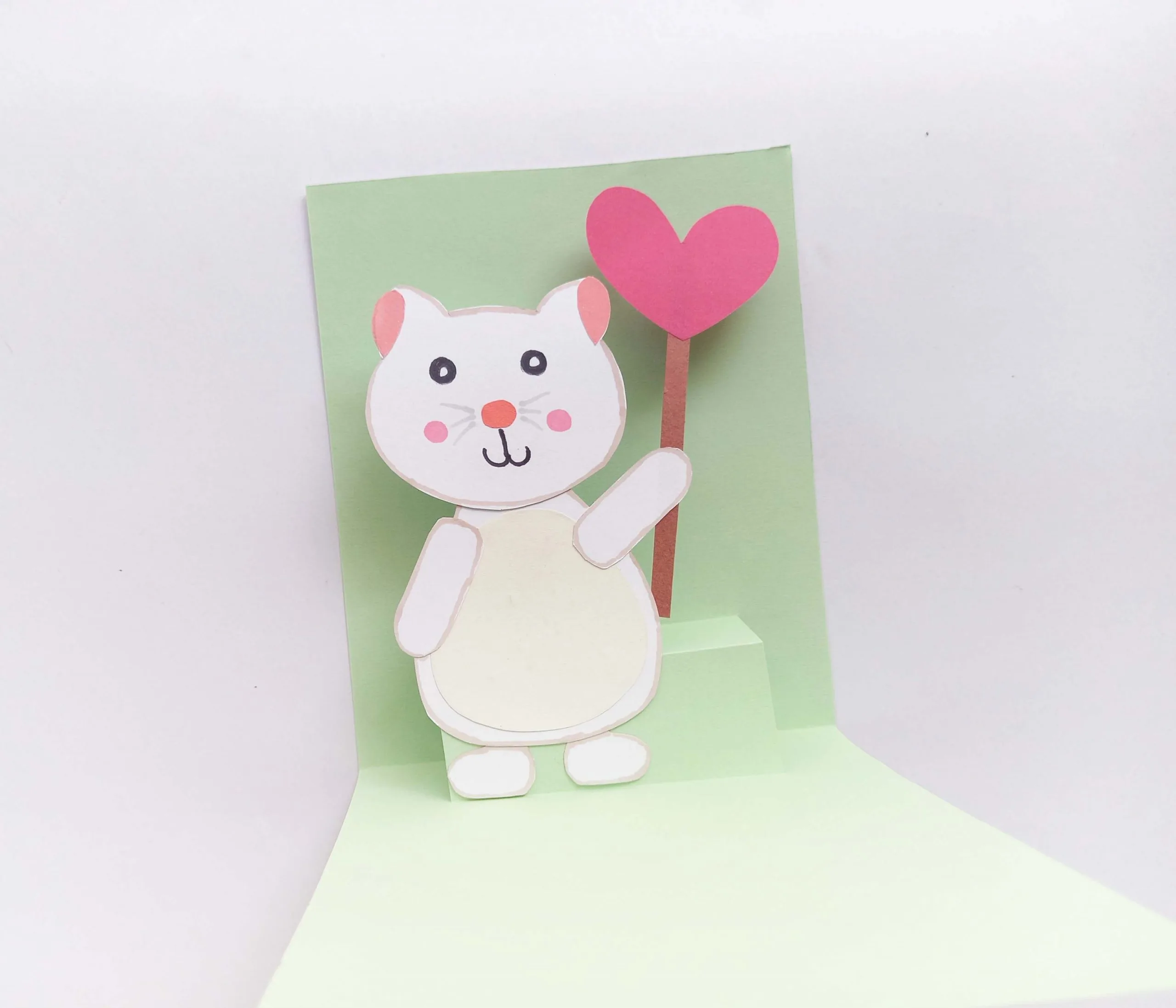 Step 17:
Cut out the colourful paper circles from the template.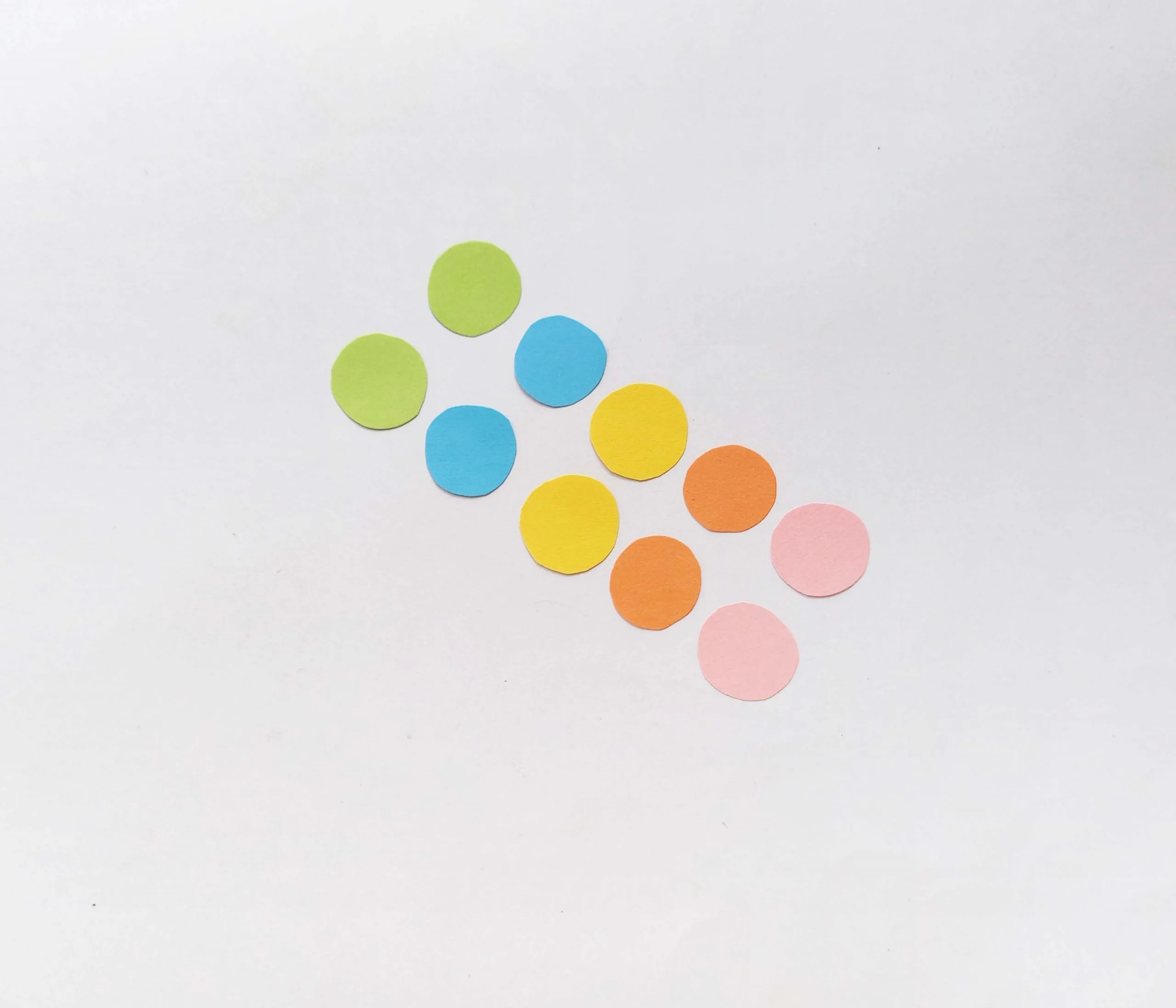 Step 18:
Glue them on the card to finish decorating.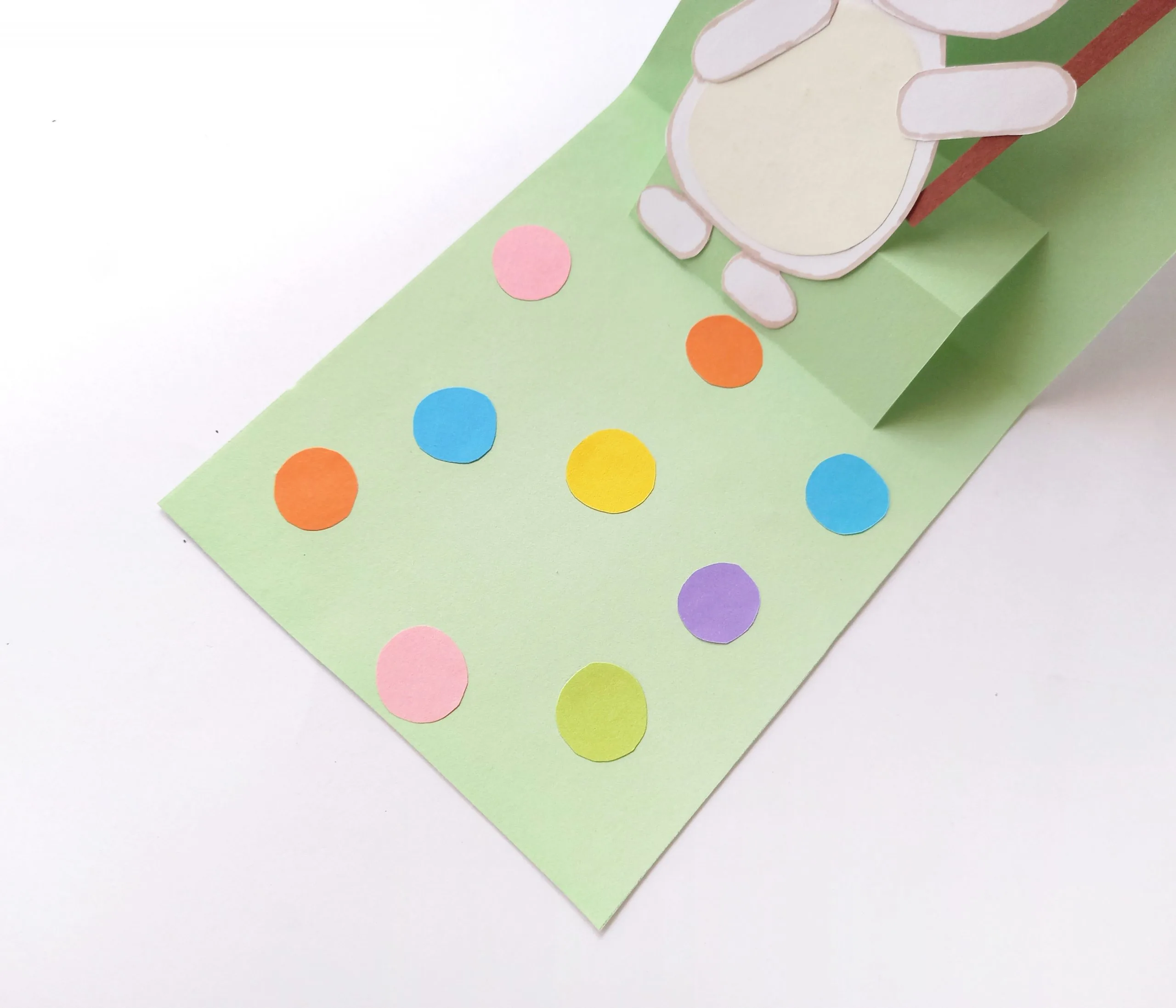 You can change the color of the cat and color of the card if you wish. Maybe you might want to use black for the cat if you are making one for Halloween. Guess what I did just that and make a black cat Halloween card
My easy cat crafts can provide lots of ideas for other kitty cats for kids.
Please print my free templates to help you complete this craft:-
Do you like this Cat Pop Up Card Craft?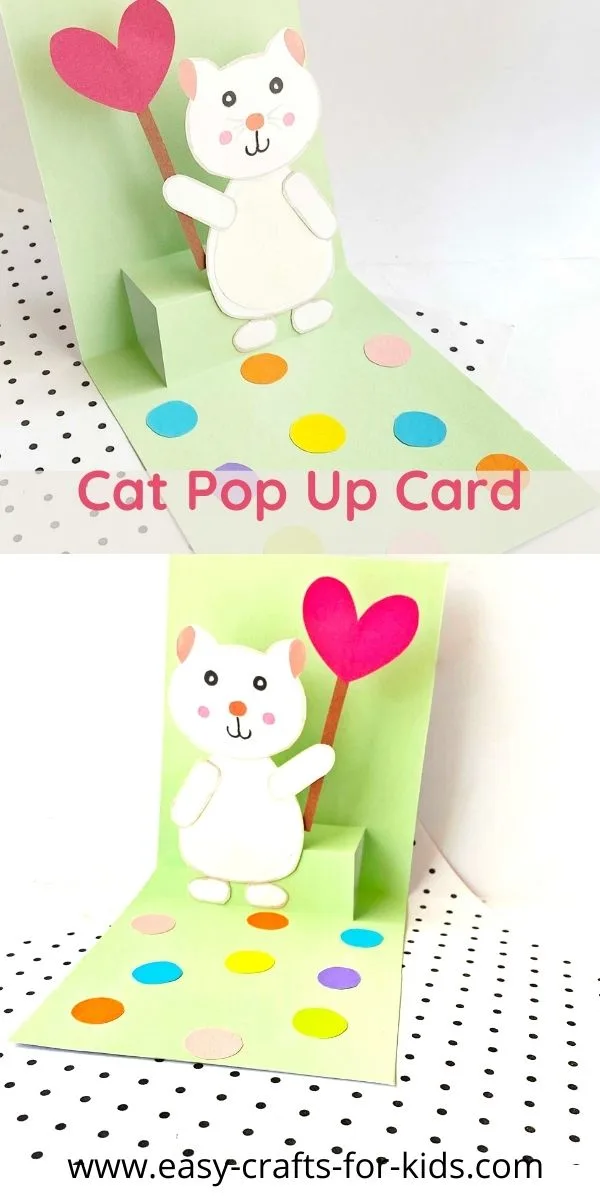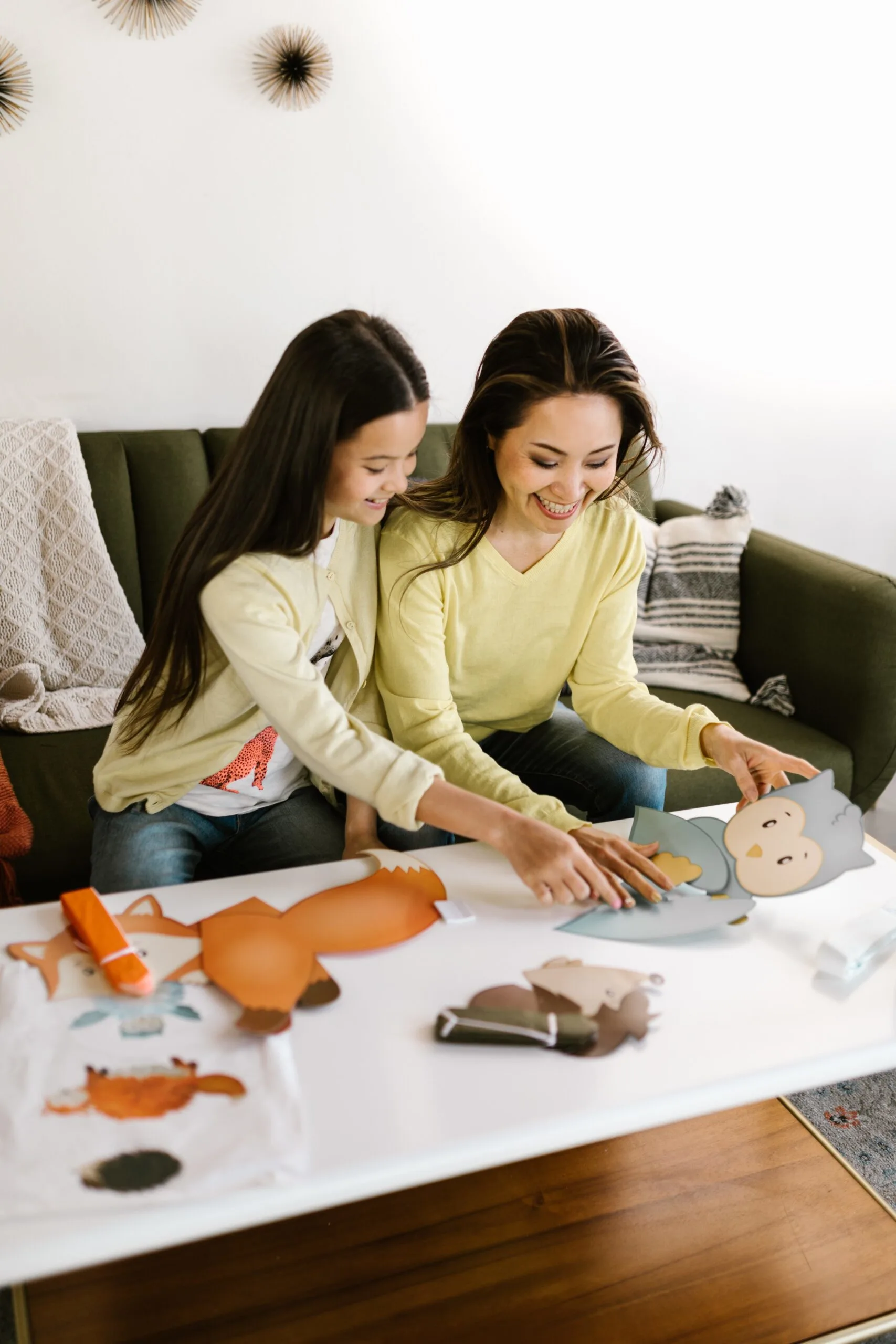 Hi there, I'm Laura an avid kids crafter with two little ones of my own to keep entertained! I have been doing kids crafts since 2018! Here at Easy Crafts for Kids you can find seasonal crafts for all age groups, as well as drawing tutorials, coloring pages and some other fun printables!