My large selection of printable coloring pages for kids are a must have to keep little ones amused while Mumma grabs a hot coffee.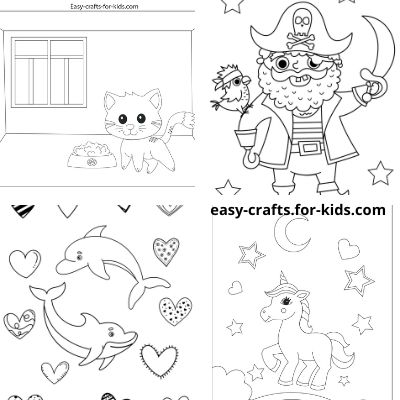 I have lots of free coloring pages already on my site and I thought it would be a good idea to have a post where they can all be stored together.
You can find them under my kids printables section, where they are mixed in with word search puzzles, color by numbers as well as educational worksheets.
Here you will be able to find seasonal 2022 coloring pages to print as well as different themed ideas. I do plan on adding hundreds more to my collection soon but as you can imagine this all takes time!
Benefits of Free Printable Coloring Pages for Kids
I have a list of benefits of crafting and I thought it would also be important to list a number of advantages of coloring pages also.
Promote Relaxation and Self Soothing
Coloring pages are a great way to engage the brain and mind. My little girl tends to get nervous and anxious and these definitely help alleviate some of that. While she is coloring she can put all her thoughts into completing her picture. It is self-soothing for her without a doubt.
I really do need a separate post again on coloring pages for girls so that I can keep her favorites altogether.
Promote Creativity
Coloring helps stimulate imagination and promote creativity. Ask children what is going on in the picture they are coloring in. They can make up a story about it. This is a good opportunity to increase vocabulary and improve speech and language as well.
Improve Fine Motor Skills
Coloring in between the lines is a great way to improve hand eye coordination and fine motor skills. Using pencils also helps kids with writing numbers and letters. Use early coloring as an opportunity to encourage correct pencil holding. This will make it easier for little kids when they go to school and start writing letters and numbers.
Educational
Use these free printable coloring pages for kids for learning. A good example is my zoo animal coloring pages whereby children can learn the names of the animals they can find in the zoo. You can also teach them the names of the animals young and the sorts of habitats they prefer to live in as well as their dietary needs.
Below you can find my list of free printable coloring pages
Printable Coloring Pages for Kids
These printable coloring pages for kids provide lots of free fun as well as being beneficial for fine motor skills and learning. Choose from animals to gnomes and cards to color!
How I use my Free Coloring in Pages
You can use these for lots of things. They are great for keeping kids busy for 15 minutes if you want to grab a hot drink or while you are waiting for food in a restaurant. You can also use them while traveling.
I always print off my copies in advance and remember to put a few in my handbag if we are going out for an afternoon. My kids love running around and burning off energy but when they get tired they complain they are bored. Bingo, out come my printable coloring pages.
Sometimes I use mine as decor; especially the seasonal coloring pages. You may find these attached together as a garland or simply stuck to the wall.
You can also stick them onto the front of some cardstock and you have your own handmade card!
Best of all these are free and you can print as many copies as you like.
If you want to see a specific theme here please let me know. I will eventually get around to compiling a bigger collection but I can prioritise the most requested.
Which of these Printable Coloring Pages for Kids is your Favorite?