Kitchen, brace for impact with these fun kids food crafts, especially this adorable walnut mouse craft. Though these are not edible, it is always fun to play with food.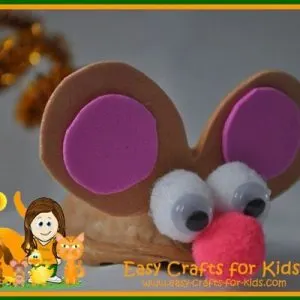 There are so many foods in the kitchen that can be used to make fun and cute crafts.
A lot of these foods won't really go bad if you want to keep the craft as a keepsake, or give it as a gift.
For example, nuts – like walnuts, won't get mouldy or gross… sure they aren't edible after a while, but can keep as a craft for a long time.
We've thought up a cute way to turn a walnut into an adorable little mouse friend.
Kids Food Crafts: Walnut Mouse Craft
This walnut mouse craft ends up being almost the same size as a real mouse. We've made ours very whimsical and cute, but if you make it more realistic maybe you can even cause a scare for your family or friends!
Be careful when trying to break the walnuts to make two halves. It is very common to break one half of it. A tip is to bake them at 350 degrees for 15-20 minutes and after they are cooled they may be easier to break in half.
Craft Supplies:
Walnuts shells (halved)
Pipe cleaner
Pom poms
Googly eyes
Craft foam (pink and brown)
Glue
Scissors
Step #1:
First we will create the ears of our kids food crafts walnut mouse.
Grab your pink and brown craft foam. Cut two circles out of the pink, and two (attached) circles out of the brown.
Glue the pink circles into the center of the brown ones. Put this aside until we are ready to glue everything together.
Step #2:
Take a pipecleaner (color of your choice) and twirl it around your finder to make a spiral.
This will be our mouse tail. Set it aside with the ears until we are ready to glue everything together.
Step #3:
Glue together two white pompoms, and one pink one. These will be our eyes and noise. Glue a googly eye onto each of the white pom poms.
Set this aside with our ears and tail.
Step #4:
Now, we are ready to glue everything together. If adult supervision is available a hot glue gun will speed up this part.
Glue the eyes/nose onto the ears.
Step #5:
Take your twirled pipe cleaner tail and glue it to the flat end of your walnut half.
Step #6
Glue the face to the pointed end of the walnut. Make sure the nose rests just past the point.
These kids food crafts can make a fun activity to do around the holidays. I know we always have nuts around Christmas time… if there's a few to spare why not make a cute walnut mouse as a gift for a family member or friend!
They may not be yummy but this walnut mouse craft is a ton of fun – and they don't spoil.
Print This Craft & Many More – Crafty Critters: Crafts to Go!"
We've made our site "to go"! No internet? No problem, we've got 100 crafts to go in a downloadable ebook!
Our best crafts, formatted for perfect one page printing or easy reading on a tablet.
Learn more & get your copy today! Crafty Critters: Crafts to Go
More Easy Crafts Like This One:
Here's a few more crafts with the walnut theme. Who said walnuts were just for eating!
Walnut Jackolantern: Turn some of those walnuts into miniature jackolanterns for Halloween.
Walnut Bumble Bee: Another fun use for a walnut.
We have also got some other fun ideas for crafts made with food!
Easy Crafts for Kids is social too! Be sure to join us and keep up to date on what the Crafty Critters are up to:
Do you like this Walnut Mouse Craft?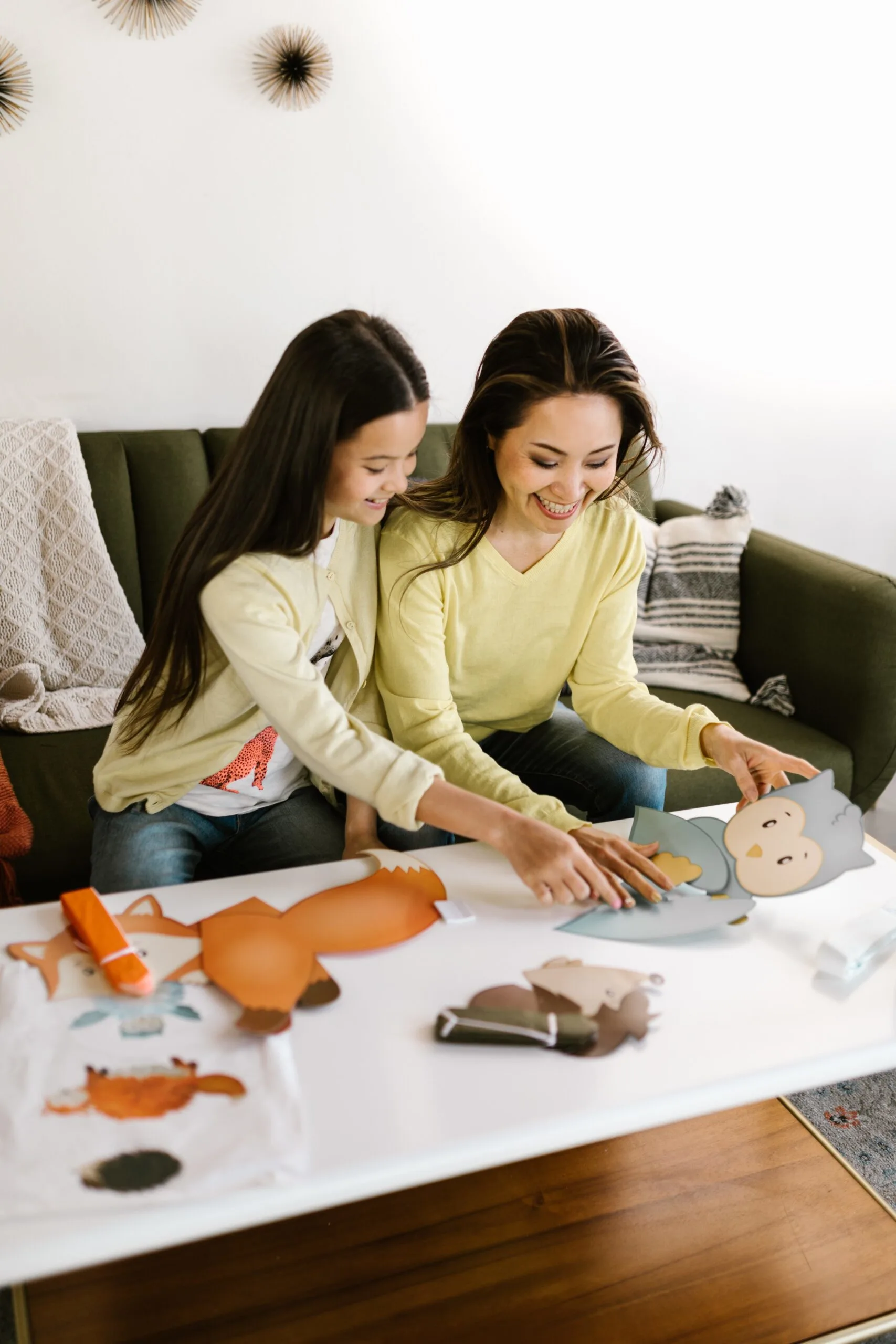 Hi there, I'm Laura an avid kids crafter with two little ones of my own to keep entertained! I have been doing kids crafts since 2018! Here at Easy Crafts for Kids you can find seasonal crafts for all age groups, as well as drawing tutorials, coloring pages and some other fun printables!