During Spring my children and I love to do themed animal crafts! One of our best is this clothespin butterfly craft! Learn how to make this clothes pin butterfly with my free printable craft procedure!
At the start of every season I always brainstorm a list of new craft ideas for my kids to make! As they are getting older now we can do much more than toilet paper roll and paper plate crafts.
Clothespins make great craft materials and I have bought a bunch of these to make as many new things as possible.
Easy butterfly crafts will keep kids busy this Springtime as we count down to warmer days with longer evenings.
My step by step clothes pin butterfly craft for kids will show you how to make this pretty Spring craft for kids.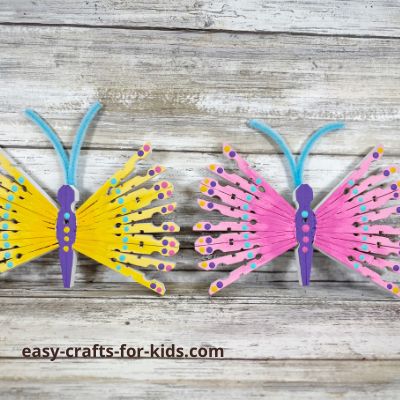 Clothespin Butterfly Craft for Kids
This clothespin butterfly craft for kids will make you make these pretty pastel colored butterflies using my free craft tutorial.
Materials
Clothespins, Wooden Spring-Style – Dollar Store
Acrylic Craft Paint – White, Two Shades of Pink, Two Shades of Yellow, Blue, Purple
Chenille Stem, Blue – Dollar Store
Glue Gun and Glue Sticks
Paintbrush
Scissors
Instructions
STEP ONE

Gather all supplies. Full size wooden clothespins can be found in the laundry section of the Dollar Store. Remove the metal spring from 11 full size wooden clothespins for each Butterfly. Mum needs to do this bit!

For each Butterfly, attach five clothespins together flat side to flat side with a glue gun and glue sticks. Leave the other six clothespins as two separate pieces.

TIP: You can use liquid craft glue for this project, but you will have to wait for it to dry. Younger kids who want a more hands on approach with this craft and less help from Mummy may prefer using liquid glue.

STEP TWO

Use one of the full clothespins for the Butterfly body. Line up each wing as follows on your work surface: half, half, full, half, half, full, half, half. Attach the wings together evenly at the base with a glue gun and glue sticks. Using the photo as your guide.
Glue the wings to the right and left side of the Butterfly body, using the photo as your guide. Hold the first wing in place until the glue completely sets, and then attach the second wing. Repeat the above steps to complete the second Butterfly.

STEP THREE

Paint the front and all sides of both clothespin Butterflies with white acrylic craft paint. Set aside to dry and apply a second coat, if necessary. Kids of all ages can do the painting.
STEP FOUR

Paint the Butterfly bodies with purple acrylic craft paint with a paintbrush. Set aside to dry.
Apply the lightest shade of pink and yellow acrylic craft paint to the Butterfly wings with a paintbrush. Set aside to dry.

Paint the inside of the Butterfly wings closest to the body with the darker shade of pink and yellow acrylic craft paint, feathering the edges in to blend the colors. Set aside to dry.
STEP FIVE

Embellish the Butterfly body with polka dots in blue, and the darker shade of pink and yellow acrylic craft paint by dipping the end of a paint brush in paint and dotting on the surface.

Repeat this polka dot accent on the Butterfly wings in blue, purple, and the darker shade of pink and yellow acrylic craft paint.

STEP SIX

Cut a 12" blue pipe cleaner stem in half with scissors, and then bend each piece in half.
Attach to the top back of each Butterfly with a glue gun and glue sticks as the antennae.
Notes
You can use whichever colors you wish for this butterfly craft! Why not make lots in different colors and pin them to your wall for some pretty Spring decor.

My little girl wants to make lots of these and gift them to her school buddies! Honestly these would make a great party favor or they would even be a great craft activity at a Birthday party.
You could attach lots of these together and make a garland or you could use them to display place names at a table.
If you have any spare materials you may wish to hold onto them until Winter time and then you can make a Clothespin snowflake
Keep your kids in the Spring form with my cute Butterfly printable coloring pages
If you want to make more Spring crafts then you can try my pipe cleaner butterfly
Older kids might want to try and make my Origami butterfly. This has step by step instructions and images to help you. I would rate it as medium difficulty and reckon it is suitable for children older than 8 or 9.
Will you make this Butterfly Clothespin Craft?
Hi there, I'm Laura an avid kids crafter with two little ones of my own to keep entertained! I have been doing kids crafts since 2018! Here at Easy Crafts for Kids you can find seasonal crafts for all age groups, as well as drawing tutorials, coloring pages and some other fun printables!