During December my kids and I like to make all sorts of Christmas crafts including this Clothespin Snowflake Christmas tree ornament.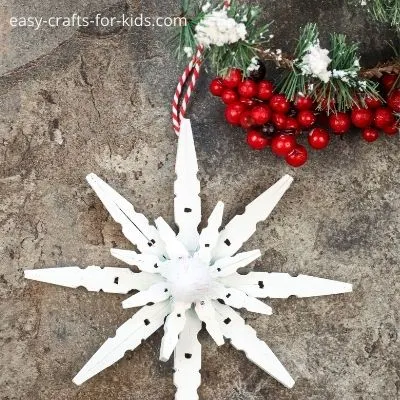 My kids and I love making snowflake crafts all during the Winter months! My children just adore snow but we only get it a few times a year.
Making snowman crafts and snowflakes crafts puts the fun back into Winter for my kids in the absence of snow.
You can make them from a variety of materials including paper, paper plates, cups and of course clothespins! Keep some extra and make my clothespin Ballerina Christmas ornament for your tree!
What does this Peg Snowflake Ornament Craft Include
A list of materials and where to find them
An easy craft procedure with carefully laid out steps and pictures to illustrate
Variations of the craft, i.e change up the color of the snowflakes if you prefer from white to blue. In fact, you can make them rainbow color if you desire
Please find my step by step clothespin snowflake ornament craft procedure below with images to guide you. It involves stacking some clothespins!
Little kids will be able to complete this with Mum or Dad's help! Watch their delight when it comes the time to hang it on the Christmas tree!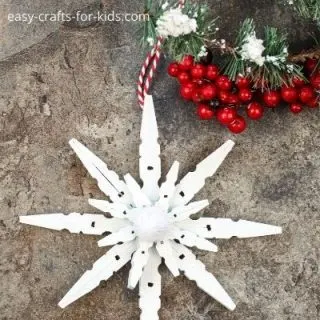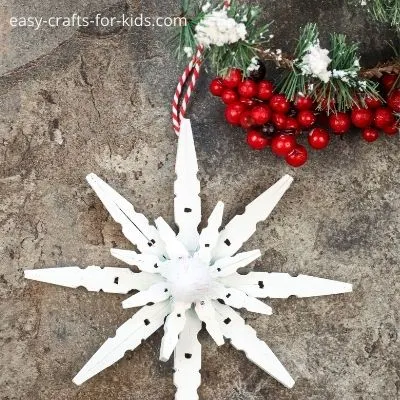 Clothespin Snowflake Christmas Tree Ornament
This clothespin snowflake Christmas tree ornament is perfect Winter craft for children who loves snow.
Materials
Standard size wooden clothespins (You can find them on Amazon, at Walmart, etc.)
Mini size wooden clothespins (You can find them on Amazon, at Walmart, etc.)
White paint
Foam brush
Small pom pom (optional)
Ruler
Scissors
Craft glue or hot glue gun
Ribbon or twine to hang the ornament
Instructions
Step 1

Remove the metal springs from 8 of the large and 8 of the small clothespins. Afterwards they should look as below.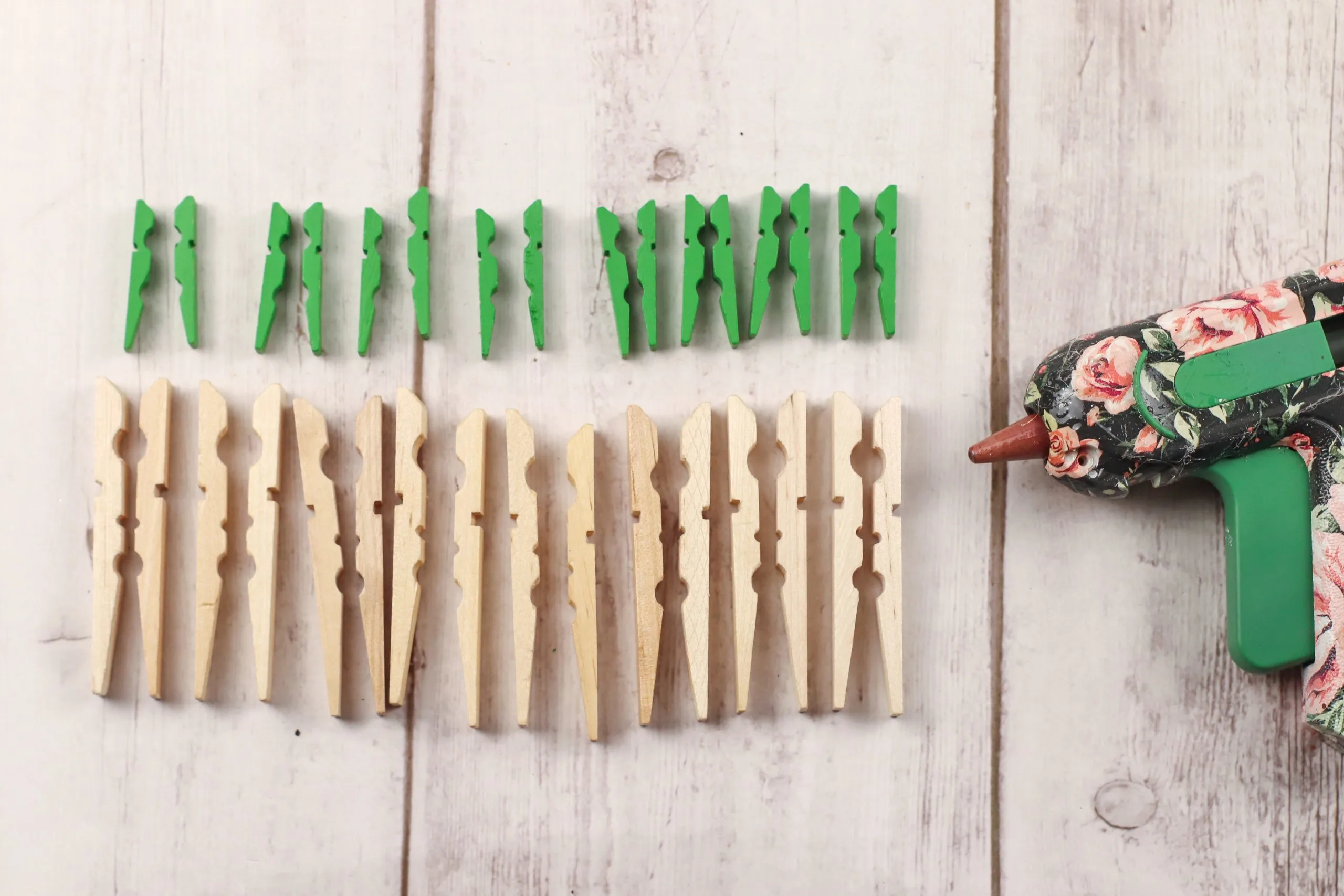 Step 2

Using the craft glue or the hot glue gun, attach two of the wooden pieces of the clothespin, flat sides together.

When connected, they will resemble or human figure as shown below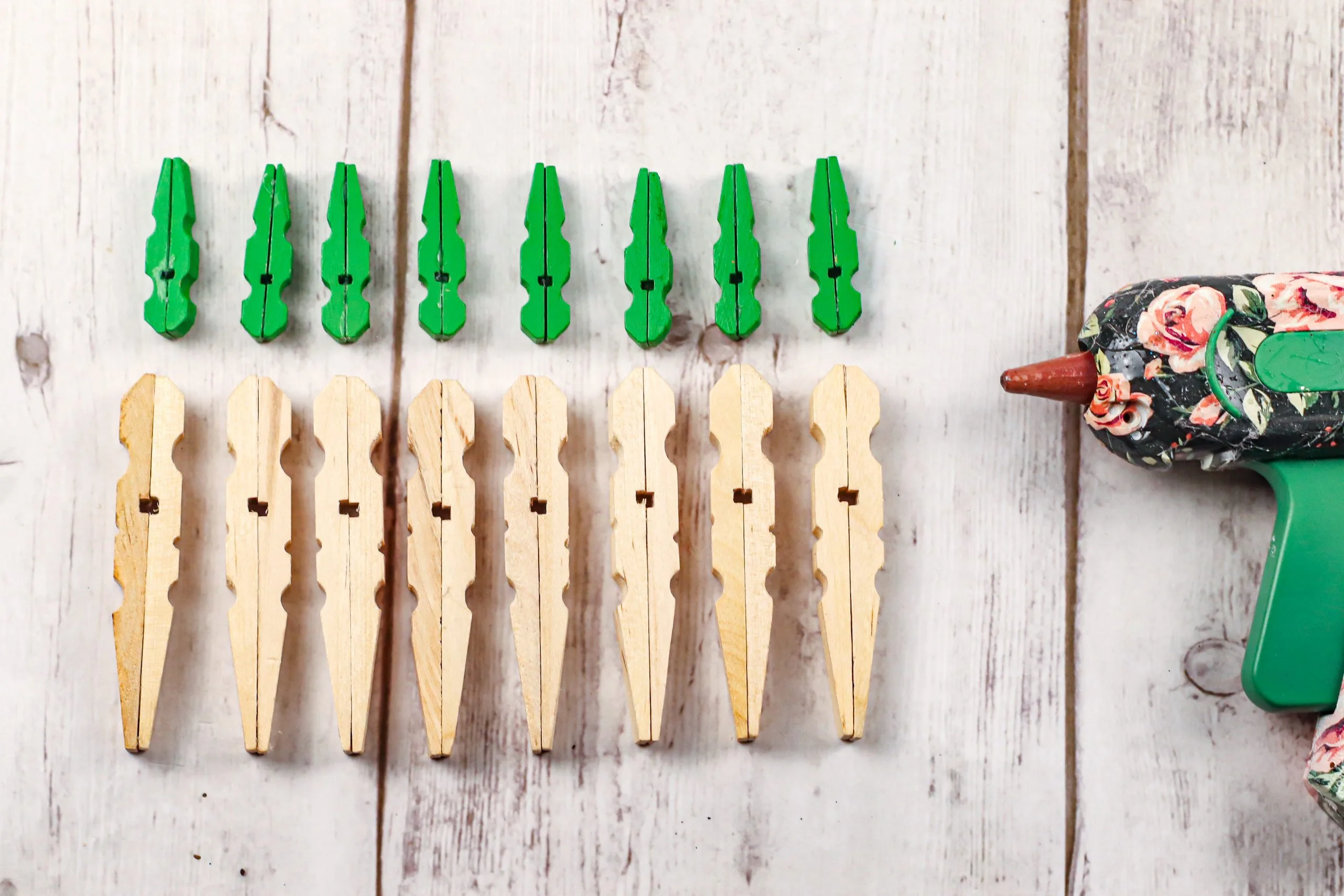 Repeat with the remaining clothespins, large and small.

Step 3

Take two of the larger connected pieces (I am going to call them "The Arms") and form a right angle and using the craft glue or the hot glue gun, attach them together.

Step 4

Now, using the craft glue or the hot glue gun, attach the two sections together so they form a "+" (see picture below)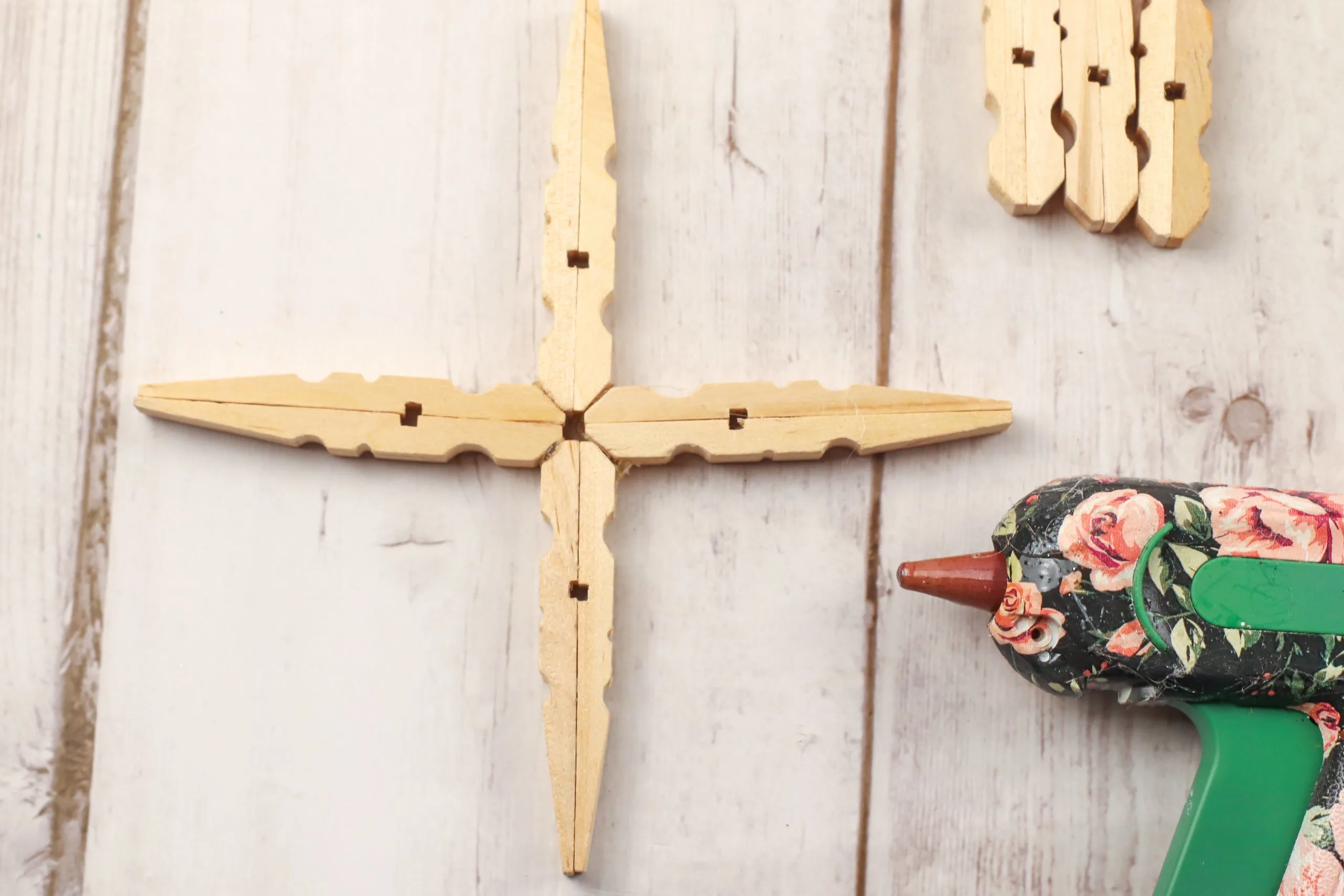 Steps 5-6

Next, take the remaining 4 "Arms" and using the craft glue or the hot glue gun, attach each of the 4 "Arms" into each "V", forming a large snowflake as shown.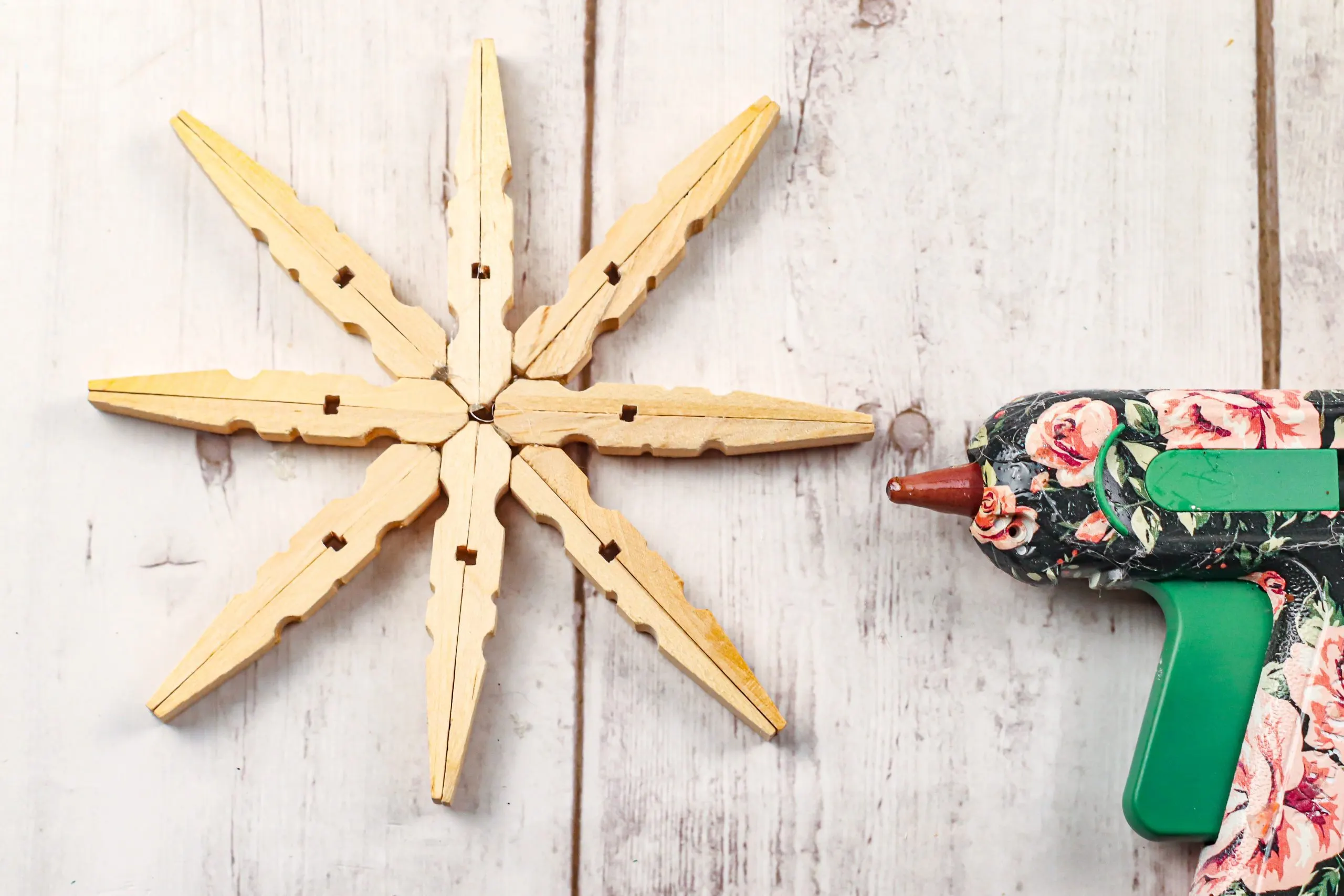 Step 7

Repeat Steps 3-5 for the smaller clothespin pieces, making a smaller snowflake. Position the smaller snowflake on top of the larger one, rotating it so the tips of the "Arms" intersect with the "V" of the larger snowflake (see photo)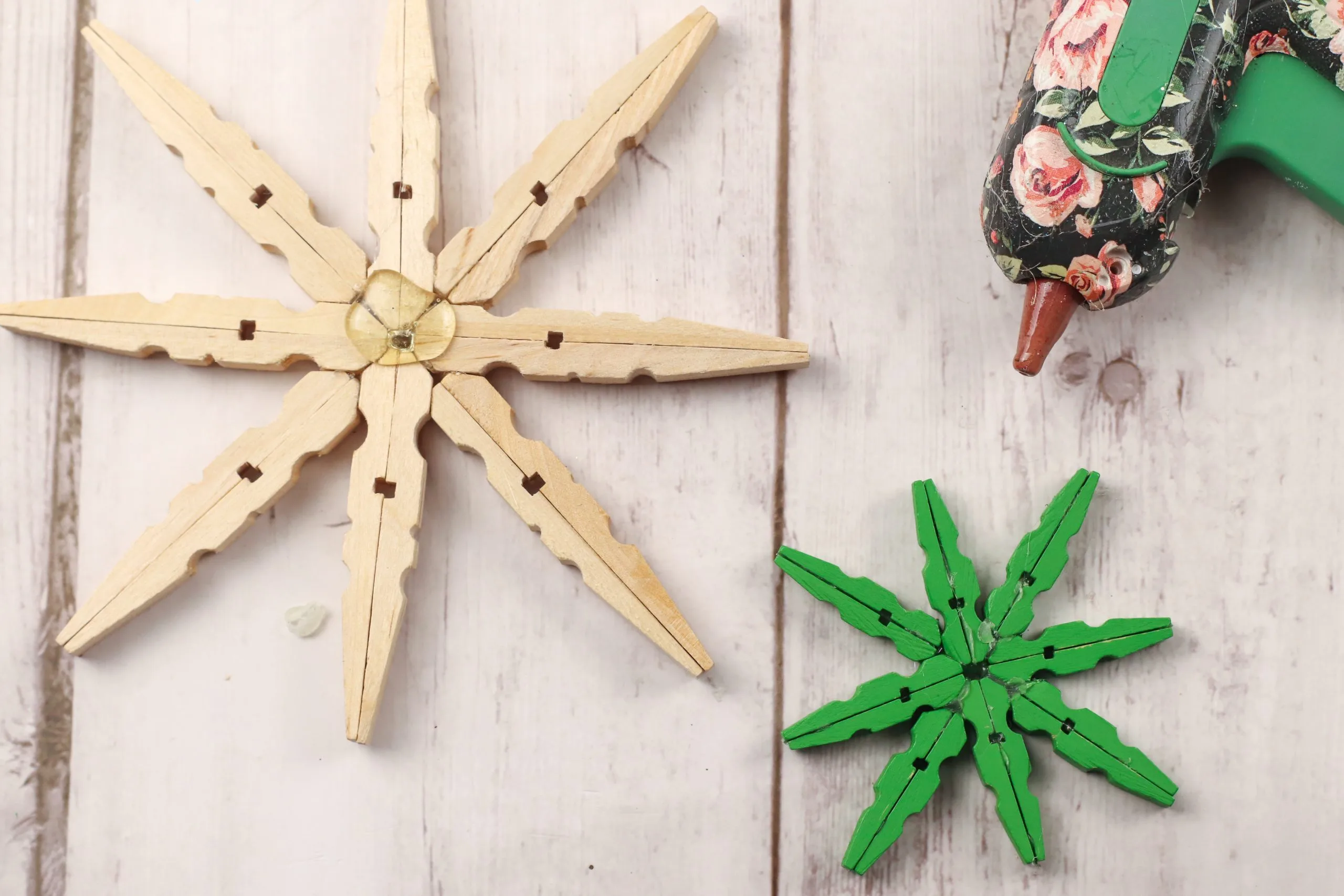 Using the craft glue or the hot glue gun, attach the smaller snowflake onto the larger snowflake.

Step 8

If desired, using the craft glue or glue gun, attach your pom pom to the middle of the snowflake.

You can paint the clothespins white if you desire, or different colors.

Cut a 6" length of ribbon or twine, form a loop and using the craft glue or glue gun, attach to the top of the back side of the craft stick.

Allow to dry completely before hanging.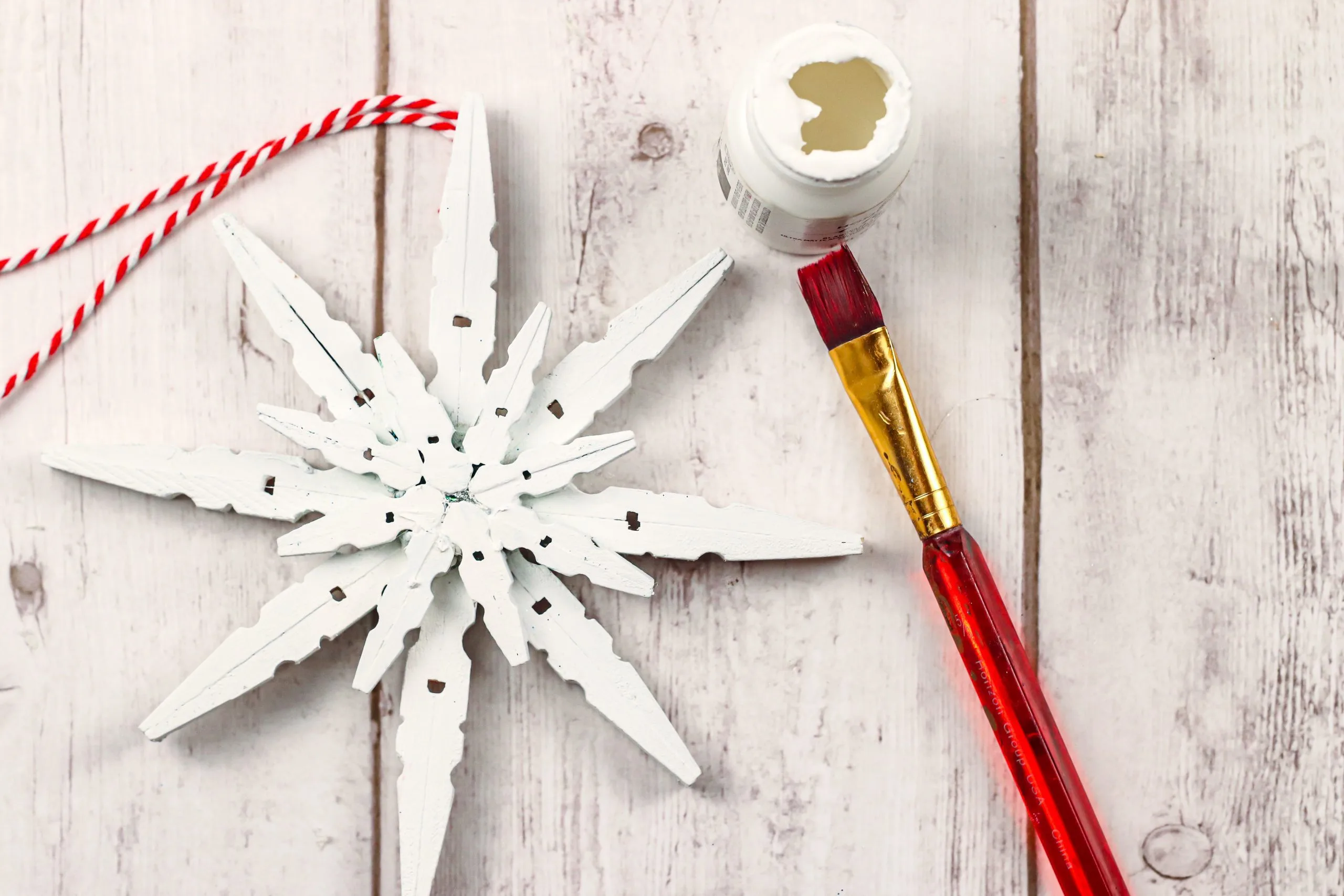 This snowflake ornament craft does not have to be kept for Christmas. It can be stuck to windows or draped over your mantelpiece at any point during the Winter months.
Will you keep your snowflakes white? Personally I love light blue colored snowflakes also. You could paint the clothespins this color instead of white for some variation. Has anyone else got any Clothespin Snowflakes crafts to share with me and my readers?!
Want to make more? Then why not try my Q Tip snowflake craft
What other Christmas crafts with clothespins could you make?
If you love this peg snowflake craft you may want to dig out extra clothespins to make more Christmas stuff! Could you make a clothespin Christmas tree? This could easily be done if you could cut some of the clothespins to make them smaller.
You would just need to paint them green and display them as a triangle. You could use mini pom poms and silver/gold glitter to represent the Christmas tree lights and decorations.
A trickier Christmas clothespin craft would be a reindeer. I actually must go and have a browse and see if someone has attempted to do one of these! Can you think of any others?
Do you like this Clothespin Snowflake Christmas Tree Ornament?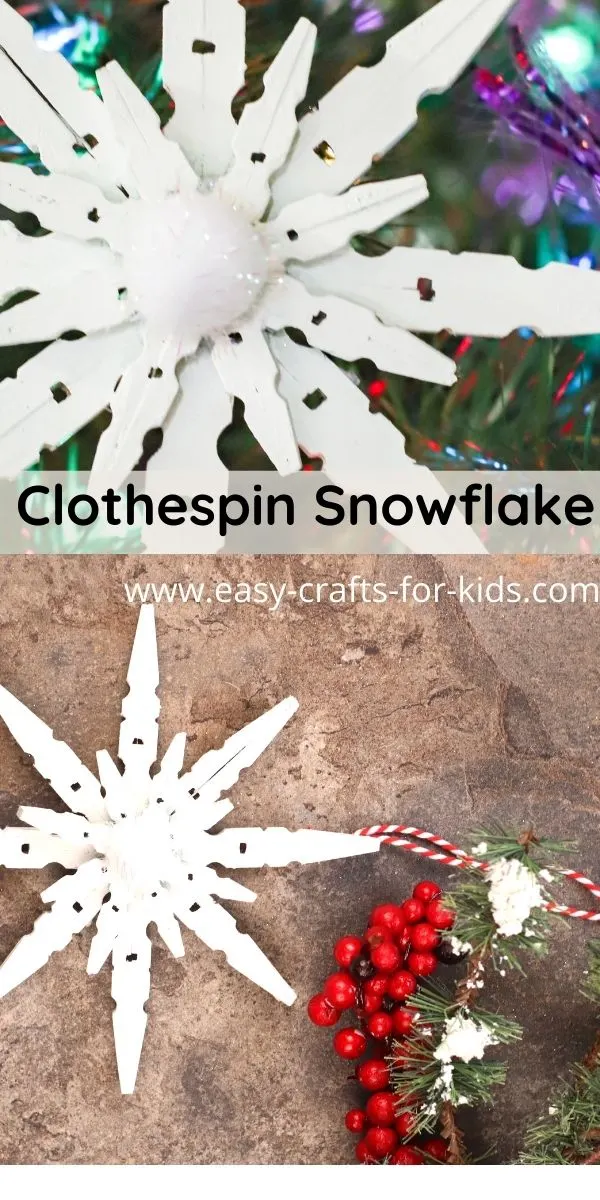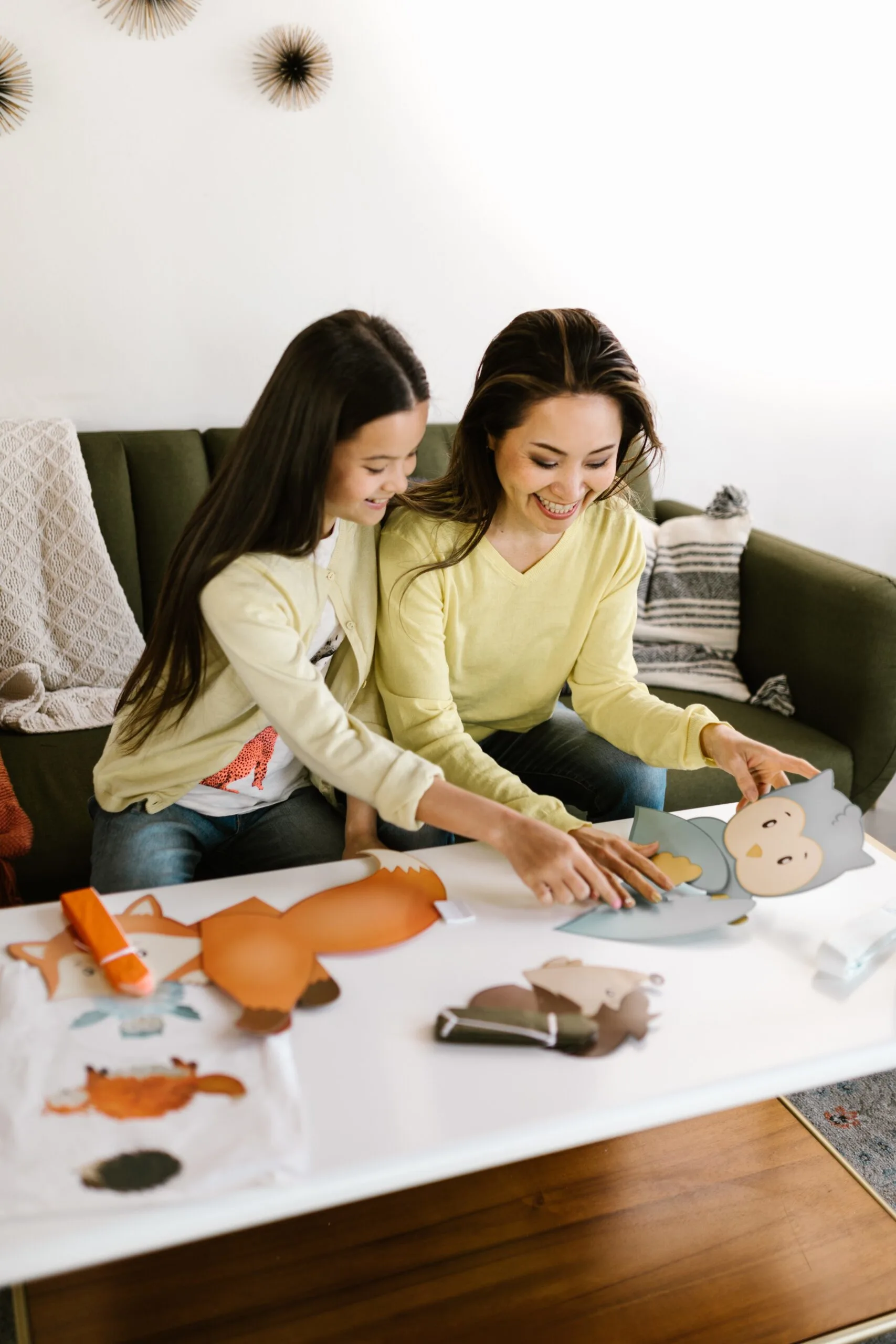 Hi there, I'm Laura an avid kids crafter with two little ones of my own to keep entertained! I have been doing kids crafts since 2018! Here at Easy Crafts for Kids you can find seasonal crafts for all age groups, as well as drawing tutorials, coloring pages and some other fun printables!