Create away with these spring crafts for kids. Spring is the rainiest of the seasons – so these crafts will come in very handy to keep the boredom away until the rain stops!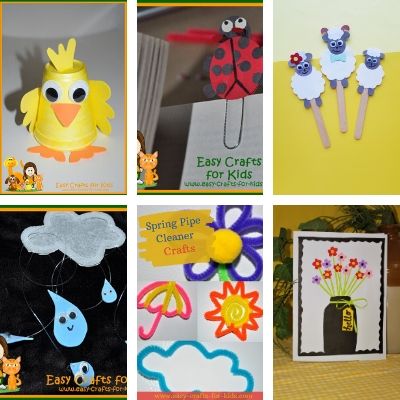 A lot of fun little creatures come out with the spring weather – and the trees and flowers start to bloom.
Spring is very pretty, always lots of new life starting, whether it be baby animals such as lambs, calves and chicks or new flowers in the garden.
The sun starts shining and the plants start growing. There are tons of spring craft ideas for kids below!
I am pretty sure these will keep you and your children busy for weeks on end! Use them an an opportunity to educate your children! There is a lesson to be learnt from every single one of them!
Spring Crafts for Kids
Find my best spring crafts for kids right here, whether you are looking for an animal craft or a flower craft I have them all right here!

Crafts with paper, pipe cleaners, pom poms, toilet rolls and much more to keep you all busy during the sometimes wet Spring months!

Need something for the preschoolers? Come see a few great spring crafts for preschoolers from our friend & preschool teacher Cheryl.
Craft away those rainy days with all of these – outside may be dreary and wet, but inside creativity will prevail!!
Keep up to date with all my newly released Spring crafts which I am adding to all the time!
Do you like these Spring Crafts for Kids?