With Halloween just around the corner my Valentine gnome puppets for kids will be the perfect craft activity for a Halloween party! This paper vampire puppet craft comes with free printable template and instructions.
Vampire crafts are hugely popular around Halloween time! I already have made a Toilet roll vampire/dracula which all the kids love!
Gnomes are also very loved by my followers and we have a Halloween gnome witch already present on my site! I thought I should add to my Halloween gnomes with this scary vampire puppet!
He can be used to give someone a fright or else for some scary story telling on Halloween night!
You can see my craft directions on how to make a vampire puppet below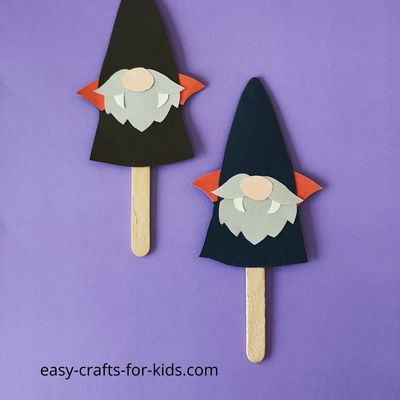 How to make Vampire Gnome Puppets
Find out how to make Vampire Gnome Puppets in time for Halloween. Paper vampire craft with free printable template and instructions.
Materials
• Colored craft papers
• Pencil – to trace the template
• Craft glue
• Sharpie or gel pen
• Popsicle sticks
Instructions
Step 1:

Select dark colored craft papers for the hat and cape patterns; select colored craft papers of your choice for the other patterns (moustache, beard, collar, fangs and nose).

Trace and cut out the patterns.
Step 2:

Attach the collar cutout on the collar part of the cape pattern.


Step 3:

Attach the fang cutouts along the bottom side of the moustache cutout.

Step 4:

Attach the moustache pattern along the top side of the beard cutout as shown below.


Step 5:

Attach the nose cutout on the top middle part of the moustache.

Step 6:

Attach the moustache-beard pattern to the hat cutout, along its bottom side. The head part of the gnome vampire is ready.


Step 7:

Attach the head pattern (hat-moustache-beard) on the top side of the cape pattern.

Step 8:

Select a popsicle stick and attach the paper vampire gnome to the popsicle stick to complete the Halloween puppet craft.








Can you think of any other vampire craft ideas you might like to see here on Easy Crafts for Kids? Perhaps you might like to try some of my easy Halloween crafts for kids this October.
Please print off my free Gnome Craft template to help you make a Vampire:-
Do you like these Vampire Gnome Puppets?
Hi there, I'm Laura an avid kids crafter with two little ones of my own to keep entertained! I have been doing kids crafts since 2018! Here at Easy Crafts for Kids you can find seasonal crafts for all age groups, as well as drawing tutorials, coloring pages and some other fun printables!