Best Halloween crafts for kids are all part of the halloween celebrations. Here are more crafts you can help kids create for the big day!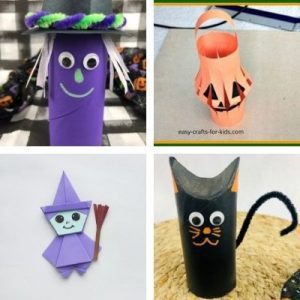 Halloween is an annual holiday celebrated on October 31st every year.
This holiday involved trick or treating, dressing up in costumes, carving jack-o-lanterns, playing pranks, getting scared and much more.
The crafty possibilities are endless, and these are just a few of the ones I've came across when I was a kid.
You can make spooky or scary versions of the crafts. You can do this by making sharp teeth, scary eyes, and evil grins, etc. Or go with cutesy Halloween characters with big goofy eyes, smiles, etc.
I have tons of these and have actually separate pages for the most popular ones such as my list of easy spider crafts, best Monster crafts and Favorite ghost crafts for kids.
What You Will Learn on This Page:
Spider Friends: Cute creepy crawly friends can be placed all over your house after you are finished making these little guys.
Jackolantern: Create some Chinese lanterns that look like Halloween pumpkins with our paper craft.
Using the power of the wind to help it spin, you can decorate with our Halloween Mobile.
Hand-drawn, totally free Halloween coloring pages & activities!
Toilet Paper Roll Frankenstein: Turn an empty paper roll into your very own monster, just like Frankenstein.
Halloween Party Cups: Why have plain old disposable cups at your Halloween party when you can have our creative Halloween cups!
Pom Pom Monster Mash: Create your very own army of monsters this Halloween!
Coffee Filter Ghost Craft for Kids – everyone has spare coffee filters around the house so why not turn them into something that will make you go BOO! Yes my cute ghost craft for kids is adorable and so quick and easy to make!
Halloween would not be Halloween without visiting a Haunted House! If you do not get around to doing this make sure you take time to make my 3D Haunted House Luminary.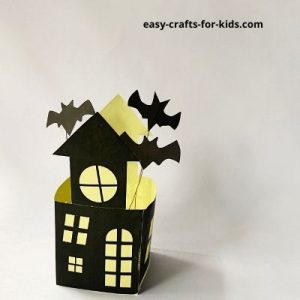 How about making a witches cat? This black cat craft is perfect for Halloween. It is so easy to make using an old toilet paper roll and markers.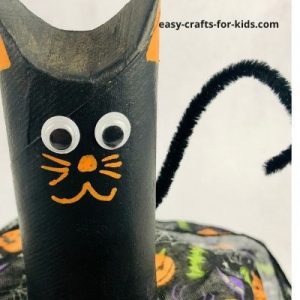 Spider Friends
Cute little creepy crawly friends to give to all your classmates on Halloween.

Supplies: Pom poms of different sizes and colors, Pipe cleaners, Glue, Scissors, Googly eyes
Jack O'Lantern
Turn some regular Chinese lanterns into Jack O'Lanterns for Halloween.

Supplies: Construction Paper, Marker, Glue, Scissors, Ruler, Pencil
Halloween Mobile
Create a home-made mobile to decorate the entrance or front porch on Halloween night.

Supplies:

Construction Paper
Scissors
Glue
Fishing Line or String
Bristol Board
Markers
Hole punch
Paper Roll Frankenstein
Make your very own monster, with minimal supplies and easy to follow instructions.

What You Need: Paper roll, construction paper, green and black paint, scissors, glue and googly eyes.
Halloween Party Cups
Be the party everyone talks about with these fun Halloween party cups.

What You Need: Styrofoam cups, paint, construction paper, googly eyes, scissors and glue.
Pom Pom Monsters
Turn some pom poms into a monster mash!

What you Need: pom poms, pipe cleaners, googly eyes, markers, scissors and glue.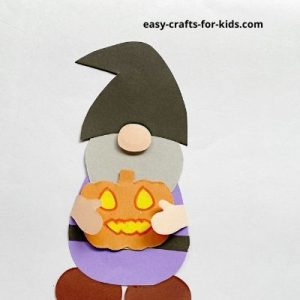 This little guy is super easy to make. You can easily stick onto some cardstock for a cute Halloween card or else make lots of them and turn them into a Halloween garland.
He can also be used for a poster or perhaps you might want to use him to guard your Halloween candy.
I have also tons of brand new witches crafts for children! I absolutely adore my fun Witch origami with instructions
If you want to make an easy witch craft then you should opt for the one using toilet paper rolls like below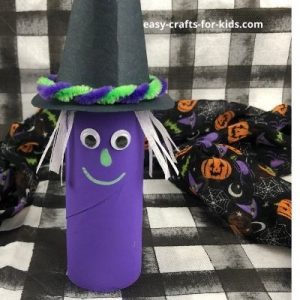 How about a book filled with exclusive Halloween fun?
Crafty Critters: Halloween Fun

We've created a Halloween filled e-book.

It's filled with 13 bits of Halloween fun – crafts, coloring pages and activities.

All of this fun is exclusive to this book, and won't be found anywhere else (not even on our own site).
Each craft, coloring page and activity is formatted to print on one page for easy offline crafting. No need for internet, or a computer.
Coloring pages are all hand-drawn, activities are created and crafts are all hand-crafted by our Critters.
FREE Halloween Coloring Pages & Activities
These Halloween coloring pages are hand drawn by us and totally free for you! It's win-win!
Just click on the images below to check out our halloween activities for kids.
These are just a few of the simple halloween crafts for kids. Use these to create a fun or spooky atmosphere for trick or treating. Check back frequently for more additions – we are always adding more!!
Do you like these Best Halloween Crafts for Kids