What better way for kids to celebrate Queen Elizabeth being on the throne for 70 years than a Platinum Jubilee coloring page to decorate!
Seasonal coloring pages and those celebrating special events are a great way for kids to get involved and learn all about the celebration.
In 2022 Queen Elizabeth 2nd will celebrate 70 years of being Queen. As a result the UK are having an extra Bank Holiday and holding lots of special parties.
My kids are having an extra day off school, which I'm delighted about! One less day of homework and rushing to get them out in the morning!
We are going to be in Spain during the Jubilee but I have printed out my Jubilee coloring page for my children to color while we are away. I may print out lots of extra copies and give them to all the children at the hotel if I am allowed!
Queen Elizabeth Platinum Jubilee Coloring Page
While my coloring in sheet does not feature a picture of Her Majesty it does feature an image of a corgi. Everyone knows the Queen absolutely adores her Corgis and up until recently she walked them every single day! Quite simply they are her best Friend right now.
You can see what my Royal coloring in sheet looks like below.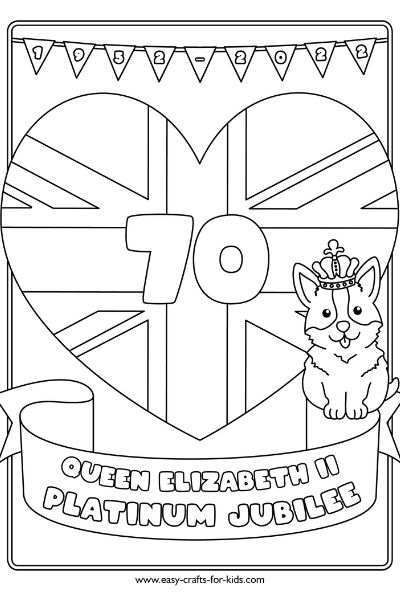 Why not color in lots of these and punch a hole and thread some string between them to create a banner to decorate for the big day.
Print my free Jubilee coloring page below:-
Platinum Jubilee Poster to Color
If you like this you may also like some Queen Elizabeth coloring pages. You can find these all over the internet but my favorites can be found on Crayola.com
Would you like to see coloring pages featuring the other members of the Royal Family here? How about one of Prince William and his lovely Princess Catherine.
Have you printed your Platinum Jubilee Coloring Page?