Hands up if you have an unicorn fan in your house? If so they might love these fun easy unicorn coloring pages. These are great for getting Mumma some quiet time or just to entertain the kiddies while you are in a restaurant waiting on dinner!
Little girls love to dream and they adore magical unicorns. Previously we have done lots of unicorn crafts including making an adorable unicorn bookmark and a toilet paper roll unicorn.
If you are looking for an activity for little girls that does not require Mum's help then these printable unicorn coloring pages are perfect. Just print them for free and give your child some coloring pencils and Bingo 20 minutes peace.
Printable Unicorn Coloring Page
This pretty unicorn looks very happy above the rainbow! It is surrounded by stars, hearts and a moon. Can little ones count the number of hearts and stars? Ask them if there are more hearts or stars.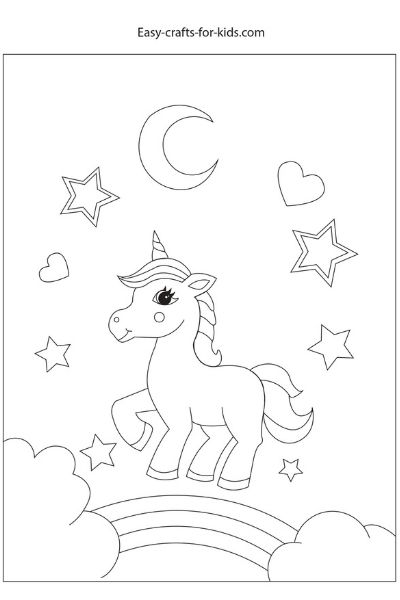 You can print this for free below:-
What other things would you like to see alongside unicorns? How about a Birthday cake or a present? Maybe you would like to see a field of unicorns.
I have a similar coloring sheet to the one above if you want an alternative (this one does not feature hearts or a moon, just an unicorn and stars:-
If you love free coloring pages you might want to try some of my others:-
Free Butterfly Coloring Online
Pirate Coloring Pages to Print
Will you print some Unicorn Coloring Pages?