Keep your kids occupied with fun activities and learning ideas this summer! Brush up on skills needed for the new school year, or have your own summer camp at home with all these fantastic ideas!
Bonus #1: Summer Activities Printable Planner to help you plan the best summer ever.
Bonus #2: We know you are busy so we have included 2 awesome slowcooker / crockpot cooking ebooks to make your life just that little bit easier.
Kids Activities, Arts and Crafts, Special Needs Interests:
Sensory Summer Activity Guide – Activities designed to guide children and families through a summer of rich, developmental, and therapeutic sensory experiences.
Summer Pack For Toddlers and Young Preschoolers – Summer Pack for Toddlers and Young Preschoolers contains colorful, fun and educational summer themed activities for little hands. These are great for developing fine motor skills, working on classification skills and learning new vocabulary.
Crafty Critters: Summer Fun Bundle – Summer printable bundle full of crafts, activities and coloring pages to keep you busy all summer!
Summer Camp at Home – 6 weeks of themed activities in a mini ebook
Summer Activities Movement Bundle – Movement cards and yoga cards that all have a summer theme! Enjoy yoga cards with a camping theme or try out fun ways to pose like insects bugs or creepy crawlers. Get moving with a fishing and baseball theme!
Learn with Play: 150+ Activities for Year-round Fun & Learning: A GIANT COLLECTION OF HANDS-ON KIDS ACTIVITIES – The perfect book to have on hand for inspiring you on holidays, weekends, or anytime the kids just need something to do! A fun mix of hands-on fun with learning, celebrating, and appreciating family time.
50 Art Techniques for Little Kids – 50 Art Techniques for Little Kids features many fantastic creative art projects that young children will love! There are art techniques that feature paint, chalk, crayons, marker pens and collaging.
Travel Activity Book for Preschoolers – Printable Kids Travel Book. Perfect for keeping the kids busy in the car.
A to Z Science for Toddlers and Preschoolers – An introduction to science for ages 2 to 5. Includes one science activity for each letter of the alphabet.
Summer Gross Motor Obstacle Course – 10 printable cards that take children through a fun gross motor activity set – perfect to set up as an obstacle course in the back yard.
Hands On Logic Puzzles with Pattern Blocks – Similar to Sudoku, these hands on puzzles are the perfect way to challenge Summer boredom. Plus, they'll develop and strengthen their logical and critical thinking skills. Includes 40 reproducible puzzles for ages 4-8.
Montessori Inspiration at Home – Practical Life Skills Toddler Series – This Montessori inspired book is a helpful resource for practical life skills for toddlers. It includes over 100 pages, of easy to follow ideas, for caregivers to use with their children. Also, there are 60+ pages of printables and resources, including Spanish printables!
Sowing the Seeds of Wonder: a guide to gardening with kids – Filled with simple and tangible ways for you to bring gardening into your child's life, this guide covers preparing yourself, preparing your environment, learning activities, and loads of resources for your journey. Gardening helps children become more engaged in the environment, including their bodies. This book will help you encourage a lifetime love of learning without making them feel forced to learn.
9 Kiddie Pool Play-Based Learning Ideas – Use common household items and your kiddie pool to create play-based learning invitations to play. Teach physics, chemistry, arts and crafts, and cognitive flexibility with these simply ideas!
Maria Explores the Ocean: A Kids Yoga Book – Dive in to learn about Pacific Ocean animals through ocean yoga poses for kids! Join Maria as she explores the ocean with her granddad. Glide like a manta ray, float like a jellyfish, and cruise like a parrotfish. Learn what's under the water, act out ocean animals, and practice colors!
Get Your Copy: Save the 94% on this Summer Break Bundle
Printable Educational Materials:

10 Weeks to Kindergarten – This is a 10 week summer program to prepare your child for kindergarten. These activities focus on sharpening skills in these subjects: alphabet, writing, math, colors, motor skills, and self awareness.
Summer Printables Pack – The Summer Printables Pack contains 75 summer-themed activities for kids ages 2 to 7. This pack is a great way for kids to enjoy some summer fun while also practicing basic skills such as shapes and sizes, colors, same vs. different, patterning, fine motor skills, early math, and early literacy.
Initial Sound and Number Identification Clip cards – This printable contains two activities to prepare your child for kindergarten–prereading and math. Initial sound clip card are to reinforce their understanding of letter sounds. While Number Cards will help with understanding numerical representation of quantity.
Literacy Center Printables with Magnetic Tiles – Do your kids love magnetic tiles? Here are 8 center ideas included with over 50 pages of alphabet words, and sight word printables to use with your set. Magnetic tiles not included.
Alphabet Drawing Prompts A-Z – Encourage creativity and imagination while practicing the alphabet, letter sounds and handwriting at the same time!
20+ Adding and Subtracting Activities For Kindergartners – This product has 200 pages of games and activities to help you teach your kindergartner to add and subtract!! It includes games, expression sorts, coloring pages, task cards and more.
Seasons Bingo Matching Game – This Montessori inspired bingo game will help children to learn more about seasons and to remember specific characteristic of every season.
Seasonal Children's Activities Sorting Cards – This material is created for children to learn more about seasons and different activities that suit them. The aim is to sort different pictures depicting children's activities to corresponding seasons. Then children can name pictures with labels.
The Ultimate Preschool Printable Bundle – With just over 600 pages, this printable preschool bundle makes homeschooling your preschooler easier than ever! Filled with activities to help you practice colors, numbers, letters, and shapes, you'll be able to quickly and easily supplement any curriculum you are currently using to review specific skills or use the bundle as a whole to enjoy hands-on learning ideas all year long!
Colors: Summer Camp for Toddlers – Find everything you need to run a DIY summer camp for toddlers with a super-fun color theme! Learn about color theory, rainbows, color mixing, and more!
Hello Sunshine! Counting Printable Pack – 10 different counting activities on 53 pages focusing mostly on numbers up to 10. Puzzles, games, I Spy, clip cards, play dough mats, and more for older toddlers, preschoolers, and kindergarteners.
Do a Dot ABCs – A full set of ABC printables meant to be completed with dot markers or dabbers
Preschool Math Games – 20 preschool math games that support your preschoolers' math process skill development skills in hands-on ways!
Story Time Journal & Activities Pack – Structure your preschooler's summer around 3 story time themes: ocean, space, and ice cream. This pack includes book extension activity ideas, planning pages, cut & paste "journal" pages, and more.
Cupcake Cuties Uppercase and Lowercase Alphabet Matching Activity – This adorable alphabet activity lets kids match uppercase and lowercase letters with cupcakes and frosting! Simply cut apart the frosting and the muffin and let children match the letters up to make cupcakes!
Summer Fish Roll and Color Math Games – This summer fish theme math games set includes 16 easy prep math game mats and 9 printable game cubes that kids can use to practice a wide variety of early math skills. Kids ages 3-7 love playing these games so much they don't even realize how much they're learning along the way.
Weather Bear – Track the weather in your home, preschool, or daycare with a weather bear, clothes for five different kinds of weather, weather cards (in both English and Spanish!), and weather photographs for discussion.
Alphabet Box Labels and Movable Alphabet – This printable set gives an easy and attractive way to organize small language objects for preschoolers and kindergarteners. Materials are available for alphabet box letter/picture labels and movable alphabet letters in manuscript, D'Nealian, or cursive fonts.
Forest Vocabulary Cards – Forest Vocabulary and 3-Part Montessori printable contains 36 vocabulary cards with large unique and gorgeous graphics and text to match of all sorts of plants, fungi, wildflowers, berries, pine cones and trees commonly found in North America, Europe and parts of Asia. Additional 3-part cards, forest scavenger hunt printable and forest journal record sheets are included in the file.
Honey Bee Printable Pack for Preschool – This 30+ page Montessori inspired honey bee printable pack includes the life-cycle of a bee (spinner), life-cycle 3-part cards, cut & paste activities, anatomy of a bee, writing practice using print and D'Nealian style font, and 3-part card number work (0-10.)
Montessori Inspired Bird Printable Pack For Toddlers And Preschoolers – This bird animals printable pack is fun and inspired by Montessori education. It is perfect for toddlers and preschoolers to work on language, literacy, maths, and even motor skills. The pack features real photos and realistic watercolor art. It has more than 30 pages.
Ocean Preschool Packet – 52 pages of printable ocean-themed activities for fun with counting, letters, patterns, mazes, matching, and more! Perfect for 3-6 year olds!
Sea Animal Printable Memory Game – Printable memory game for kids that features 30 species of different sea animals, their silhouettes and fun facts about them!
Shark life cycle printables – These shark life cycle printables are perfect for studying sharks and creating hands on activities. These are perfect for preschool activities and Montessori inspired settings! This set of printables can be used as a zoology material, a language and vocabulary building work, or simply a fun addition to life cycle studies!
Montessori-inspired Shark Unit Printable Pack Bundle – Includes Montessori-inspired printables in the core subject areas of language, math, science and culture.
Printable Dinosaur Rainbow Egg Match Game – Help the dinosaurs locate their eggs. Match the dinosaurs with their eggs by color & pattern. Match the Color name card with the dinosaur. Count the number of eggs each dinosaur has [ numbers 1 -10] and match the corresponding number name cards.
Kid's Party Planner – Take the stress out of planning your kid's birthday with this 10-page party planner pack. Includes a monthly birthday tracker, weekly to-do, thank you card tracker and shopping checklists to manage party decor, food, activities and more!
Summer Activity Planner – Organize your summer full of activities to keep the kids occupied! Includes calendars and many lists to help with your planning.
Get Your Copy: Save the 94% on this Summer Break Bundle
Family & Kid Food:

Crunch! Put a Stop to Picky Eating and Help Your Kids Love Veggies – A pediatrician's guide to healthy and stress free eating for children so that they will grow up into healthy adults. Written by a mother of 3 who knows how stressful meal times with kids can be!
Slow Cooker Freezer Meal Plan – The Slow Cooker Freezer Meal Plan includes 5 recipes designed for the slow cooker, prep list, shopping lists, and printable labels.
Get Crockin' Recipes – Easy crock pot recipes that the whole family will enjoy for less stress in the kitchen.
Get Your Copy: Save the 94% on this Summer Break Bundle
Easy Crafts for Kids is social too! Be sure to join us and keep up to date on what the Crafty Critters are up to: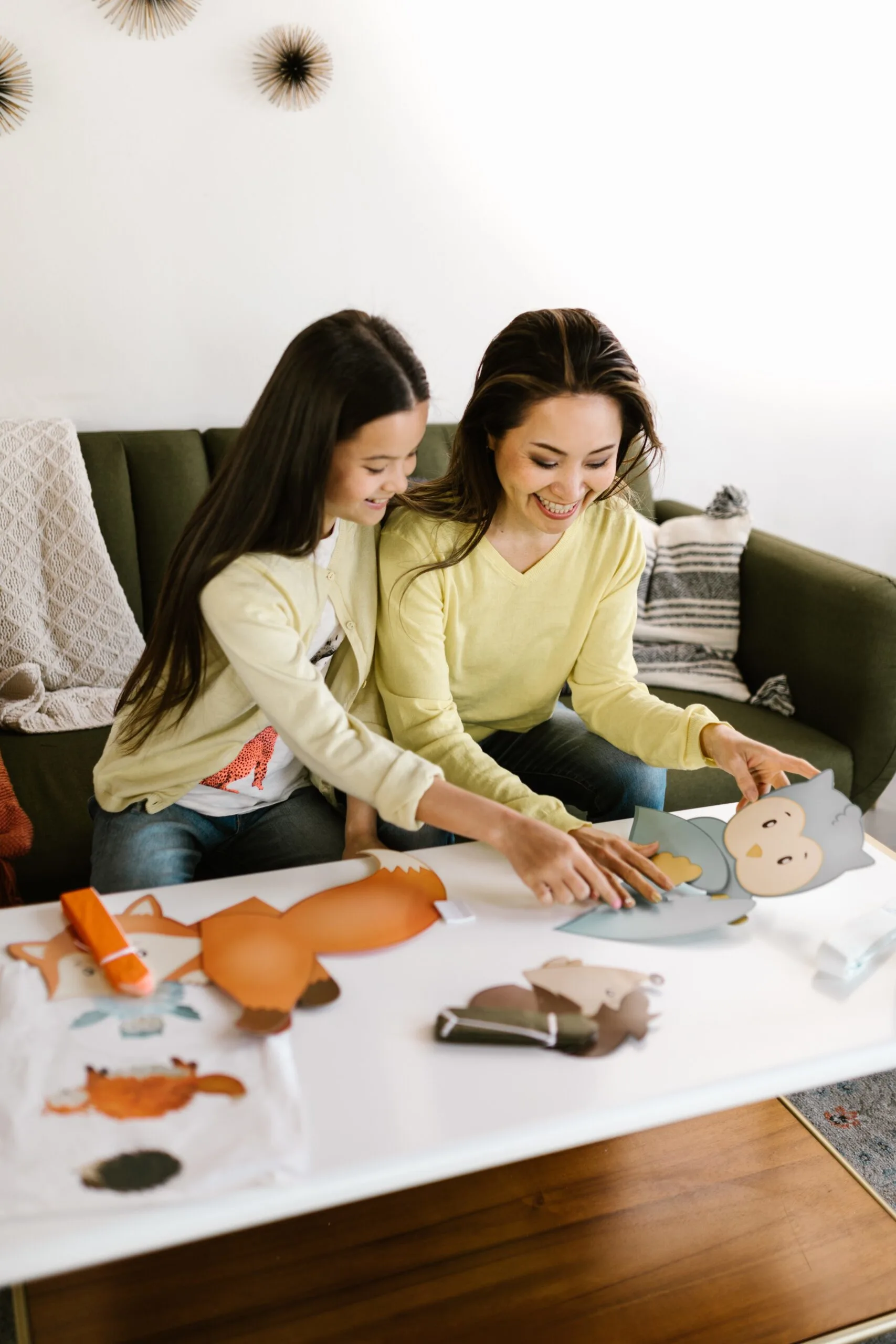 Hi there, I'm Laura an avid kids crafter with two little ones of my own to keep entertained! I have been doing kids crafts since 2018! Here at Easy Crafts for Kids you can find seasonal crafts for all age groups, as well as drawing tutorials, coloring pages and some other fun printables!