Are your children Harry Potter fans? They'll love our Harry Potter word search puzzles, all FREE and easy to print!
Harry Potter has become a very popular franchise – what kid does not want to become a wizard! They were a great set of books and the movie adaptation were very well done as well.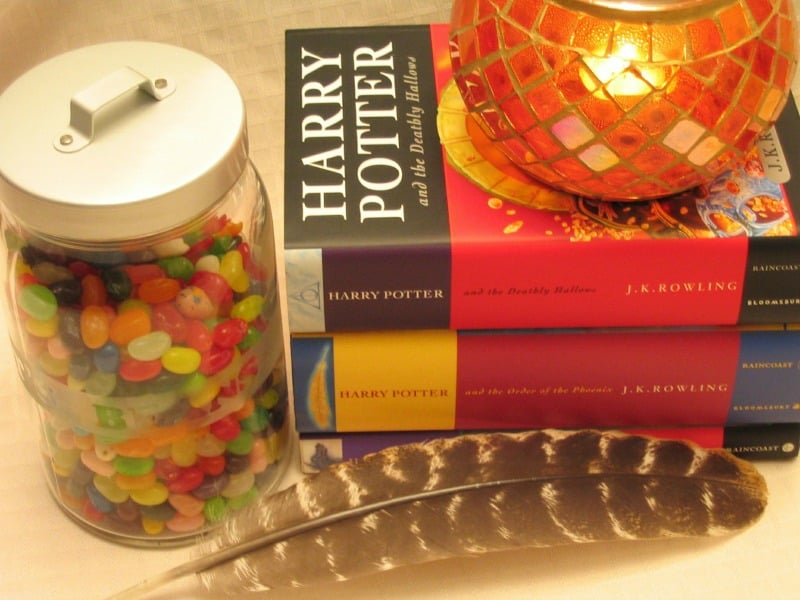 Free Harry Potter Word Search Puzzles


These word searches will bring the wizarding world to the classroom, or the kitchen table.
These puzzles are all in PDF files and completely free (yes, you heard right! FREE!) to print as many as you wish. Share them with everyone! Pass us along.
We've created a variety of printable puzzles with a Harry Potter theme. Check through the headings below for each different theme – why not solve them all!
These are the perfect hobby or pastime for a wet rainy day in the house or even a sunny day in the garden.
If you love these you will also love my Star Wars Activities for Kids which include word puzzles
Harry Potter Places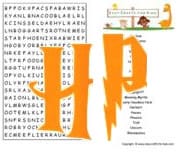 Throughout all the novels Harry and his friends get themselves into a lot of trouble and adventures all around the Harry Potter world.
Here's a puzzle all about the famous places in the novels – all those places the adventures happened.
Wonder which of the places you'll find in this puzzle? Here are just a few:
Daily Prophet
Hogs Head
Leaky Cauldron
Ollivanders
The Burrow and more
Get your Harry Potter places/locations printable here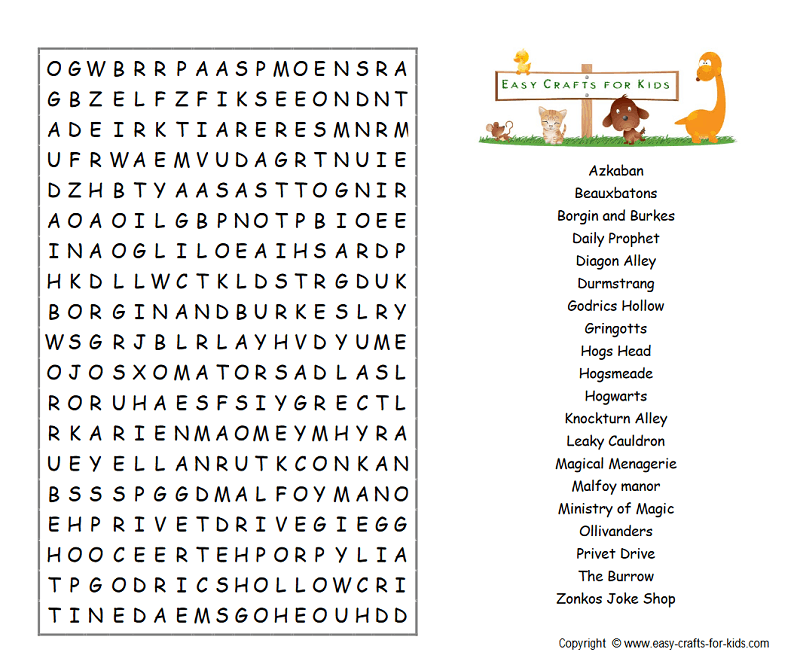 Harry Potter Characters
Harry meets many interesting characters throughout the story, and also shares his adventures with some close friends. Here's a printable word search all about those important characters that helped Harry with his adventure:
Crab
Dobby
Hegwig
Luna Lovegood
Scabbers
Voldemort and lots more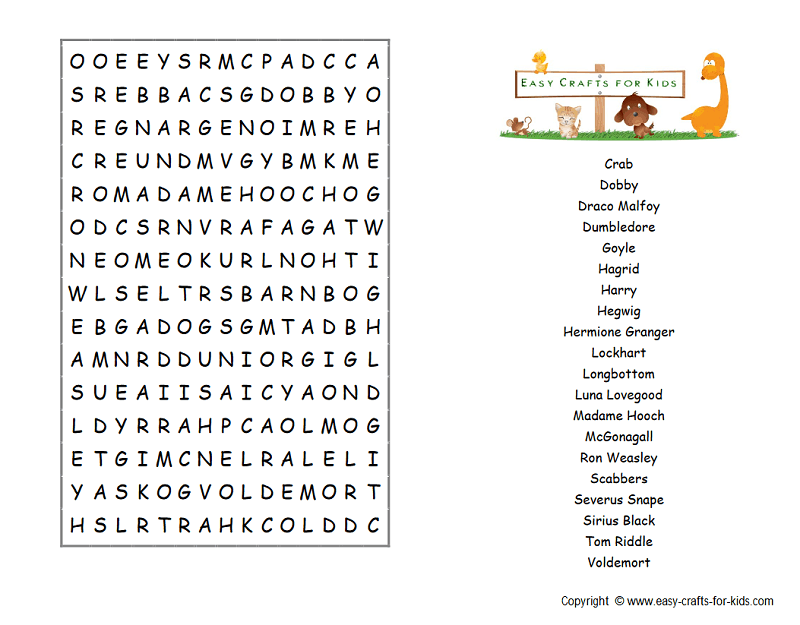 Hogwarts School Houses & Quidditch
Hogwarts has four "houses". These are similar to teams – each student belongs to a house. Quidditch is a very important sport in the wizarding world and there is much competition between the four houses.
Here is a great word puzzle all about these four houses and the sport of quidditch, and a few of the words we used in the printable:
Chaser
Helga
Keeper
Quaffle
Salazar
Snitch and more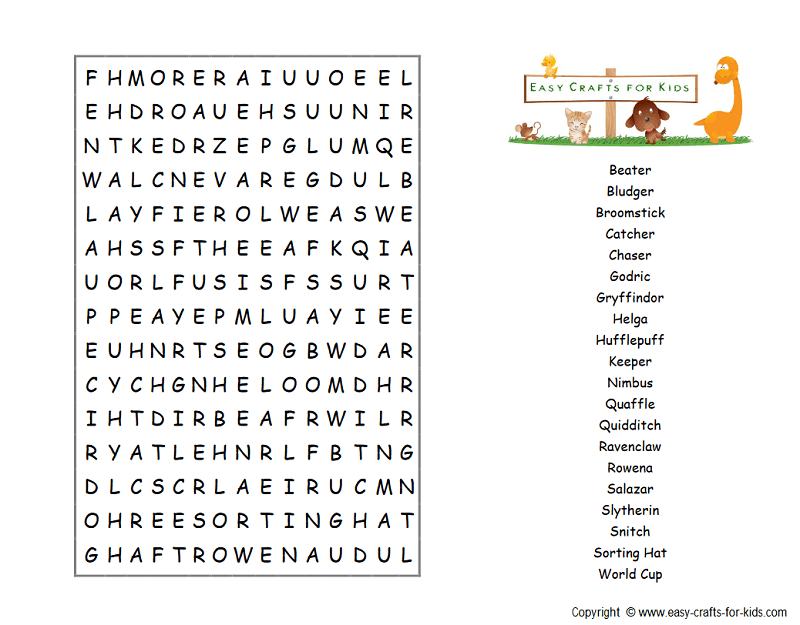 Harry Potter Creatures & Ghosts
Harry and friends encounter plenty of scary creatures throughout the story. They also have creatures and ghosts that live among them at Hogwarts.
Here's another puzzle, this one all about those scary, and not so scary, creatures in the series:
Buckbear
Centaur
Fluffy
Gray Lady
Hippogriff
Troll
Unicorn and lots more
Harry Potter creatures word puzzle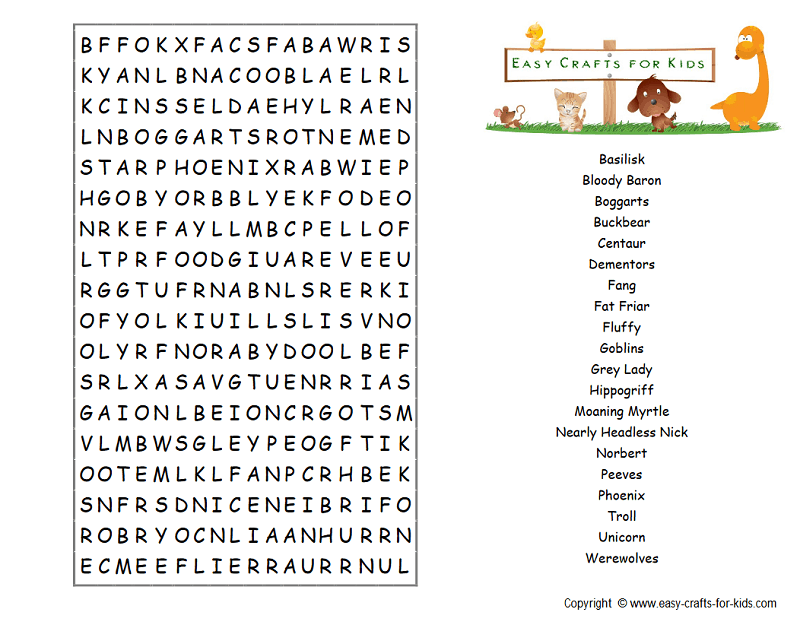 Wizard Spells
Learn how to cast your own spells, by finding them in our puzzle all about the most popular Harry Potter spells:
Accio
Anapneo
Descendo
Engorgio
Lumos
Reparo and many more
I hope you and your children enjoy these magical FREE puzzles! Happy Printing! I can only imagine that these will encourage your kids to start telling their own tales of Harry Potter and co. They will really stimulate their imagination and encourage them to read Harry Potter novels.
Print out all kinds of Harry Potter word search puzzles and pass them along to your friends. I really must get a greater collection of word search puzzles for kids featuring other famous characters.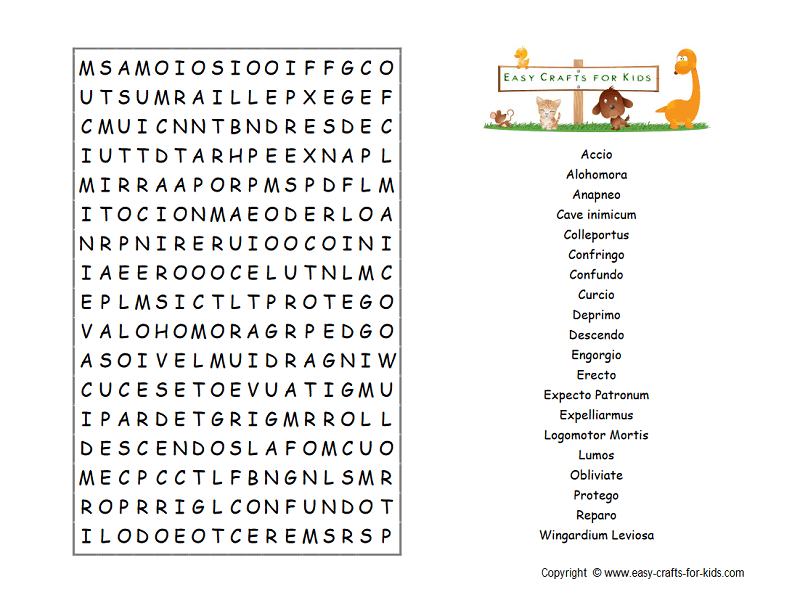 If you love these free word search puzzles you will want more:-
Word Search for Christmas – my free printable which is Winter and Christmas theme
Summer Word Search Puzzles – something to keep kids brains active during their time off school this Summer
How about some fun Dinosaur printable games and activities for the kids
Did you enjoy these Harry Potter Word Search puzzles?