Are you looking for fun printable summer word search puzzles to do with your children or students? We've got exactly what you are looking for! And they are 100% FREE – what's better than being free!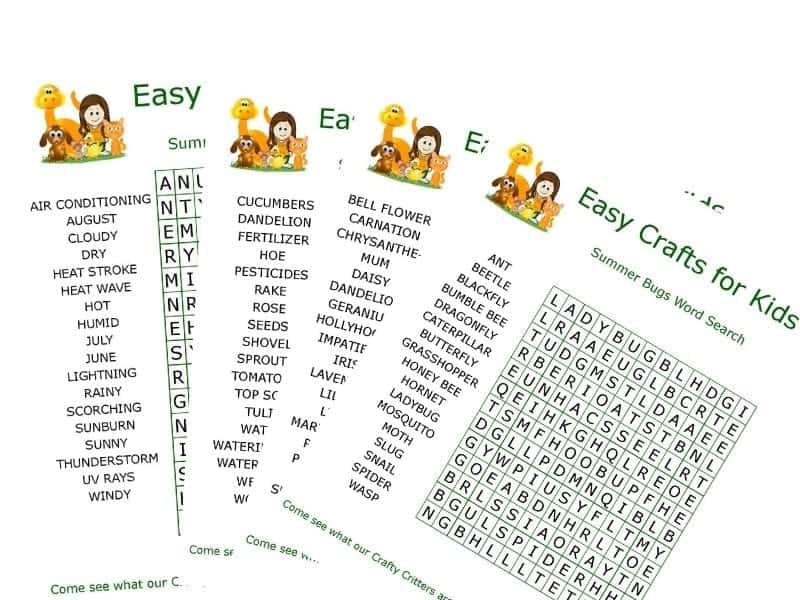 Word searches are a great way to keep their minds active through out the summer months, as well keep them entertained when its either rainy or too hot to go outside.
All our word search puzzles are easily printable. All you need to do is click on the theme you are interested in and the PDF will pop up in a separate window, ready to print. Click print, pick how many copies you want and TA DA ready for some summer word search fun!
These are great to bring along to camp, for a road trip, or even to your daycare, school or church.
Terms of Use: Any printables on our site are copyrighted materials. They are for non-commercial use only, and they can not be sold. Feel free to print and distribute these to your kids, students, daycare, etc as long as all site information and logos are kept on the material.
We have created a number of themed summer word search puzzles. Follow the headlines below to find the one that best suits you – or why not? Print them all!
If there is a theme you wish to see feel free to contact us and give us your ideas.
Free Printable Summer Word Search Puzzles
Summer critters
Summer brings with it a variety of bugs and wild life. These fun puzzles will give you the opportunity to talk to your little one about summer critters.
Summer activities
These ones will cover many of the fun summer activities you do with the friends and family. Stay cool with these puzzles after you enjoy your summer activities.
Mother nature
Mother nature is always changing through all the seasons: use these word searches to celebrate the beauty she creates in the summer. Why not pair the flower wordsearch puzzle with some of my fabulous flower crafts for kids!
Other fun in the sun
Here's a few more free printables that do not fall into any of our other categories but are equally as fun.
Camping
Camping is a great summer activity. It is a great way for the family to spend time together. Why not try my mini campfire craft to get the kids thinking of camping activities.
Always be sure to bring games along, they are a ton of fun on these trips!
Games for Camping Pack
HAPPY PRINTING!!
Now that we've got some activities to keep their minds stimulated, back to the creativity!!
Let's get back to our summer crafts . . .
Will you use these Free Printable Summer Word Search Puzzles?