I love character crafts and activities and one my daughter loves making is my Hello Kitty Toilet paper roll craft! This is a great craft as you can use it for pretend play after you have finished making it!
Are you like me and living with a Hello Kitty fan? My little girl loves all things kitten and of course Hello Kitty is one of her favorite things.
As we spend lots of time crafting I thought it would be a brilliant idea to make Hello Kitty using an old toilet paper roll.
I already have like over 50 cardboard tube crafts for kids and this is just another to add to my collection.
Like most of my others this is an easy craft for kids that requires only a few materials and it can be completed relatively quickly by young kids with Mum's help of course!!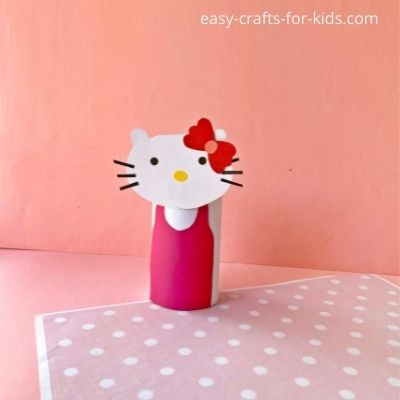 Hello Kitty Toilet Paper Roll Craft
This Hello Kitty Toilet Paper Roll Craft is perfect for fans of the cute kitty cat! It is super easy and quick to make using my craft procedure.
Materials
Toilet Paper Roll.
Colourful Craft Papers.
Pencil.
Ruler.
Scissors.
Glue.
Instructions
Step 1:
Download and print out the PDF templates for the tissue paper roll Hello Kitty.

Cut out the parts for the Hello Kitty craft carefully with scissors. Great scissor practice for young kids.
Step 2:
Glue the Hello Kitty's eyes and nose to the head.
Step 3:
Then, glue the whiskers on the face.
Step 4:
Glue the dress on the white rectangular craft paper.
Step 5:
Wrap and glue the white rectangular craft paper around a toilet paper roll.

Step 6:

Glue the Hello Kitty's head on top of the paper roll.
Step 7:
To add some finishing touches glue the hair bow on the Hello Kitty's head.

Maybe you might decorate my Hello Kitty craft differently? You could do a nice pattern on her dress.
Are there any other characters you would like me to try and craft for you all? I already have an adorable Love A Lot Care Bear craft for girls.
Perhaps you want to keep on the kitty theme and try some of my other best cat crafts
In order to make this craft easy, please download one of my free PDF Templates
Hello Kitty Template Black/White
Do you like my Hello Kitty Toilet Paper Roll Craft?
Hi there, I'm Laura an avid kids crafter with two little ones of my own to keep entertained! I have been doing kids crafts since 2018! Here at Easy Crafts for Kids you can find seasonal crafts for all age groups, as well as drawing tutorials, coloring pages and some other fun printables!