My kids absolutely adore cats but I do not want any pets so they have to make do with my selection of clever cat crafts for kids.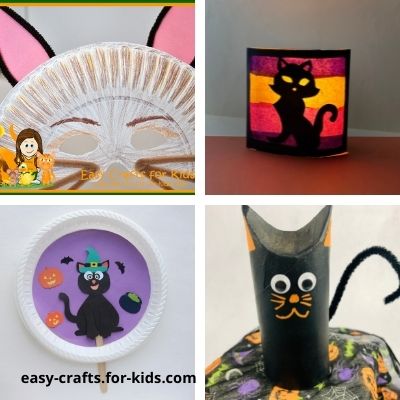 Cats and kittens make the best pets. They are cute and in general look after themselves.
Unfortunately my kids do not have any pet cats but as we live in the country there are lots around for them to admire. As opposed to having a real cat or kitten I told my children we could make lots of cat crafts using different materials.
There are so many different breeds of cats around so I knew we could make our own cat family using my craft procedures.
We have made cat puppets, a Halloween witches cat, a cat mask for pretend play and even a cat lantern to decorate our house.
I do plan on adding lots more ideas as my kids and I get busy crafting. You might also be interested in my free cat worksheets found at the bottom of this post.
Clever Cat Crafts for Kids
These clever cat crafts for kids are a must have for fans of all things cat and kitten.

All these cat craft ideas come with step by step instructions and images. They also include free printable templates which make things simpler.
School age children can make these with some help from an adult.
If you like these cat crafts then why not try some of my other great ideas such as my animal paper plate crafts and my list of free animal crafts for children
Can you think of other animal crafts you would like me to do a theme on? How about penguins?
Even more Cat Activities for Kids
Cat fans will love my free printable pack below. It is a great in conjunction with my cat craft ideas.
It has 8 pages for kids to complete. My free printable cat activities can help you learn how to draw a cat, label body parts and life cycle. There is also some reading comprehension and a chance to use adjectives to describe a cat.
You can see a preview of what is included in the image below.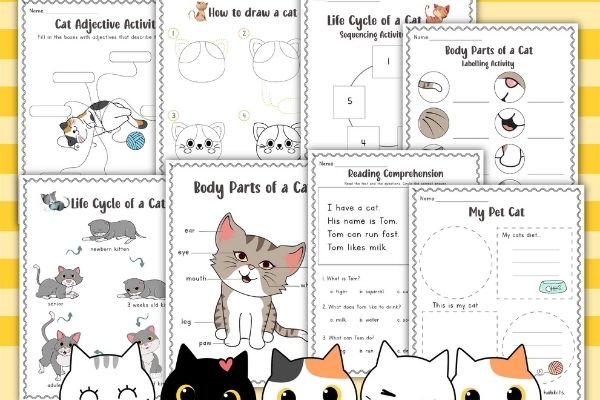 Please find my free cat activities printable PDF below:-
You might want to use these free printable cat worksheets as well as my list of cat crafts to celebrate International Cat Day which is on the 8th August.
Which of these Clever Cat crafts for kids will you make?