I love cute craft ideas for kids, and this Koala Bear craft for Valentine's is right up my street, especially if you like making your own Valentine's Day cards.
The Koala bear is one of the most loved animals in Australia and indeed worldwide!! Whenever I see one on TV I want to reach out and give it a great big hug!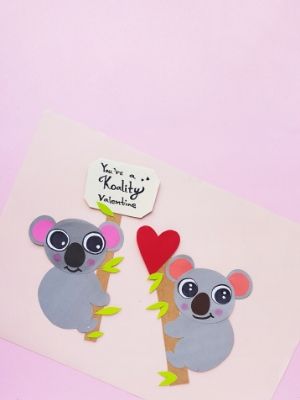 If you cannot see a koala first hand, then why not make some paper animal crafts for kids featuring the adorable bear!
Step by step crafts like this one are great because they teach kids to read and also follow directions. Kids will feel such a sense of achievement whenever they complete the craft.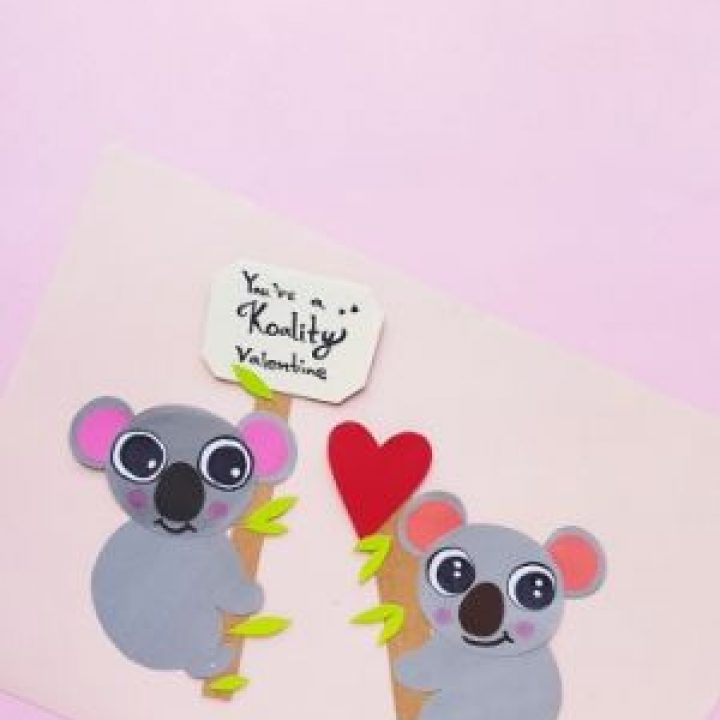 Koala Bear Craft For Valentine's Day
Yield: A Pair

Prep Time: 5 minutes

Active Time: 15 minutes

Total Time: 20 minutes

Difficulty: medium

Koala bear craft with paper for Valentine day.
Materials
1. Colored craft papers (grey, pink, black, brown, light green)
2. Pencil
3. Pen
4. Scissors
5. Craft glue
Instructions
Step 1

Print and cut out the template patterns. Select craft papers for the koala paper craft.

Trace the body, head and outer ear patterns on grey colored craft paper.

Copy the inner ear pattern onto pink colored craft paper and the nose on black paper (you can always use white paper and color it in black.

Step 2

Start with the head of the koala and stick on the eyes and the nose patterns of the paper koala.

Step 3

Stick down the pink inner ear patterns in the middle of the grey outer ear patterns.

Step 4

Attach the ear patterns to the head of the koala bear.

Step 5
Attach the head on the top side of the body pattern by overlapping about a cm. Use a pink felt tip pen to add 2 blush shades on both cheeks and use a black pen or marker to draw a smile.

Step 6

Next you will be creating the branch with greenery. Draw and then cut out a strip from brown colored craft paper for the branch, and leaf shapes from green colored craft papers.

Step 7

Glue the paper leaf cutouts on the brown colored strip. Glue the koala with the brown strip, which is a bamboo branch.








Notes
It is not necessary but you can add a personalized message above your Koala, as is shown here. This is especially convenient if you are using this paper craft for a Valentine's Day card.

I love all my bear crafts especially this one, and he is so easy to make it you follow my Step by step craft tutorial below.
Even More Lovely Bear Crafts for Kids
Valentine Bear Craft with card
Polar Bear Craft for Preschool
Before you go make sure and print koala_template to complete this activity.
Do you like this Koala Bear Craft for Kids?