Use our paper plate clock craft for toddlers as a fun way to teach the little ones how to tell time. As our world becomes more and more digital, it seems less people even remember how to tell time on a regular clock.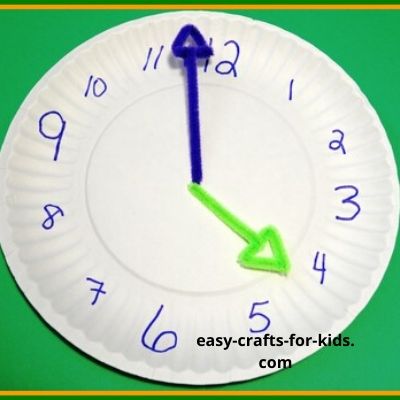 Our preschool craft will help you ensure that your little ones can read a clock, that's not digital! I have to confess I have hardly any clocks in my house. The ones we have are all digital, for example mobile phones and on our two ovens. As a result my children rarely get to see 12 hour clock anymore.
My little girl has recently started school and I have been trying to help her learn all about clocks so of course I have made my paper plate clock and she made one too.
Not only is this good for 4 year olds to learn to tell the time, it is also a good way to help them improve their number writing, and of course their creativity.
She was introduced to telling the time through the nursery rhyme Hickory Dickory Clock, so maybe you might want to watch some videos of this nursery rhyme online to introduce the topic. I always think videos with music encourage kids to learn, as do crafts of course.
It is very important to start the learning process even before school officially starts. Kids will be more willing to learn from their parents or siblings at first. And it gets them ready for the school years. It also gives them confidence.
Paper Plate Clock Craft
Our paper plate clock will help you help the children to learn how to tell the time. It is interactive so you can have them "set" the clock for the time you wish.
Best of this requires very little materials.
Craft Supplies:

Paper plate
Pipe cleaners (two different colors)
Marker
Scissors

Step #1:

Carefully punch a hole in the center of the paper plate with the tip of your scissors.

Cut your two pipe cleaners into a big hand, and a small hand.

Thread each through the same hole.

Step #2:

On the reverse side, bend the pipe cleaners so they will stay in the hole, but they will also be able to rotate – like the hands of a clock.

Step #3:

Take two more pieces of pipe cleaner and bend them into triangles. You will need two of them (one in each color).

Step #4:

Bend the ends of the hands of your clock over the triangles to hold them in place.

This will make pointers for your clock hands.

Step #5:

With your marker draw on the numbers from 1-12 around the clock.
I have made this paper plate clock a few times. The second time I made it I used colored paper for my clock hands as opposed to pipe cleaners! I made an arrow at the end of each hand and also wrote hour on one hand and minute on the other.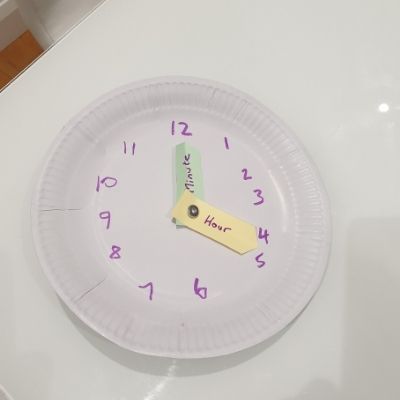 During the first years kids will not be doing minute times, but just o'clock times.
Now you can ask the children "What time is it Mr. Wolf?" and have them learn how to tell time while having fun all at once!
If you really love clock crafts for kids you will want to do my easy clover craft which lets you make a shamrock clock, which is perfect for St Patrick's Day.
In fact there are lots of cool clock crafts online, which I have not had a chance to make yet. You can make an ice cream cone clock with the clock face representing the ice cream at the top and the cone representing the holder.
You can even make clocks with bunny ears for Easter. The opportunities are endless!
One of my daughter's latest home works was to make a cardboard Grandfather clock to help her learn the time! She really enjoyed decorating it with glitter, markers and pom poms, with a sprinkle of red hearts.
Print This Craft & Many More – Crafty Critters: Crafts to Go!"
We've made our site "to go"! No internet? No problem, we've got 100 crafts to go in a downloadable ebook!
Our best crafts, formatted for perfect one page printing or easy reading on a tablet.
Learn more & get your copy today! Crafty Critters: Crafts to Go
Do you like this Paper Clock Craft for Kids?