Use our paper plate clock craft for toddlers as a fun way to teach the little ones how to tell time. As our world becomes more and more digital, it seems less people even remember how to tell time on a regular clock.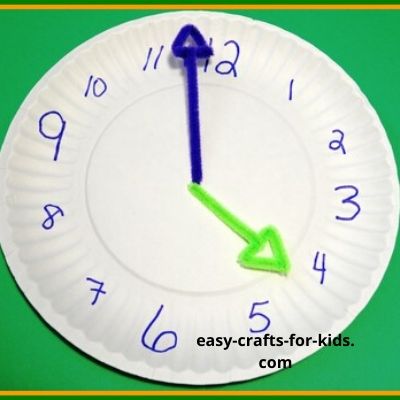 Our preschool craft will help you ensure that your little ones can read a clock, that's not digital!
It is very important to start the learning process even before school officially starts. Kids will be more willing to learn from their parents or siblings at first. And it gets them ready for the school years.
Paper Plate Clock Craft
Our paper plate clock will help you help the children to learn how to tell the time. It is interactive so you can have them "set" the clock for the time you wish.
Best of this requires very little materials.
Craft Supplies:

Paper plate
Pipe cleaners (two different colors)
Marker
Scissors

Step #1:

Carefully punch a hole in the center of the paper plate with the tip of your scissors.

Cut your two pipe cleaners into a big hand, and a small hand.

Thread each through the same hole.

Step #2:

On the reverse side, bend the pipe cleaners so they will stay in the hole, but they will also be able to rotate – like the hands of a clock.

Step #3:

Take two more pieces of pipe cleaner and bend them into triangles. You will need two of them (one in each color).

Step #4:

Bend the ends of the hands of your clock over the triangles to hold them in place.

This will make pointers for your clock hands.

Step #5:

With your marker draw on the numbers from 1-12 around the clock.
Now you can ask the children "What time is it Mr. Wolf?" and have them learn how to tell time while having fun all at once!
If you really love clock crafts for kids you will want to do my easy clover craft which lets you make a shamrock clock, which is perfect for St Patrick's Day.
Print This Craft & Many More – Crafty Critters: Crafts to Go!"
We've made our site "to go"! No internet? No problem, we've got 100 crafts to go in a downloadable ebook!
Our best crafts, formatted for perfect one page printing or easy reading on a tablet.
Learn more & get your copy today! Crafty Critters: Crafts to Go
More Easy Crafts Like This One:
Preschool Learning Cups: A fun way to also teach them how to count and learn the colors of the rainbow.
Back to School Bookworm: Check out our feature over at Musings for a fun bookworm that will make sure homework time is uninterrupted!
Easy Crafts for Kids is social too! Be sure to join us and keep up to date on what the Crafty Critters are up to:
Do you like this Paper Clock Craft for Kids?