Join us in making some great kids summer crafts like our summer picture frame CRAFT. A fantastic way to capture those sunny day memories!
Even if you spend a winter vacation in a hot place you can use this same frame for those memories too.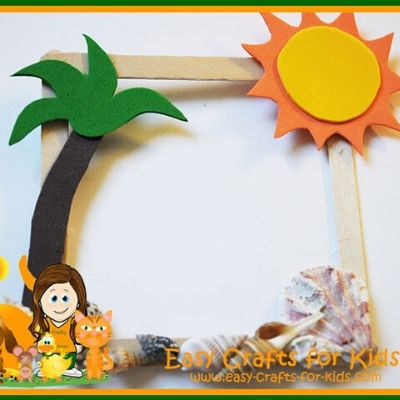 Have a fun hunt at the beach and find yourself a handful of sea shells for this frame. I have to confess I love using shells for crafting, as you can see from my seashell craft couple.
We had to go buy a bundle of them because we aren't lucky enough to have beautiful sea shells at the beaches around here. So it is okay to buy them too!
Summer Picture Frame Craft
Craft Supplies:
Popsicle sticks
Craft foam
Sea shells
Scissors
Glue
Age Range:
Time to Complete:
Step #1:
Place four popsicle sticks into a square. Glue them in place. You can choose to use a color popsicle stick – like a yellow or orange – to add a bit of extra color.
Step #2:
Pick out 6-10 sea shells and glue them along the bottom edge of the popsicle stick square you just made.
We did find that hot glue guns will make this part a bit quicker as it dries and sets fast.
Step #3:
Grab green and brown craft foam. Cut a stem out of the brown, you want it to be long enough to cover one side of the popsicle stick square.
Then trace and cut some palm leaves for the top.
Step #4:
Glue the palm tree trunk on one side of your picture frame. Starting where the shells leave off. Add the palm leaves to the top – this should site in the top corner of your frame.
Step #5:
More decorating with craft foam, this time we need orange and yellow for a sun.
Cut a circle out of the yellow craft foam and a sun burst for behind the circle with the orange craft foam.
Step #6
Glue the circle onto the orange and glue the entire sun to the last empty corner of your picture frame.
Our kids summer crafts picture frame is complete.
Pick your favourite picture from one of your many great summer memories and simply cut it to size and glue it to the back of popsicle sticks!
You can always add some magnets to the back of the picture and hang this on your fridge!
Print This Craft & Many More – Crafty Critters: Crafts to Go!"
We've made our site "to go"! No internet? No problem, we've got 100 crafts to go in a downloadable ebook!
Our best crafts, formatted for perfect one page printing or easy reading on a tablet.
Learn more & get your copy today! Crafty Critters: Crafts to Go
More Easy Summer Crafts Like This One:
Be sure to go and check out all our summer crafts for kids. We have a ton of great ideas for any summer weather.
Do you like this Summer Picture Frame Craft?