My little girl loves fairies and wondering in the woods, so we decided to make a beautiful woodland fairy craft for Fall. This simple Fall paper craft is perfect for little girls of any age as long as they have some help from Mom!
Fairies are hugely popular in my house; Tinkerbell is my daughter's favorite fairy! As a result we love doing fairy crafts and are always on the lookout for more ideas.
My easy woodland fairy is dressed in Autumnal colors and perfect for Fall!! Can you imagine her flying through the woods through the orange and brown leaves?!
You can recreate her by using my free fairy craft procedure with images and my free printable template at the bottom of the page.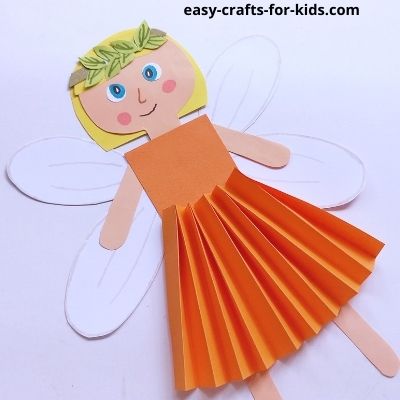 Woodland Fairy Craft for Fall
This simple Autumn paper craft lets kids make a beautiful woodland fairy craft for Fall.Comes with free printable template.
Materials
Craft papers/Cardstock papers
Pencil.
Ruler.
Scissors.
Glue.
Popsicle Stick.
Marker pen.
Instructions
Step 1:
Print out the PDF Templates. Cut out the pieces for our Fall fairy craft from cardstock paper using the PDF templates.
Step 2:
Take the long rectangular paper, and fold it into accordion folds to make the bottom part of the fairy dress
Step 3:
Take the front hair (fringes) and glue it on the top front of the fairy's head.
Step 4:
Glue the back hair to the head.
Step 5:
Then, glue the top of the fairy's dress to her body.
Step 6:
Now, glue the accordion folded skirt to the bottom as shown.
Step 7:
Then, glue the fairy's hands and legs to her body.
Step 8:
Join the fairy's wings on her back using glue.
Step 9:
Glue the eyes to her face and use marker pens to finish facial features on the fairy.
Step 10:
Take the leaf crown and start gluing the leaves on the crown.
Step 11:
Finish gluing all the leaves to complete your woodland fairy craft for Fall.

You could make lots of these little woodland fairies and attach them together with string to make a pretty banner! Why not make them in a variety of colors too. How about an orange and black one for Halloween, or a red and green one for Christmas?!
How about trying out some of my other new Fall Crafts for Kids:-
DIY Squirrel Wreath Craft with Paper
Easy Red Fox Craft with Toilet Paper Roll
Paper Gnome Bookmarks for Fall
Please print out my free PDF Templates to help you make this Fall Fairy craft:-
Do you like this Woodland Fairy Craft for Fall?
Hi there, I'm Laura an avid kids crafter with two little ones of my own to keep entertained! I have been doing kids crafts since 2018! Here at Easy Crafts for Kids you can find seasonal crafts for all age groups, as well as drawing tutorials, coloring pages and some other fun printables!