When I think of Autumn I think of pretty colors and crafting. My Squirrel Fall wreath craft for kids is such an awesome activity for little ones wanting to make some pretty decor for their bedrooms.
My kids love finding squirrels in the forest foraging for food. Sometimes we bring them nuts but they run away as soon as they hear any footprints coming in their direction.
I love the hustle and bustle of wildlife on my nature walks with the kids. We love watching the squirrels climbing high in the trees to stay safe.
For Fall we normally do leaf crafts like my leaf monsters or my paper plate fall tree craft. Just recently I decided to do a series on Fall animals to help teach my kids about the sorts of things you can expect to see in the local forest. I have an adorable Red Fox craft coming soon so watch out for that!
I do plan on adding some more lovely squirrel crafts for kids soon so keep reading!! This time I thought we would make a paper wreath highlighting some of our favorite things from Autumn.
Paper wreath crafts are an awesome way to decorate your home this Fall. Kids can easily follow my craft procedure and turn some colored craft papers and my free template into a pretty Squirrel wreath complete with leaves and acorns.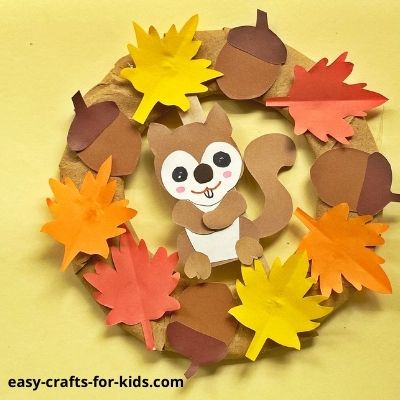 Squirrel Fall Wreath Craft for Kids
This Squirrel Fall wreath craft for kids features colored leaves and acorns and is the perfect Autumn craft with paper for children.
Materials
Paper plate or cardboard paper.
Brown wrapping paper.
Colourful craft paper.
Pencil.
Scissors.
Glue.
Marker pens.
Instructions
Step 1:
Cut out your wreath base from cardboard paper.
Step 2:
Cut out a long strip of brown wrapping paper about 2-3 inches wide.

And start wrapping the wreath base with brown paper.

Little kids can do this. It is great for fine motor skills.
Step 3:
Wrap the whole wreath with brown paper and secure the ends.
Step 4:
Now, cut out the maple leaves from the template.
Step 5:
Glue the leaves on the wreath.
Step 6:
Cut out the acorns from the templates as well.
Step 7:
Then, glue the acorns on the wreath.
Step 8:
Cut out the pieces for the squirrel from the PDF template.
Step 9:
Glue the squirrel's face to the head.
Step 10:
Now, glue the forelegs, bottom legs and the tail to the squirrel's body.
Step 11:
Glue the nose and draw the squirrel's face using colourful markers.
Step 12:
Glue the squirrel to a popsicle stick.
Step 13:
And then, glue the squirrel to the wreath.
If you like Fall crafts for kids then I would recommend my Autumn wind chime made from a tin can and some paint. You can also decorate your home with a pretty DIY Fall banner.
Please print my free color template to help you make the paper squirrel, leaves and acorns for this wreath:-
Do you like this Squirrel Fall Wreath Craft for Kids?
Hi there, I'm Laura an avid kids crafter with two little ones of my own to keep entertained! I have been doing kids crafts since 2018! Here at Easy Crafts for Kids you can find seasonal crafts for all age groups, as well as drawing tutorials, coloring pages and some other fun printables!