One of our favorite Fall animals is the squirrel so my kids and I got busy and made a lovely Toilet paper roll squirrel this week!
Love them or hate them squirrels can be found anywhere near a forest or where there are lots of trees. They mainly spend their time alone unless they are mating.
My two kids enjoy watching them hop from tree when we go on a forest walk. As we can never get close enough to catch one we decided to make an easy squirrel craft. Previously we made an adorable paper Squirrel wreath.
All you need is an empty toilet paper roll, some colored craft papers and a marker. Kindergarten kids should be able to do this easy animal craft for Fall!
Why not make this adorable squirrel craft for National Squirrel Appreciation Day which falls on the 21st January! Will you treat the squirrels in your local forest to some nuts on this day?
Please find my easy squirrel craft procedure with images and free template below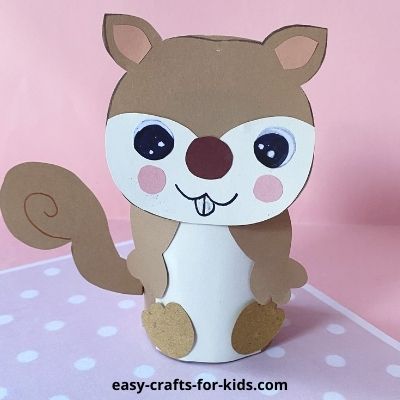 Toilet Paper Roll Squirrel Craft
This recycling craft for Fall lets you make a toilet paper roll squirrel! Follow easy step by step craft procedure with images to complete your cute squirrel.
Materials
Toilet paper roll.
Colorful craft papers.
Pencil.
Ruler.
Scissors.
Glue.
Marker pens.
Instructions
Step 1:
Gather your supplies and print out the PDF templates.

Then use the templates to trace and cut out the pieces for the squirrel from colored craft papers.
Step 2:
Glue the squirrel's face to its head.
Step 3:
Then, glue the squirrels cheeks, nose and eyes to its face.
Step 4:
Draw the squirrel's face and teeth using the marker pen.
Step 5:
Now, cut out the base for the toilet paper roll.
Step 6:
Then, wrap it and glue it to the paper roll.
Step 7:
Glue the squirrel's head on top of the paper roll.
Step 8:
Glue the squirrel's hands and paws .
Step 9:
Finish it off by gluing the tail on the side or back.

Seriously how cute is this friendly squirrel?! At least he will not run away from you. How about asking your kids to give him a name. They can make more than one of these little guys and use them for pretend play!
You could even make him alongside some more of my toilet paper roll animals:-
Elephant Craft with Toilet Paper Roll
I really hope you enjoy spending time with your kids crafting this Autumn! Before you go remember you should use my free printable template will help you turn a plain toilet paper roll into a lovable squirrel:-
toilet paper roll squirrel Template
Do you like this Toilet Paper Roll Squirrel Craft?
Hi there, I'm Laura an avid kids crafter with two little ones of my own to keep entertained! I have been doing kids crafts since 2018! Here at Easy Crafts for Kids you can find seasonal crafts for all age groups, as well as drawing tutorials, coloring pages and some other fun printables!