Christmas time is all about presents, decorating and crafting!! You can combine all three of these activities with my adorable Christmas wreath craft for kids.
At school, church and at home we spend lots of time being creative coming up to Christmas Day. Kids love to learn about the Christmas story and my nativity paper plate craft is a great prop for explaining this.
They also like to think about decorating the Christmas tree and the entire house. This year we decided to make a Christmas paper wreath with gingerbread man, candy canes, Christmas tree, bell and stockings.
These were the things my kids said they associated with Christmas.
If you love making wreaths then why not make my Fall squirrel wreath or my Snowman Winter Wreath
My easy Christmas craft ideas will keep you crafting all month long! But for now please have fun following my simple craft instructions for this December wreath idea.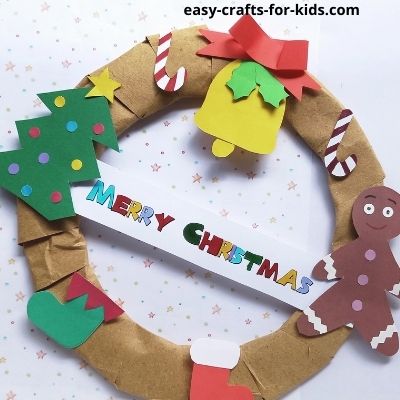 Christmas Wreath Craft for Kids
This Christmas wreath craft for kids will help you decorate a paper wreath with pretty decorations just in time for Santa coming.
Materials
Colourful craft papers.
Cardstock.
Brown Wrapping Paper.
Pencil.
Ruler.
Scissors.
Glue.
Instructions
Step 1:
Print out the PDF templates and cut out the decorations for the Christmas Wreath.
Step 2:
Decorate the gingerbread man with buttons and icings.
Step 3:
Then, decorate the Christmas tree with the colourful lights and star on top.
Step 4:
Gather all the decorations for the wreath.
Step 5:
Cut out a base for the wreath using cardstock paper.

And then, wrap the cardstock wreath with brown wrapping paper.
Step 6:
Glue the "Merry Christmas" across the middle part of the wreath.
Step 7:
Then glue the decorations around the wreath.
Where will you hang your Christmas wreath? How about making two and gifting on to your Grandma.
How about making some pretty Christmas tree crafts for your home?
You may also want to decorate with some reindeer craft ideas.
Please find the template below to help you make the paper decorations for the Christmas wreath:-
Do you like this Christmas Wreath Craft for Kids?
Hi there, I'm Laura an avid kids crafter with two little ones of my own to keep entertained! I have been doing kids crafts since 2018! Here at Easy Crafts for Kids you can find seasonal crafts for all age groups, as well as drawing tutorials, coloring pages and some other fun printables!