Children love to make pretty decor for their bedrooms, and this DIY Snowman wreath craft for kids is the perfect Winter craft with paper this year.
Snowman crafts for Winter are perfect for cold, wet dark days when the kids need to be entertained.
My kids love to make my house pretty, when the weather is bad outside. They always say the house looks empty whenever they Christmas decorations disappear and they have a point!
One great way to decorate your house is by making some paper wreaths. I have some of these for almost every season of the year, witch Halloween wreath, Fall Squirrel wreath and Tissue Paper Christmas wreath to name a few.
This time around I decided the kids and I would make a Winter themed wreath with a snowman and some snowflakes.
Our free Winter craft tutorial with images will help you make one the same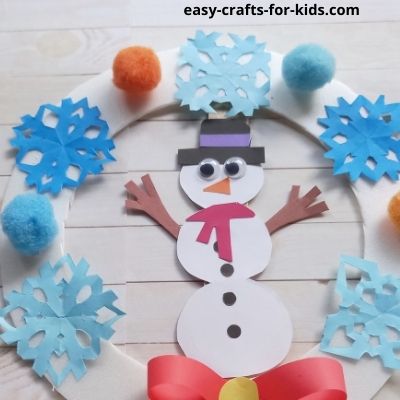 Winter Snowman Wreath Craft for Kids
This Winter Snowman Wreath craft for kids is the perfect paper craft for cold dark days!
Materials
Colourful craft papers.
Cardstock.
Pencil.
Ruler.
Scissors.
Glue.
Instructions
Step 1:
Print out the PDF templates and cut out the pieces for the snowman from the templates.
Step 2:
Glue the snowman's hands, nose and googly eyes.
Step 3:
Then, glue the snowman's hat, scarf and buttons. He will look like this:-
Step 4:
Cut out square craft papers, and fold them diagonally into four-folds.
Step 5:
Now, use the snowflakes on the templates to draw the snowflake's pattern on the folded craft papers.

Cut along the outlines.
Step 6:
Open the folds to see your snowflake.
Step 7:
Cut out the wreath base from cardstock paper.
Step 8:
Glue the snowflakes around the wreath to make your craft Winter like.
Step 9:
Stick a pretty ribbon at the bottom of the wreath. Then glue a popsicle stick or thick cardstock paper across the middle part of the wreath.
Step 10:
Glue the Snowman over the popsicle stick to finish your Snowman wreath craft for kids.
Will you hang your beautiful wreath craft in the kitchen for everyone to admire? Can the kids think of other decorations they would like to add. What other things do they associate with Winter? How about polar bears and penguins?
Some other great Winter craft ideas for kids are:-
Penguin Bookmark Craft for Kids – make a pair of penguins to help keep your reading place
Toilet Paper Roll Polar Bear – this fluffy bear craft for kids is perfect for the colder weather
Before you leave please use these free printable templates to help you make the different elements of your Snowman Wreath DIY:-
Do you like my Winter Snowman Wreath Craft for Kids?
Hi there, I'm Laura an avid kids crafter with two little ones of my own to keep entertained! I have been doing kids crafts since 2018! Here at Easy Crafts for Kids you can find seasonal crafts for all age groups, as well as drawing tutorials, coloring pages and some other fun printables!