Ho ho ho Christmas time is coming and I hope all kids have their Santa lists sent off! Keep children occupied with some cute Reindeer crafts for kids.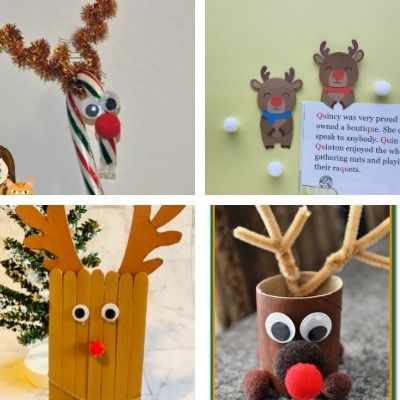 Santa has lots of reindeer; there is a debate as to how many he actually has, but for kids the most common one is Rudolph. There is even a song about Rudolph the red nosed reindeer.
I can show you how to make reindeer from some of the most common craft supplies, including paper plates, empty toilet paper rolls, popsicle sticks, colored crafts papers and lots more! Most of these are easy for even the littlest of children.
For even more Christmas fun do not forget to see my list of Christmas tree crafts for children, but I shall not keeping the littles waiting any longer for these amazing reindeer crafts!
Cute Reindeer Crafts for Kids
I absolutely love this list of cute reindeer crafts for kids this December. I wonder how many of these your children can complete before Christmas Eve.

Can you think of some other fun reindeer crafts you might like to do? I would love to make some more reindeer Christmas ornaments, or maybe even a snow globe with a reindeer inside.
How about making a sleigh for the reindeers to pull along. Ask your kids what else might they find in the sleigh, i.e Santa, sack and presents. This gets them thinking!
I have lots more easy Christmas crafts for kids this year if you need some ideas on how to fill those cold December days when all the kids want to talk about is how many more days to Santa!
Do you like these cute Reindeer Crafts for Kids?