I love making Christmas decor with my kids and one of our best recently has been this adorable clay pot elf craft!! Why not suggest replacing Elf on the Shelf with one of these cute elf crafts!
We love using pots for crafting in our house. We have previously made a love bug craft with a clay pot as well as some great planter pots. You can also use clay pots for these too; they will just look smaller. My Minnie Mouse pot craft is particularly cute.
This Christmas clay pot craft will help you transform a plain pot into an adorable looking elf! You can use this as decor on your mantelpiece or even below your Christmas tree.
Why not make lots and gift them to friends and family. You could also sell them at the school Christmas market.
My step by step instructions will help Mom and her kids to make some cute elves.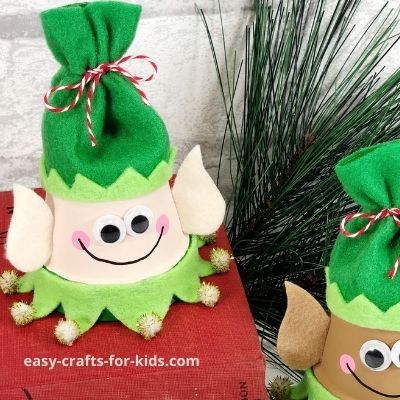 Clay Pot Elf Craft
This Clay Pot Elf Craft for Christmas is great for adults and kids alike.
Materials
Dollar Store Clay Pots – 2.5" in diameter – Dollar Store
Acrylic Craft Paint – Flesh Tone Colors of Choice, Kelly Green, Pink
Craft Felt – Bright Green, Kelly Green, Flesh Tone Colors to Match Paint
Natural Jute Twine – Dollar Store
Googly Eyes, Four – Dollar Store
Pom Poms, Gold Tinsel – Dollar Store
Baker's Twine – Red and White – Dollar Store
Glue Gun and Glue Sticks
Scissors
Paintbrush
Pencil with New Eraser
CLAY POT ELF ORNAMNET PATTERNS (found at the bottom of the post)
Instructions
STEP ONE

Gather all materials and then remove the packaging and labels. Put the basecoat on the rim of the 2.5" clay pot with kelly green acrylic craft paint.

Let the paint dry and then apply a second coat, if necessary. Kids can help you do the painting.

Basecoat the top section of the clay pot with flesh tone acrylic craft paint in your colors of choice. You can make lots of clay pot elf crafts with different color of skin!
Set aside to dry. Apply a second coat, if necessary.

I always do two coats for proper coverage. Normally I let my 4 year old do the first coat and I do the second.

STEP TWO

Attach two googly eyes to each elf with a glue gun and glue sticks. Add polka dot cheeks by dipping a new pencil eraser into pink acrylic craft paint. Set aside to dry.
TIP: You can use liquid craft glue for this project, but you would have to wait for it to dry. If you want your kids to be really hands on with this, I would recommend you use this glue as glue guns are harder for them to manage.

STEP THREE

Download, print and cut out Clay Pot Elf Ornament Patterns. Trace and cut out pointy ear shapes from flesh tone felt that matches your paint colors of choice. Great scissor practise for little kids.

Attach to either side of the elf clay pot with a glue gun and glue sticks.

STEP FOUR

Trace and cut out elf collar from bright green craft felt. Create pattern by cutting out triangles along the long edge of the rectangle.

Attach gold tinsel pom poms to each point with a glue gun and glue sticks. Glue the collar onto the rim of the clay pot.
STEP FIVE

Trace and cut out elf hat from kelly green craft felt and the elf hat trim from bright green craft felt.

Create pattern by cutting out triangles along the long edge of the hat trim rectangle as you did with the collar. Attach the trim to the hat with a glue gun and glue sticks.

Secure the hat around the elf just above the ears using a glue gun and glue sticks. Glue the seam at the back of the hat to create a cylinder shape.

Cut a 12" length of natural jute twine, tie it in a loop with a knot, and attach to the top of the clay pot with a glue gun and glue sticks.

Cut a 10" length of red and white baker's twine, tie securely around the felt to create the elf hat, and finish with a bow.
STEP SIX

Draw a smile from cheek to cheek with a permanent black marker. Let little kids do this part. They also might want to draw a frown instead!

If they are feeling really adventurous they can draw some teeth below the smile 🙂

There are so many other Christmas crafts you can make with clay pots. I plan on making a reindeer and gingerbread man real soon. A robin would be another great idea.
Hopefully in the future I will also do some nativity clay pot crafts like Mary and Joseph and the three Wise Men.
Can you think of some other great things to make to put kids in the Christmas spirit? How about my toilet paper roll Elf? He would be great company for the clay pot elf. My list of easy elf crafts for kids are great Christmas craft ideas for children.
Please print out my free template to help you make this elf:-
DOLLAR TREE CLAY POT ELF CRAFT PATTERNS
Will you make my Clay Pot Elf Craft?
Hi there, I'm Laura an avid kids crafter with two little ones of my own to keep entertained! I have been doing kids crafts since 2018! Here at Easy Crafts for Kids you can find seasonal crafts for all age groups, as well as drawing tutorials, coloring pages and some other fun printables!