Kids will love this adorable Minnie Mouse planter pot which is perfect for inside or outside on the front porch! Get them interested in gardening and growing plants and flowers at an early age with this adorable gardening craft!
Minnie Mouse is a huge favorite of mine and my 6 year old daughter! We love painting and decorating clay pots as you can see from our Love Bug Clay Pot craft so we decided to make a Minnie Mouse pot and use it for some plants!
My kids are always bringing seedlings and buds back from school. Recently they brought home a bud that grew into a beautiful daffodil.
To encourage their love of gardening and caring for plants and flowers I thought it would be great to start doing some planter crafts. These are perfect for Spring and Summer!
Before you start making my adorable DIY Minnie Mouse clay pot I thought you might want to bookmark my list of Easy Gardening Crafts for Kids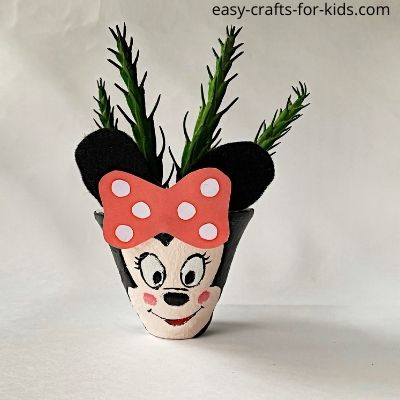 Minnie Mouse Planter Pot
This Minnie Mouse planter pot craft is perfect gardening craft for kids this Summer
Materials
Clay Pot.
Acrylic Paint.
Paintbrushes.
Pencil.
Hot Glue.
Felt.
Instructions
Step 1:
Collect all the listed supplies.

Select the clay pot you want to use for your planter.
Step 2:
Use white acrylic paint to paint the entire clay pot.

Use at least two layers of paint.

Apply the second coat when the first coat has dried down completely.
Step 3:
Use the template to help you trace and draw the outlines for the Minnie mouse planter.

Use a pencil to draw the outlines on the white painted clay pot.
Step 4:
Now, take a pale pink or cream shaded paint, and use it to fill in the outlines of the Minnie mouse's face.

Allow the paint to dry. Use another coat of paint if it's necessary.
Step 5:
Then, take a thin brush and black paint.

Outline the face using black paint. Then fill in the nose outline with black paint.

Draw the mouth and eyes using the paint.
Step 6:
Now fill in the sides of the face using black paint. And, use pink paint to paint the cheeks.
Step 7:
Cut out the ears and bow from felt using the PDF templates.
Step 8:
To add a little detail to the bow glue some white polka dots on it.
Step 9:
Glue the bow on top of the planter using the hot glue gun.
Step 10:
Then finish it off by gluing the ears on the planter with hot glue.
These would make great Mother's Day crafts for kids who want to give Mom a pretty thoughtful gift! They would even work as Birthday presents. Make sure you put her favorite plant inside to make it even better!
Minnie Mouse pot craft would also make a fabulous Valentine's Day gift for someone who loves the Disney mouse!
What other planter pots would you like to see here? Would you like some Princess themed ones or how about some superheroes? I do plan on making some more whenever I get the time.
Before you rush off please take some time to print off my template which will help you create Minnie's face for the pot
Minnie Mouse Craft Template for Planter Pot
Will you make a Minnie Mouse Planter Pot?
Hi there, I'm Laura an avid kids crafter with two little ones of my own to keep entertained! I have been doing kids crafts since 2018! Here at Easy Crafts for Kids you can find seasonal crafts for all age groups, as well as drawing tutorials, coloring pages and some other fun printables!