Who loves crafts that have a great practical use?! Well us here at Easy Crafts for Kids! We have just made an awesome cat pencil holder craft to keep pens, pencils, crayons and other small stationary neat and tidy on your desk!
This cute DIY pen holder craft is a must do for all kitty cat fans out there!
Cat Pen Holder Craft
Toilet paper rolls are one of the best craft supplies to have in abundance as they can be used for a large range of different art projects.
Right now my kids are cat crazy and are always on the lookout for different cat crafts to make.
We decided to make something useful like a pencil holder craft. My little girl has just got a new desk and this is perfect for her to keep her pencils and crayons close by as she loves to do some drawing and coloring before bed.
I love animal crafts like my squid pencil holder craft which is another option if you are looking for an ocean theme!
Below you can find my step by step cat pencil holder craft procedure complete with images. Pencil holder crafts are much easier to make than you think as you will find out whenever you follow my easy craft process.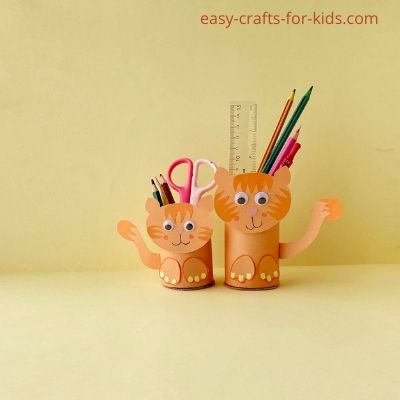 DIY Cat Pencil Holder Craft
This DIY cat pencil holder craft can be made using old toilet paper rolls, colored craft papers and my free printable template.
Materials
Toilet Paper Roll.
Colourful Craft Papers.
Pencil.
Ruler.
Scissors.
Glue.
Googly Eyes.
Instructions
Step 1:
Use The PDF template to cut out the pieces for the cat.
Step 2:
Glue the cat's colored patches on it's face.
Step 3:
Then, glue the nose onto the face.
Step 4:
Glue two googly eyes and draw the mouth using a marker pen.
Step 5:
Glue the claws on the paws and glue the spot on the tail.
Step 6:
Take a toilet paper roll.
Step 7:
Wrap the paper roll with the craft paper.
Step 8:
Glue the cat's head on top of the paper roll.
Step 9:
Glue the cat's tail on one side.
Step 10:
Then, glue the paws on the bottom front of the paper roll.
Step 11:
Cut out circular cardboard according to the size of your paper roll.
Step 12:
Glue it on the bottom of the paper roll using hot glue. This is to stop pens and pencils falling out of the bottom of the stand.
What color did you make your cat pencil holder? You can make them in any color you wish.
Why not make some for your friends! These are such a good toilet paper roll craft for kids that can be done with a group of kids at a Birthday party.
Before you go please print out my free PDF Template:-
Do you like DIY Cat Pencil Holder Craft?
Hi there, I'm Laura an avid kids crafter with two little ones of my own to keep entertained! I have been doing kids crafts since 2018! Here at Easy Crafts for Kids you can find seasonal crafts for all age groups, as well as drawing tutorials, coloring pages and some other fun printables!