My DIY firefighter craft helps little kids make a cute paper bag fireman puppet. My simple craft procedure and free printable template will make this so easy for little children.
Firefighter Puppet Craft
Lots of little boys dream about being firemen when they grow up. It looks like such a great job using large jets of water to put out fires.
A firefighter puppet may have a fire helmet, fire jacket, and other equipment typically worn by firemen so this is what we will base our easy puppet idea on. Firefighter puppets are often used in school as a good way to educate children about fire safety.
They can also be used as a toy for a play or show.
When my son was little he absolutely loved watching Fireman Sam and he wanted to be just like him. We even made a Fireman Sam craft for him to use for pretend play.
Puppets are a great craft idea for little kids. You can make them from brown paper bags. Previously I have made a cute Policeman puppet craft shown below.
My easy firefighter puppet craft instructions with images will show you the simple steps needed to make this cute puppet for kids.
My firefighter craft idea is a easy paper craft that can be completed in less than 30 minutes, making it ideal for preschool kids! Remember it is never too early to teach kids fire safety!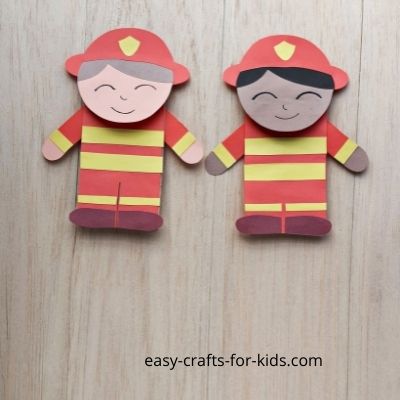 DIY Firefighter Craft - Make a Fireman Puppet
This DIY Firefighter Craft helps kids make their own Fireman Puppet from a paper bag and my free printable template and instructions
Materials
1. Colored craft papers
2. Paper bag
3. Sharpie
4. Craft glue
5. Pencil
6. Scissors
Instructions
Step 1:
Select a colored craft paper for the skin tone of the puppet and a colored craft paper for the hair.
Select red, yellow and brown or black colored craft papers for
the uniform of the firefighter puppet. Let your kids be involved in selecting the colors of the craft papers.
Trace the hat and sleeve patterns on the red paper, trace the head and hand patterns on the paper selected for the skin-tone, trace the hair on the paper selected for the hair.
Trace the shoe patterns on the brown or black paper and trace the rest of the patterns (mostly strips) on the yellow paper.
Cut out the traced patterns carefully. Little kids will need help with this.
When you have finished doing this you should have the following craft papers as shown below


Step 2:
Glue the hair cut-out onto the top side of the head cut-out and cut a slit along the marked line of the hat pattern.
Stick the symbol cut-out on the top part of the hat pattern.


Step 3:
Insert the top side of the head pattern through the slit of the hat, from below.
Use glue to attach the hat to the head.
Use a sharpie to draw the eyes, nose and mouth of the firefighter puppet.
Little kids will be able to use glue and draw facial features


Step 4:
Attach the yellow strip cut-outs on either side of the sleeve cut-outs.
Step 5:

Trim the extra parts of the attached strip cut-outs and then attach the hand cut-outs to the sleeve patterns, near the yellow borders as shown below.


Step 6:
Select a paper bag and prepare a piece of red paper to cover either side of the paper bag.
Grab the shoe cut-outs and the rest of the strip cut-outs.


Step 7:
Attach the red paper piece on either side of the paper bag; this will be the front
side of the paper bag fire-fighter puppet.
Flatten the bottom side of the bag with the bag and then attach the head pattern on the flattened bottom side.


Step 8:
Attach the 2 paper arm patterns on both sides of the paper bag puppet figure.
Step 9:
Attach the big strip pieces along the top art of the puppet figure, on the bag part as shown below.
Step 10:
Attach the shoe cut-outs along the bottom side of the puppet (open side of the bag).

Attach the 2 small strip cut-outs above the shoe patterns. Use a pen or sharpie to mark a line to divide the 2 legs of the fireman paper bag puppet.


Step 11:
Allow the glue to dry. Afterwards your DIY Fire fighter puppet is ready to play with. Why not make lots of these. I mean all firemen work in large groups as opposed to alone.
Other Craft Materials you Can Use to Make a Firefighter Puppet
This firefighter craft preschool was designed to be simple but there are lots of other materials you can use to make your puppets! They can be made with fabric, felt, foam, or even paper plates.
They can be designed to be operated with strings or rods i.e moving arms to resemble putting out a fire.
What other puppets would you like to make? How about a nurse? A vet, a builder? There are lots of different ones that I can try to make for you.
Would you like other fireman crafts? How about a fire engine or a paper plate fire craft with a fireman trying to put out a fire with a hose?
Please let me know what you would like to see next on Easy Crafts for Kids.
Please print my free Firefighter puppet craft template to help you make this easy puppet craft:-
Will you make this easy DIY Firefighter craft for Kids?
Hi there, I'm Laura an avid kids crafter with two little ones of my own to keep entertained! I have been doing kids crafts since 2018! Here at Easy Crafts for Kids you can find seasonal crafts for all age groups, as well as drawing tutorials, coloring pages and some other fun printables!