We've got tons of fun and easy paper crafts for kids! These crafts are very simple to make, and involve very few materials. Our crafts also promote recycling by re-using newspapers or other paper items.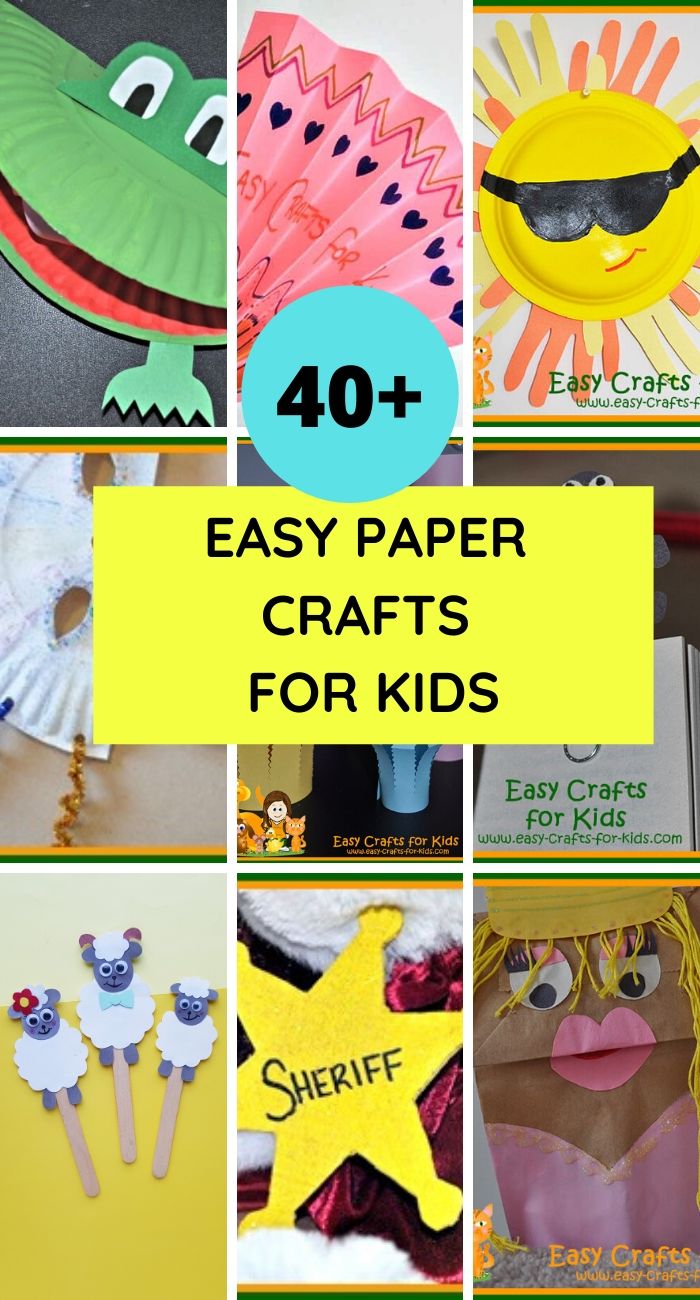 The kids can make fun and whimsical crafts with just a few pieces of paper. Any of these paper crafts can be decorated to match any season or holiday.
Kids of all ages absolutely adore my craft with paper ideas! Let us face it I have one for almost everyday of the year!
I have recently made lots more and I think it is time I share them all with you, whether you are looking for an animal puppet craft or paper plate delight I have them here!
The Endless Possibilities With Paper!
Paper crafts use simple supplies and make for hours of fun. If you are doing these with smaller children, make sure to get the scissors that are safe for them to use – let them do all the work!
For most of these crafts all you will need is:
Paper (of all kinds)
Scissors
Glue
Drawing tools (like crayons, markers, etc.)
These are great for all occasions and all budgets! Enjoy these paper crafts for kids: we know you will! It is amazing what you can create with these easy crafts with paper and scissors.
Tons of fun paper crafts for kids
| | |
| --- | --- |
| A great simple folded craft that requires only some paper and markers. | With just a piece of paper and a pen you can turn from ordinary kid to psychic |
| Use plain old brown paper bags and turn them into fairy tale characters & creatures. | Using our paper fan craft we will also create these beautiful butterflies too! |
Get all these crafts and over 100 more to go with our ebook! Crafty Critters: Crafts to Go
| | |
| --- | --- |
| These Chinese lanterns are fun little decorations for any party! | A party favor or just for fun. Hit this pinata with a real bat, get a candy filled home run! |
| A cute &creative way to keep the place in your novel! | Let's play pretend with these adorable paper plate mask. |
| They are so pretty & so much fun to make. Have your own butterfly garden! | Use the power of the wind to set this craft in motion! |
These are a just few of the many fun and easy paper crafts kids will love. It's crazy how much you can do with one piece of paper!! Use these fun and simple crafts on rainy days, at school or camp and much more!
Recently I did a whole bunch of animal paper plate crafts and some others crafts with paper like my swimming dolphins
Always be sure to check back with us for more crafts for your kids!
Do you like these paper crafts for kids?