Learn how to DIY Gnome Pop up Birthday card and you will have an adorable greeting card to send to your friends this year.
I love teaching my kids how to make their own pop up cards for literally any season of the year! Just recently my daughter said her school friend loves gnomes and I thought it would be a great idea to make a pop up Birthday featuring a gnome just for her. Imagine my little girl will go down as the coolest girl in the class.
Gnomes are a big thing here in our house and we have made lots of them for different times of the year! I particularly love my Witch Gnome Craft and my Valentine Gnome paper craft.
Combining them with my love of DIY Pop Up Cards is just perfect!
You can make your own Gnome Birthday card too by following my simple craft instructions complete with images to guide you!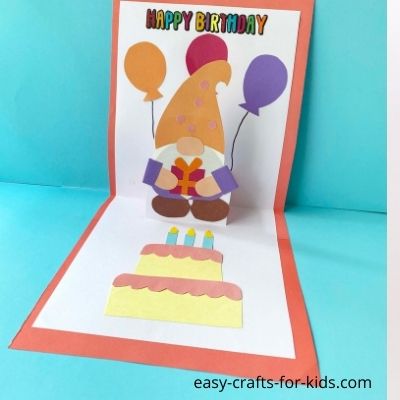 DIY Gnome Pop Up Birthday Card
This DIY Gnome Pop Up Birthday Card is the perfect paper craft for kids to make if they want to make a greeting card for their friends on their Birthday!
Materials
Cardstock paper.
Craft papers.
Pencil.
Ruler.
Scissors.
Glue.
Marker pens.
Instructions
Step 1:
Cut out the pieces from the templates. This is what you should have.
Step 2:
Glue the hat to the beard, glue the gnome's hands to the sleeves and glue the shoes to the dress.
Step 3:
Glue the nose in between the hat and beard. Add the pink spots to the hat.
Step 4:
Glue the ribbons onto the gift box.
Step 5:
Glue the gnome's top and bottom parts together.
Step 6:
Glue the gift box to the gnome.
Step 7:
Then, glue both hands on either side as shown. This shows the gnome holding the present.
Step 8:
Prepare your inner card by displaying the Happy Birthday lettering. Your child can color this in whatever colors they wish.
Step 9:
Cut two vertical lines on the closed side of the card according to the template, then fold it to make a crease.
Step 10:
Fold the cut area inwards.
Step 11:
Open your card and it should look as below.
Step 12:
Glue the gnome on the bump to make it pop up.
Step 13:
Prepare the cover for your card.
Step 14:
Cut out the pieces for the cake and candle.
Step 15:
Glue the cake's icings and the flames on the candle.
Step 16:
Glue the candles with the cake,
Step 17:
Glue the cake on the card.
Step 18:
Cut out the balloons.
Step 19:
Glue the balloons onto the card.
You can choose your own colors for this card if you print off the black/white template or go with my choices by printing in color!
Why not add your own personal message inside too! Maybe you might not want to use my Birthday lettering and write your own.
I have to say this card is so cute I may make a few and keep one posted on my kitchen notice board! Can you think of some more pop up Birthday card ideas?
Please print off my free PDF Templates to help you and your kiddies make this cute gnome card craft:-
Gnome Card Craft Color Template
Will you DIY Gnome Pop Up Birthday Card?
Hi there, I'm Laura an avid kids crafter with two little ones of my own to keep entertained! I have been doing kids crafts since 2018! Here at Easy Crafts for Kids you can find seasonal crafts for all age groups, as well as drawing tutorials, coloring pages and some other fun printables!