I absolutely love my range of free Pop Up Cards for kids to make for almost every occasion. Not only are these a fabulous craft activity, they also make amazing greeting cards too. I mean why spend lots of money on one when you can make it for free!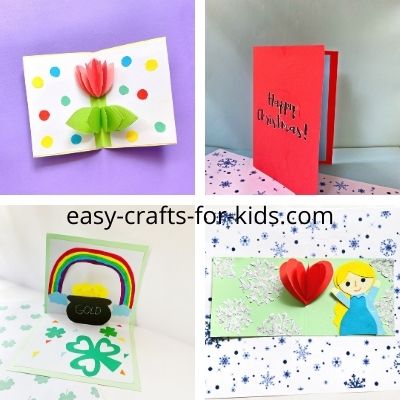 In the last six months I have started making 3D cards or pop up cards with my kids! We have had so much fun and lots of people have asked me how do you make a pop up card?
Everyone seems to think it is extremely difficult and while they like the look of the final result they do not try to make their own.
Well my step by step tutorials with images help you make these from scratch. I always have a free printable template too and of course I am on hand to offer advice if you have any queries.
I thought it would be a good idea to have a post to showcase my own cool pop up cards. So far I have a Valentine card, St Patrick's Day card, Mother's Day themed card and a Christmas one.
Soon I will be adding some pop up Birthday cards and maybe a Father's Day card!
Poptastic Pop Up Cards for Every Occasion
Unique pop up cards for kids to make for every occasion. I have 3D cards featuring snowmen, Elsa, hearts and flowers!

Is there anything else you would like to see on my 3D Cards? How about some unicorns or even some pirates for the boys?
These are simple paper crafts for kids and adults alike that less than 40 minutes to make.
Please let me know and I will try and create something special for you!
Do you like my Cool Pop Up Cards?