Spring is coming and there is no better time to craft a DIY Tulip card for kids! You can use this as a Mother's Day card or an Anniversary card! It can also be used as a Tulip Birthday card. In fact you can send it to someone to brighten up their day or send Get Well Soon greetings!
[ez-toc]
3D Tulip Cards
This beautiful card craft features an array of different colored pop up tulips. Tulips always remind me of Spring and the fact that brighter sunnier days are on their way!!
They are very bright colored flowers that stand out and they make a beautiful gift for someone who loves flowers! As we all know tulips come in lots of different colors and my craft reflects this.
Kids like to make cards for Mum for her Birthday and Mother's Day. A 3D Tulip card craft is the best idea as this type of paper flower never wilts and can be kept as a keepsake forever.
If you love making your own cards and want to make something similar then why not try my tulip flower pop up card
I have two kids and I know for a fact they would want to make me a different card so it is good to have a similar idea!

My tulip card process can be found below with images. Little kids can help with this craft but an adult will have to guide them. It is one of my favorite pop up card ideas.
How to Make A Tulip Birthday Card or Mother's Day Card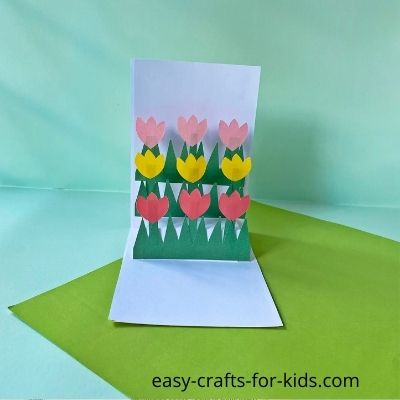 DIY Tulip Card for Kids
This DIY Tulip Card for Kids is the perfect card to make for Mother's Day or for someone with a Spring Birthday. Free template and instructions
Materials
Cardstock Papers.
Craft Papers.
Pencil.
Ruler.
Scissors.
Glue.
Instructions
Step 1:
Cut out the tulips, stems and bushes from the PDF templates. I have used two shades of pink and yellow for the tulips. You can use whatever colors you wish.
Step 2:
Glue the tulip's stems to the bushes.
Step 3:
Glue the tulips onto the stems.
Step 4:
Prepare your card.
Step 5:
Fold the card in half.

And, draw the outlines on the closed end of the card according to the "Card Template".
Step 6:
Cut along the Vertical lines and make a horizontal fold to make a crease line.
Step 7:
Use your finger to push the socket inwards the card.
Step 8:
Then, again use the "card template" to draw the next vertical lines.
Step 9:
Cut along the vertical lines (these cuts should be smaller than the previous cuts), and make a horizontal crease.
Step 10:
Repeat "Step: 8" on the other side of the card as well.
Step 11:
Fold the sockets inwards the card.
Step 12:
When you open your card you will discover the pop-up sockets. You can see what they should look like below.
Step 13:
Start gluing the flowers on the pop-up sockets as shown.
Step 14:
Glue the 3 rows of flowers on the sockets to finish your 3d flower card.
You can write your own greeting on the front of the card and a message inside.
Please tell me what occasion you used your card for?! It can be used for almost anything!
Why not combine this with some of my other Spring flower crafts for children
3D Tulip Template Printable Free
You can find my free printable templates below to help you recreate the 3D Tulips on this card:-
Tulip Flower Pop Up Card Template
Will you try DIY Tulip Card for Kids?
Hi there, I'm Laura an avid kids crafter with two little ones of my own to keep entertained! I have been doing kids crafts since 2018! Here at Easy Crafts for Kids you can find seasonal crafts for all age groups, as well as drawing tutorials, coloring pages and some other fun printables!