Now that Spring is sprung there is no better time to do some of my beautiful flower crafts for kids! There is something for all age groups from toddler right up to older kids.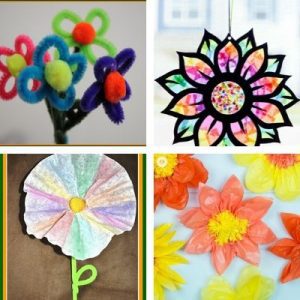 Flowers are very pretty to look at so they are a firm favorite craft idea for both of my kids!
We make them from paper, coffee filters, pipe cleaners, basically any craft material we can get our hands on. We like to draw and paint them too.
There are so many different types of flowers to make, you will never run out of ideas!
How about making a poppy for Remembrance Day and some daffodils for Spring!
15+ Beautiful Flower Crafts for Kids
These beautiful flower crafts for kids will keep children entertained during Spring and Summer.

These can be used as gifts or home décor! In some cases they can even be stuck onto a card.
Can you think of anymore flower crafts for children? Why not show me in your creations in the comments.
Do you like these Beautiful Flower Crafts for Kids?