Fun Spring crafts are an instant hit with kids! We have an amazing freebie program to share with you from our friends at Labeley.
Kids generally love crafting. They also love spring from the obvious reasons: nature is bursting back into life and the long, dark winter months are over.
As the days get longer and it starts to feel warmer, animals come out of their winter sleep, bird song reaches its peak and everything comes up fresh in the garden. Flowers blossom in colorful celebration and bumblebees buzz around in search of flowers.
Spring means sun, butterflies, flowers, birds and new life in general, whilst for kids it means more outdoor time, picnics, hikes, playing baseball and enjoying the sight, sound and colors. It is certainly the best time of the year to be a kid.
However, spring also meansspring showers. Hence, why not combine this love for crafting and spring and keep the little hands busywith fun crafting activities until the rainy days pass?
Here are some ideas for fun and exciting spring crafting projects to get kids' creative juices flowing. Forexample, spring themed notebook and pencil stickers, a spring wreath, garland,personalized spring gift tags, printable spring games and so on. If you nowwonder how to create awesome crafts and spring decorations, let me introduce aquick and easy tool called Labeley.
Labeley is a free online labelmaker for creating all sorts of custom labels, and most notably kids stickersand printables. The tool will definitely come in super handy in many of springcrafting projects.
How to Use Labeley:
Visit Labeley Kids directly and start designing immediately by selecting one of numerous pre-designed label shapes.
Labeley also provides many free pre-designed background schemes, graphics and borders. You can play with all of these elements as much as you want until you're satisfied with your printable design.
Also, you can use the Text icon and add text to your creation in any color you want. To make you text communicate your message visually, play with many available fonts and choose the one that speaks best what you want to say.
The last, but not the least feature that deserves highlighting is the Upload option. It allows you to upload any image from your computer and create completely personalized kids stickers, labels and cards.
How to save and download your designs?
Once you're design is complete and you're ready to download it, click on the Save Label button and your label will appear on the left side of the screen.
You can now download it by right clicking on it and choosing the Save as option.
Practical Ideas for Creating Fun Spring Crafts & Activities with Labeley
Labeley allows you to create asmany designs as you like, print them out and plan many crafting activities foryour kids. Or, since Labeley is very easy-to-use tool, you can get your kids tocreate their own spring stickers.
Labeley includes many spring graphics (birds,bears, dogs, squirrels, fruit, etc.) that your kids will love to add to theirspring stickers.
Instead of classic springwreath, you can ask your kids to prepare cards with lovable spring notes,secure them with colorful ribbons and hang them on the wreath as decorationornaments.
Another idea is to make a banner or a garland. Simply create labelswith some cheerful notes, print them out, get your kiddos to attach them to astring or rope and hang the banner above the door, or anywhere else in thehouse.
You can also use Labeley to create fun spring games for theyoungsters.
Just choose some of the free graphics and place them on the leftside of the label while on the right side you can write a name for each object.
Then print a few samples of the label design and hand them over to thechildren.
They would need to draw a line from each object on the left side tothe matching word on the right.
And for the winner who finishes this gamefirst, you can prepare a spring treat.
As already mentioned, spring provides so many opportunities to be creative. Give Labeley a spin and enjoy this year's fun spring crafts with your kids. It's fun and easy!
More Fun Spring Crafts for Kids
Our Crafty Critters have a ton more fun spring crafts for kids.
Now only do we offer a wide variety of spring crafts, like the ones to the left, we also have a bundle of spring printables.

These spring printables can be a great addition to this new Labeley program you've just learned about!

Learn More about our Spring Printables
Easy Crafts for Kids is social too! Be sure to join us and keep up to date on what the Crafty Critters are up to: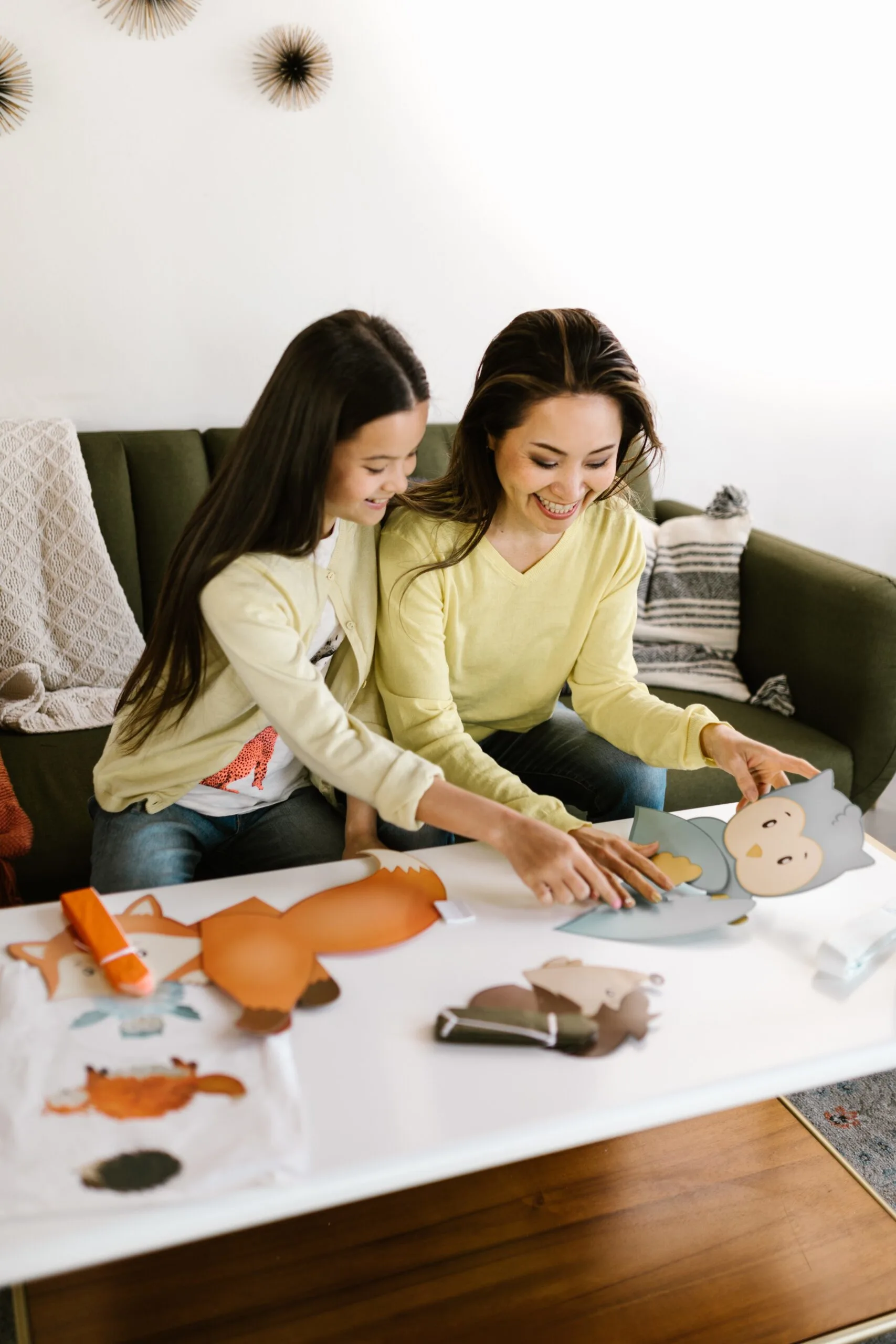 Hi there, I'm Laura an avid kids crafter with two little ones of my own to keep entertained! I have been doing kids crafts since 2018! Here at Easy Crafts for Kids you can find seasonal crafts for all age groups, as well as drawing tutorials, coloring pages and some other fun printables!