Our clown rock painting ideas for summer will help to give you a ton of great ideas for activities and crafts to do with the kids during the holiday.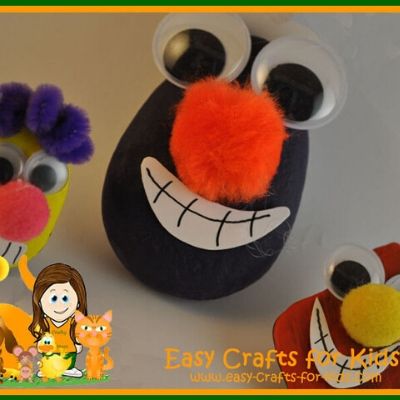 There will be rainy days this summer, and also some days that are just too hot to be outside – we have crafts to help you keep those days fun and exciting as well.
We also want to be able to share some summer crafts that can be done outside like these beautiful rock painting ideas! I have also flower painted rocks which I created using my fingers. I also have completed a fish rock painting too.
This below summer craft is a great one!
You can spend sometime on a walk together – and collect some rocks… It is great for physical and mental well being!
Then come back to the backyard or picnic table and make some clown rocks!
More Great Kids Crafts for Summer!!
Clown Rock Painting Ideas
These kids crafts for summer begin with a family hike, through an area they will likely find some nice round rocks!
Not only do you get some great quality time, they get to use nature to create summer craft fun.
What You Will Need:
Rocks, of all shapes and sizes, Paint, various colors, Paint brushes, Googly eyes, Pom poms, White paper, Black Marker, Glue
Age Range:
All ages (supervision when cutting for the younger ones)
Time to Complete:
Approximately 30 minutes (plus drying time)
Step #1:
Decide how many clown rocks you wish to make, and also choose what colors. Paint both sides of the rock.
You will need to allow them to dry and likely add a coat or two so the color is even.
Step #2:
Get out the googly eyes, pom poms and pipecleaners. Now we are going to plan and create our clown faces.
While you wait for the rocks to dry, set out how you want each face to look.
Once your rocks are dry glue your faces onto the rocks and you have a hilarious group of clown rocks to decorate with!
As they are not really keen on rain and weather, these clown rocks are a great decoration for mom's indoor plants.
Print This Craft & Many More – Crafty Critters: Crafts to Go!"
We've made our site "to go"! No internet? No problem, we've got 100 crafts to go in a downloadable ebook!
Our best crafts, formatted for perfect one page printing or easy reading on a tablet.
Learn more & get your copy today! Crafty Critters: Crafts to Go
Easy Crafts for Kids is social too! Be sure to join us and keep up to date on what the Crafty Critters are up to

Do you like these Clown Rock Painting Ideas?