Who wants a great way to remember the life cycle of dolphin?! Well I have the perfect idea, why not wear it on your head.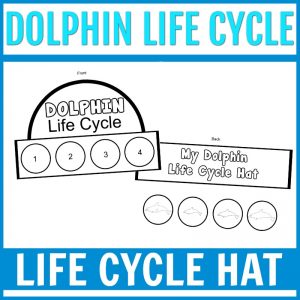 Ocean animals and sea life are always popular topics to talk about during the hot Summer months when we frequent our local beaches.
My children love learning about different creatures and I always do lots of ocean crafts for kids during this time.
I think talking about Mummy and baby animals is always great for kids, and mine are always curious about how babies come about.
Naturally this presents an opportunity to talk about life cycles and Mummy dolphin becomes pregnant and gives Birth to a baby dolphin, known as a calf.
Like all Mummies, it looks after her baby teaching it to swim and leap, before leaving it on its own to figure out the big wide ocean!
Speaking of this why not do dolphin craft with paper which I think would go along really well with this printable as it shows a pair swimming together. You can tell your children this is Mummy teaching her baby calf!
Before you go please print off my free PDF Template to help you recreate this Life Cycle of Dolphin craft.
This is a simple paper craft that is very quick to do when you use the template above. It is suitable for school age children.
Where will you wear your hat?
Why not get together with friends and make lots of these at a themed Birthday party!
I have lots more great free printables for kids below
Summer Word Search Puzzles -these are great if you want to get the kids indoors out of the sun for a while
Easter Activities for Kids – coloring, word scramble and word search
Do you like this Life Cycle of Dolphin Craft?