Summer is coming and there is no better time to start doing some ocean crafts for kids! These are a great way to teach children about different ocean critters and vegetation!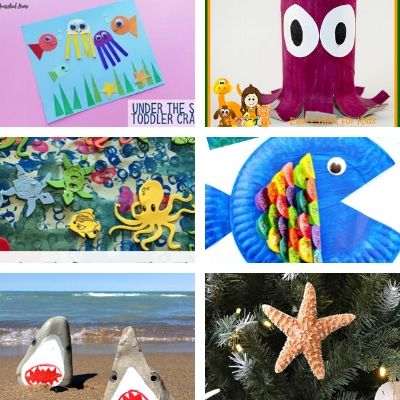 I love encouraging my kids to explore the ocean and what it entails. We live quite close to the beach so we venture there often and love collecting stuff.
These are some crafts you can do when you return with treasures.
Have the kids find and collect things like:
Shells
Sand
Starfish
Rocks
This will give some great memories of the fun days at the beach.
I always encourage them to watch the waves and think what might live there!
My ocean kids crafts are suitable from preschool right up to older kids! They get to make octopus, squid, dolphin, crab, mermaids and lots more!
We use a range of different materials and have step by step craft guides to help you create lots of cool things!
Ocean Crafts For Kids
Find great ocean crafts for kids! These are perfect for the Summer months when children are off school. These are great learning crafts which will educate your kids about sea wildlife as well as improving their fine motor skills.

I hope you found this list very comprehensive and I reckon you will agree it pretty much covers most of the animals and things we associate with the ocean.
Why not make several of these and use them for pretend play. You could have your own ocean themed play!
If you like these ocean kids crafts I am sure you will also enjoy some other beach themed summer crafts for kids:-
Pirate Crafts for Kids – learn how to make a cool pirate hat!
Do you like these Ocean Crafts for Kids?