I love the best girl crafts like this Princess craft with Merida because they keep my 4 year entertained for ages! She enjoys making the craft and then using it for pretend play afterwards!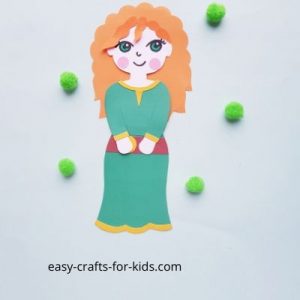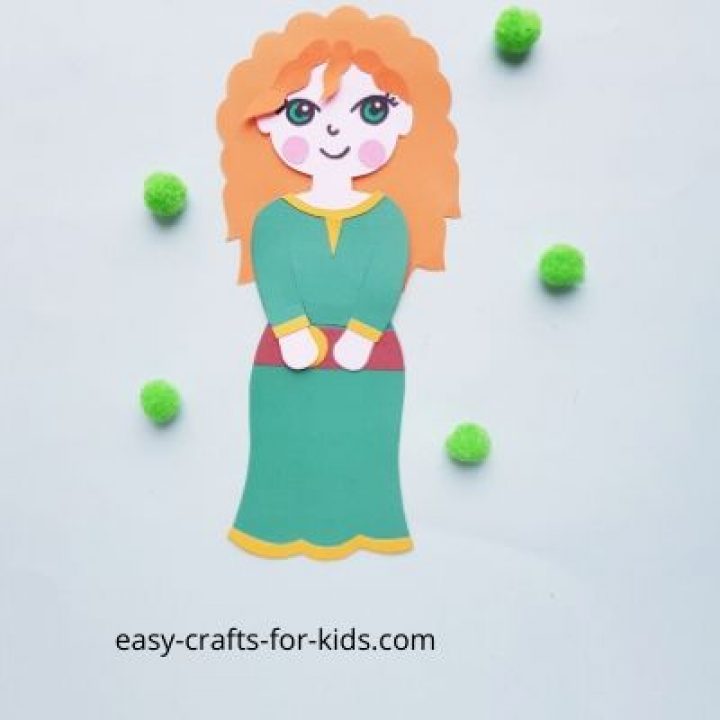 Princess Merida is from the Disney Pixar Movie Brave from way back in 2013! She is a Scottish Princess! My 4 year old loves her because she has red hair, like her favorite Mermaid, Ariel.
We love do Princess crafts here in our house!
This paper craft is easy with the use of the procedure directly below and the template at the bottom of the page!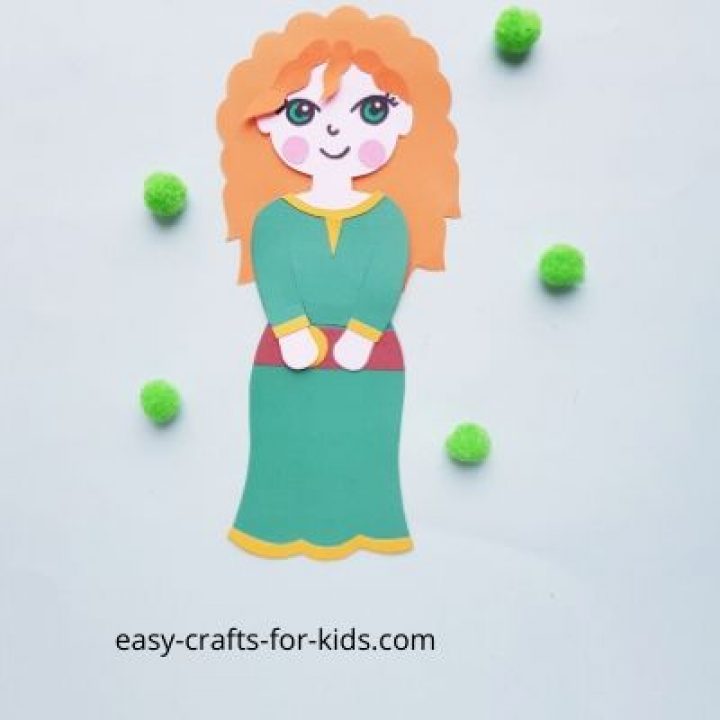 Princess Craft With Merida
This beautiful Princess Craft with Merida will be popular with girls who love to do paper crafts.
Materials
1. Colored craft papers (see picture of completed craft - two shades or orange, gold, green and red)
2. Black marker
3. Craft glue or Pritt Stick
4. Pencil
5. Scissors
Instructions
Step 1:
Print and cut out the template patterns before you start. Make sure you have your colored craft papers to hand.
Trace the hair patterns on orange paper, the top and skirt on green paper, the body base on a paper you'd like for the skin tone, rectangular piece on red, the 2 small round shapes on pink and the rest of the patterns on yellow colored craft paper.
Cut out the traced patterns as these are what you will use to create the Princess craft with Merida.
Step 2:
Glue the yellow round shape on the red rectangular shape. Glue the thin patterns along the border of the top's neck and sleeve and the skirt's bottom side.
Step 3:
Cut a slit along the dash lines of the hair.
Step 4:
Insert the top end of the head through the slit from the bottom side. Apply glue to fix the hair with the head.
Step 5:
Glue the rest of the hair patterns to complete the hair craft.
Step 6:
Attach the hand cutouts on the open ends of the sleeves. Attach the brown belt along the top side of the skirt.
Step 7:
Glue the top with the skirt by overlapping both patterns slightly.
Step 8:
Place the paper outfit on the body base and glue them together. Use markers to draw the eyes, nose and other features of the paper Merida doll.
More Princess Crafts for Kids
Disney Frozen Crafts – a great selection of Elsa, Anna and Olaf crafts
Princess Mulan Craft With Paper – beautiful Princess craft
Princess Paper Bag Craft – You can turn a bag into a paper puppet
Popsicle Stick Puppets – make a Princess puppet
Disney Princess Merida Brave Deluxe Girls' Costume

Disney Princess Merida Collectible Doll -Toy for 3 Year Olds & Up

Merida Bracelet Our Fate Lives Within us Bracelet

Do you like this Princess Craft with Merida?