This easy Llama craft with popsicle sticks comes with free tutorial and template to help children of all ages make their own pet Llama.
Animal popsicle stick crafts for kids are so much fun and easy to make! You can make almost any animal you wish using craft patterns. One of my favorites is my Popsicle Stick reindeer.
In future I plan to make a flamingo and and maybe a panda as my children love these animals!
My easy popsicle stick craft procedure and craft template will help little kids alongside an adult's help create an adorable Llama. The hardest thing is picking a Llama name? How about Larry or Lauren!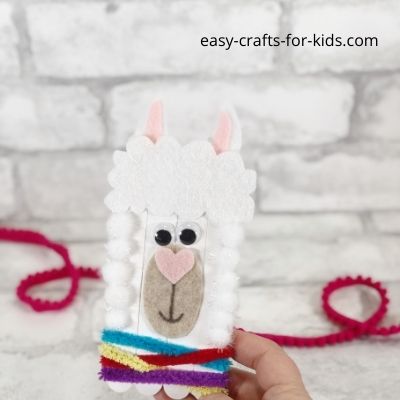 Llama Craft with Popsicle Sticks
This llama craft with popsicle sticks is super easy for kids to make using my free step by step instructions.
Materials
Craft Sticks, Jumbo – Dollar Store
White Tinsel Pom Poms– Dollar Store
Wiggle Eyes – Dollar Store
Chenille Stems – Dollar Store
Iridescent Glitter Glue – Dollar Store
Acrylic Craft Paint – White
Craft Felt – Tan, White, Pink
Black Marker – Dollar Store
Glue Gun and Glue Sticks
Scissors
Instructions
STEP ONE

Gather all supplies. To create llama, line up four jumbo craft sticks on your work surface.

Using scissors, trim additional jumbo craft sticks to the width of the llama and attach with a glue gun and glue sticks. An adult will have to help kids complete this stage.

STEP TWO

Paint front and sides of llama with white acrylic craft paint. Set aside to dry and apply a second coat, if necessary.
STEP THREE

Download, print, and cut out the CRAFT STICK LLAMA PATTERNS template.

Using a marker, trace the muzzle pattern onto tan felt. Trace hair and large ear patterns onto white felt and trace the nose and small ear patterns onto pink felt.

Cut out all shapes with scissors, making sure to cut inside the traced lines for a clean, finished project.

STEP FOUR

Glue the pink felt nose to the tan felt muzzle and attach to the llama. Draw the mouth onto the muzzle with a black marker. Stick two wiggle eyes just above the nose.

Attach the pink ears to the white ears with a glue gun and glue sticks. Glue the llama's hair to the top.

Flip the llama over and glue the ears to the top right and left sides. You can use liquid craft glue for this project, but you will have to wait for it to dry.
STEP FIVE

Randomly wrap the red, yellow, blue, and purple chenille stems around the base of the llama. Secure with a glue gun and glue sticks, and then trim any excess with scissors.
STEP SIX

Attach small white tinsel pom poms down the right and left sides of the llama with a glue gun and glue sticks. Finish by swirling iridescent glitter glue in the llama's hair for some extra sparkle.

What will you do with your cute Llama craft for kids? You could attach a lollipop stick on the back and use it as a puppet for story telling.
You could make a family of Llama and play pretend zoo. Why not do some of my other animal crafts alongside this one and have a variety of animals.
Please print this free PDF Template to help you complete this easy craft:-
Do you like this Llama Craft with Popsicle Sticks?
Hi there, I'm Laura an avid kids crafter with two little ones of my own to keep entertained! I have been doing kids crafts since 2018! Here at Easy Crafts for Kids you can find seasonal crafts for all age groups, as well as drawing tutorials, coloring pages and some other fun printables!