My how to make easy paper flower bouquet craft is perfect for Spring and Summer! Why not let little kids make this and gift it to Mum instead of a real bunch of flowers!
This craft bouquet of flowers will never wilt and I can bet Mum will keep them forever as a keepsake!
You can make these multicolored or keep them in a single color, whichever you prefer.
Flower Bouquet Paper
Little kids love doing easy crafts, especially ones they can gift to Mum. My children have made various adorable handprint crafts at school for me.
They have also made cute pop up cards which I will treasure forever.
One of the latest things they have made for me is this simple bouquet complete with paper flowers.
I love it because it is something I can keep as opposed to real flowers which never last very long in my house!
My step by step craft process will show you how to make this paper bouquet for Mum.
Younger kids will need some help with this but older kids should be able to follow the instructions themselves.
If you like this you may also wish to consider my long list of easy flower crafts for children!
How to Make Paper Flower Bouquet Step by Step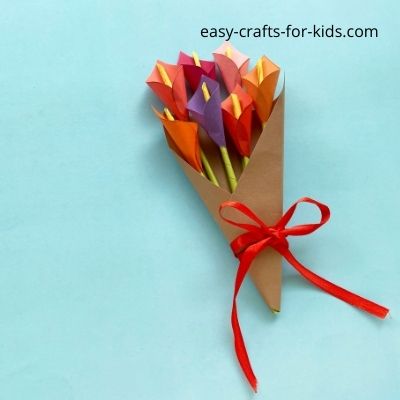 Paper Flower Bouquet Craft
Find out how to make my paper flower bouquet craft for kids this Spring. Perfect Mother's Day craft too!
Materials
Cardstock paper.
Craft papers.
Pencil.
Ruler.
Scissors.
Glue.
Ribbon.
Instructions
Step 1:
Cut out the petals from colourful craft papers using the PDF templates.
Step 2:
Gently roll the two sides of the petals.
Step 3:
Then, glue the two sides of the petals together to create the flower.
Step 4:
Similarly, make the rest of the flowers. They should look as below.
Step 5:
Cut out a long rectangular green craft paper for the flower's stem.
Step 6:
Start rolling the paper strip diagonally from a corner.
Step 7:
Roll it into a thin tight stick. Apply glue onto the end to secure it.
Step 8:
Then, roll and glue a yellow craft paper on top of the green stick for the flower's pedicel.
Step 9:
Put the flower through the stem and apply glue to join it on top of the stem.
Step 10:
Similarly, make the rest of the flowers.
Step 11:
Cut out a brown wrapping paper. Make two diagonal creases on the wrapping paper according to the green lines on the templates.
Step 12:
Bring the two sides of the wrapper together and overlap them with each other. Apply glue to secure it.
Step 13:
Place the flowers inside the wrapper.
Step 14:
To add a little finishing touch tie a ribbon on the wrapper.

You can make as many bunches of these as you wish.
How about making some bunches the same color. A bunch of red roses sounds good for Valentine's Day.
Next up I will be making a paper daffodil bouquet which you can also bunch together and give to Mum or a friend!
If you like Mother's Day flower crafts you may also wish to make some of my others:-
Flower Pop up Card – perfect greeting card idea
Pipe Cleaner Flower Bouquet – great flower craft to accompany this one
Toilet Paper Roll Flower Vase -perfect for putting your flower crafts inside. Great for showing Mum you care at any time of the year
My Paper flower bouquet craft template will help you make the individual flowers:-
Will you make this Paper Flower Bouquet?
Hi there, I'm Laura an avid kids crafter with two little ones of my own to keep entertained! I have been doing kids crafts since 2018! Here at Easy Crafts for Kids you can find seasonal crafts for all age groups, as well as drawing tutorials, coloring pages and some other fun printables!