Now that Spring has sprung it is the best time to do my paper plate gardening craft with moving bee and butterfly! it's just like a real garden with a buzz of activity!
Who says you have to be outdoors to do some gardening? Not me. Let your kids have some gardening fun with this adorable paper plate craft for kids!
This is an easy craft which requires a few common craft supplies. It lets kids make a pretend garden with some grass, flowers, a moving bee and a butterfly. Butterflies are attracted to brightly colored flowers and bees will be in search of pollen!
We attach a popsicle stick to both the bee and butterfly so that children can move them about as if they are flying through the air! Kids love these sorts of activities.
I love crafts with moving parts because it turns crafting into play for children! My outer space paper plate craft has movable parts and it is a huge hit with my readers!
This is going down as one of my top gardening crafts for kids
Please watch my video below to see how great the completed craft is. You can find my step by step process with images below.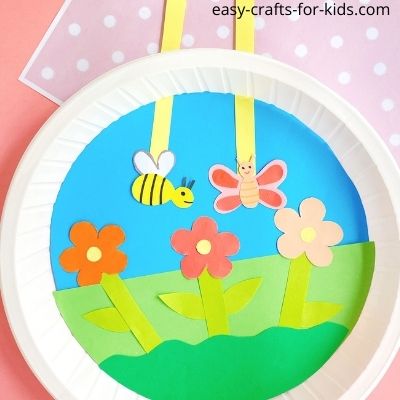 Paper Plate Gardening Craft with Moving Bee and Butterfly
This Paper Plate Gardening Craft with Moving Bee and Butterfly encourages creativity and pretend play also! Perfect for kids this Summer.
Materials
1. Paper plate.
2. Colourful craft papers.
3. Pencil
4. Ruler.
5. Scissors.
6 Glue
Instructions
Bee Process:


1. Cut out the pieces for the bee using the PDF templates.

2. Use marker pens to add black stripes on the bee's body, and use a grey marker to outline the wings.
3. Then glue the wings on the back of the bee's body. After this step glue the antennas on the bee's head.

Butterfly process:


1. Cut out the pieces for the butterfly using the PDF template.
2. Glue the spots on the butterfly's wings.
3. Then, glue the butterfly's body in the middle of the wings.

Flower Process:


1. Use the PDF templates to trace and cut out the pieces for the flower.

2. Glue the leaves with the stem, and then glue the stigma on the middle of the flower.
3. Then glue the flower with the stem.
Paper Plate Process:

1. Take a pair of scissors or an x-acto knife. Make a 3-4 inches slit around the edge of the paper plate.
2. Cut out the sky and grasses for the paper plate using colourful craft paper.

3. Place the grasses and sky on the paper plate.
4. Now, place the flowers inside the grass.

5. Glue long card stock strips on the back of the bee and butterfly then slide them through the slit on the paper plate. Alternatively you can use popsicle sticks instead of card stock.
Can you think of anything else you might want to add to your pretty gardening craft? How about a sunshine in the sky or a wiggly worm in the grass?
This is one of my favorite butterfly crafts for kids because it is interactive!
Before you go please remember to print off your free PDF template to help you complete this paper plate gardening craft for kids
Do you like my Paper Plate Gardening Craft?
Hi there, I'm Laura an avid kids crafter with two little ones of my own to keep entertained! I have been doing kids crafts since 2018! Here at Easy Crafts for Kids you can find seasonal crafts for all age groups, as well as drawing tutorials, coloring pages and some other fun printables!