Now that we are approaching the end of Spring there is no better time to start some of my easy Gardening crafts for kids.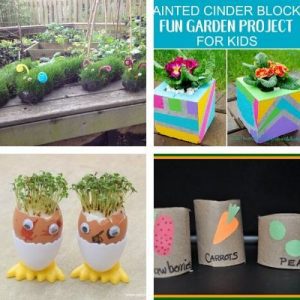 These are a good opportunity to get your children outdoors as much as possible. I love time outdoors as it is so important for both physical and mental wellbeing.
They help kids learn about the importance of gardening and how we need fruit and vegetables for nutrition.
Encouraging kids to make these gardening crafts will help them develop a healthy association with fruit and vegetables.
It will also develop their love of nature and flowers, and provide them with an introduction to different ecosystems.
I have lots of different activities and crafts below from my favorite bloggers! You can find flower pot crafts, rock painting ideas, seed starters and planters amongst more!
Easy Gardening Crafts for Kids
These easy gardening crafts will keep kids busy outdoors during Spring and Summer

These easy gardening crafts for kids can be used as gifts for both Mother's Day and Father's Days, as well as Spring and Summer Birthdays.
They are great for making memories and giving your children a positive outdoor experience.
Do you like these Easy Gardening Crafts for Kids?