Our monster crafts for kids will bring one of Disney/Pixar's greatest movies to your crafting table! Recently there was a sequel (or call it prequel) to the Monsters Inc movie – Monsters University. Here's a fun craft to make your very own mini Mike Wazowski.
Taking a favorite movie and turning it into a craft makes it that much more fun – especially if the favorite character is the one you are making.
Mike Wazowski is one of the two main characters for Monsters Inc, and he is cute for a scary monster.
If you like this sort of thing you might be interested in some more of my monster crafts for kids
Mini Mike Wazowski
Follow these monster crafts for kids instructions to make your own version of the Monsters Inc star.
We have used hot glue to make this, it does speed up the process but it is super easy to do with regular glue too. You will just have to hold the stuff together for a minute while it sets.
Craft Supplies: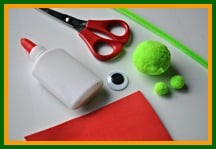 Large pom pom (green)
2 small pom poms (green)
1 large googly eye
Green pipe cleaner
Red craft foam
Glue
Scissors
Step #1:

Cut your pipe cleaner in half. Set one half aside for his legs.

With the other half, bend it into a U shape. At each end bend three fingers into the end.

Set this aside for a moment.

Step #2:

Cut a mouth shape out of the red craft foam.

Make it into a half moon shape.

Step #3:

With the second half of your pipe cleaner, cut it in half again.

Glue a small green pom pom to the bottom of each one. Bend the tops slightly..

Step #4:

Twist the bent ends of each leg to the center of the arms you had set aside.

Space the two legs slightly apart.

Step #5:

Glue the arms and legs to the large green pom pom.

Step #6

Glue your large googly eye, and half moon mouth to the center of the large green pom pom.

Set him aside to dry up.
Look at our monster crafts for kids! We've made a mini Mike Wazowski!
Though I don't think this Mike is going to be scaring the children!
Print This Craft & Many More – Crafty Critters: Crafts to Go!"
We've made our site "to go"! No internet? No problem, we've got 100 crafts to go in a downloadable ebook!
Our best crafts, formatted for perfect one page printing or easy reading on a tablet.
Learn more & get your copy today! Crafty Critters: Crafts to Go
Monster Crafts For Kids From Our Visiting Crafty Critters
One of our visiting Crafty Critters, Michaëla, has made a mine Mike of her own. He turned out great! She said she loved the idea and he was so easy to make.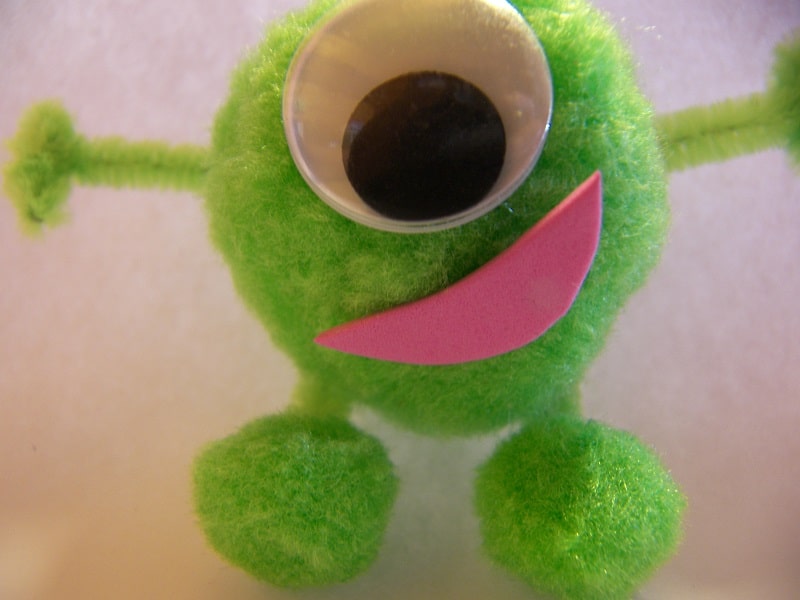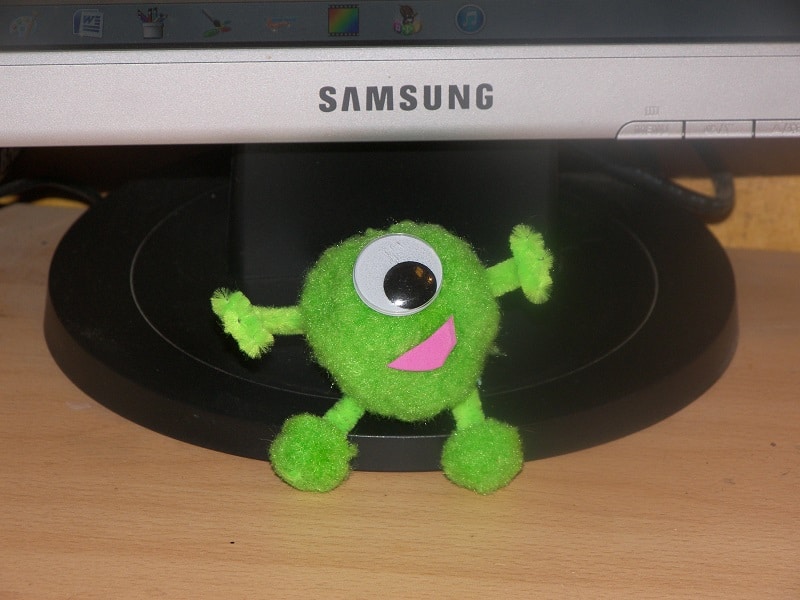 Do you like this Mini Mike Wazowski Monster Crafts for Kids?