When Halloween comes around I love to make monster crafts for kids to keep everyone happy especially my son. I have also taught my kids that not all monsters are scary and some are happy and friendly!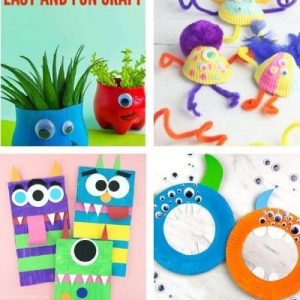 When we think of monsters in our house we think of large scary creatures who make loud grumbling noises and who chase after you!
Fortunately the ones we have made do not move and can actually be fun to play with after you are finished making them!
These monster craft ideas present an opportunity to teach kids about textures, shapes and colors! These are all great for sensory stimulation.
There are ideas for preschool right up to older kids and can be made all year long, even on Valentine's Day as monsters can be cute and cuddly as well as scary!
Monster Crafts for Kids
These monster crafts for kids will give everyone a fright this Halloween or at any time of the year! However not all monsters are scary, and we have some lovable friendly ones here too!

I have no doubt if you like these you will also be interested in my easy spider crafts for kids and my Halloween crafts for kids.
Ways to ensure you make Cute Monster Crafts
If you do not want to make scary monsters and want to keep them cute and adorable instead use bright colors when crafting! Use pinks, oranges and reds!
More Scary Halloween Craft Ideas
Make your own Frankenstein craft with toilet paper rolls
How about a spooky ghost craft with coffee filters
Witches are like female monsters, and this wicked witch bookmark will make sure you do all your school reading!
Have you anymore Monster crafts for kids?