With Christmas coming I am doing as many themed activities with my children as possible! One of our favorites is this cute paper Gingerbread House craft!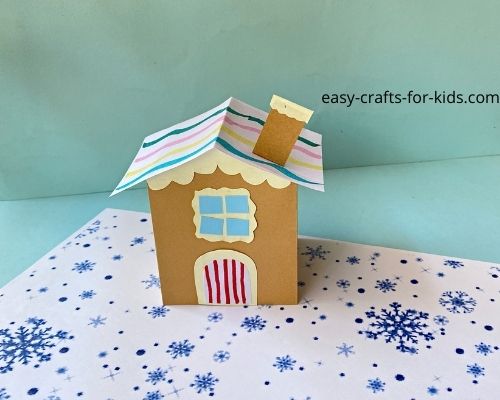 If you love this you will want to try out my Gingerbread House Craft with popsicle sticks
I love paper crafts for kids and this one will be such a hit. You can easily display it around your house; I think you will agree it makes beautiful Christmas decor.
This is so easy to make using my template. You can decorate the house however you wish. You can use straws as candy canes and add sequins and red glitter for some sparkle.
I have an easy tutorial below on how to complete this step by step.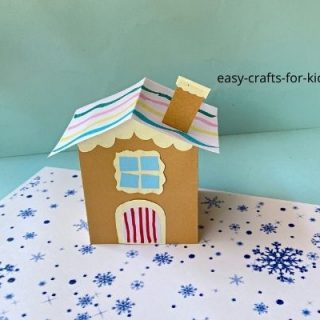 Paper Gingerbread House Craft
This paper Gingerbread House craft is one of my favorite easy crafts for kids this Christmas.
Materials
1. Brown cardstock paper.
2. Colourful craft papers.
3. Scissors.
4. Glue.
5. Pencil.
6. Colourful marker pens
Instructions
Step 1:
Cut out the house shape using the templates to get started.

Step 2:

Make creases on the house using the lines on the templates.

Step 3:

Cut out the pieces for the door and window.

Step 4:

First, glue the roof par on the top. Then join the door and window pieces together.

Step 5:

Now, glue the door on the bottom and the window on the top. Allow the glue to dry.

Step 6:

Apply glue on the small creased area.

Step 7:

Join the ends together to make the house.

Step 8:

Then cut out the roof.

Step 9:

Use colourful markers to draw wavy lines on the roof.

Step 10:

Glue the roof on top of the house.

Step 11:

Join the chimney's pieces together.

Step 12:

Finish it off by gluing the chimney on top of the roof.





Why not display it alongside some of my other easy Christmas crafts for kids.
In order to create this 3D Paper Gingerbread House you will need my free template below:-
Do you like this Paper Gingerbread House Craft?