Our easy patriotic napkin ring crafts are made from recycling a few empty paper rolls and turning them into napkin holders for your July 4th or Canada Day celebrations.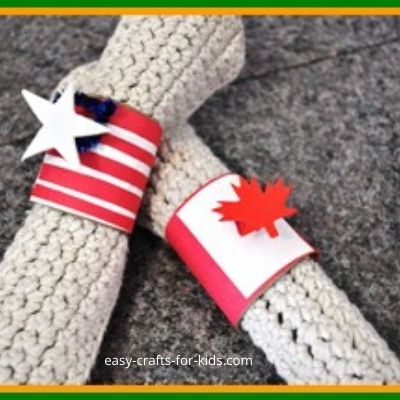 These are not only cute for decorating but they are made from empty paper rolls so we have being environmentally friendly too!
Previously I have made Santa napkin holders and a super cute pink heart Valentine napkin holder
The main steps for these napkin holders are the same. The only part that is different is designing your flags. We have created an American flag and a Canadian one for examples, but feel free to try this with any flag!
DIY Patriotic Napkin Ring Crafts
Craft Supplies:

Empty paper rolls
Construction paper
Craft foam
Pipe cleaners
Glue
Scissors

Age Range:

4 years old and up

Time to Create:

15-30 minutes
Oh, Canada Napkin Holders!
Cut a paper roll into pieces, approximately 2 inches wide.
Wrap a piece of red paper around the entire roll, glue it in place.
Cut out a white square of paper, to fit in the center of the red. Glue it in place.
Cut out two thin strips of red paper. Create an accordion by folding them into a spring overlapping each other. We teach how to make these springs here.
Cut out a maple leaf from red craft foam.
Glue the spring you made to the center of the white square.
Glue the maple leaf onto the spring.
Fourth of July Napkin Rings
Cut a paper roll into pieces, approximately 2 inches wide.
Wrap a strip of white paper around the paper roll.
Cut out thin strips of red paper, as many as will fill the tube – we needed 5.
Glue these strips around the tube.
Cut a piece of blue pipe cleaner and bend it into a square. Glue this in the top left corner of your flag.
Cut a white star out of craft foam.
Create another spring (like in the Canadian example or click here to learn)
Glue the spring into the center of the blue pipe cleaner and the star to the top of the spring.
Print This Craft & Many More – Crafty Critters: Crafts to Go!"
We've made our site "to go"! No internet? No problem, we've got 100 crafts to go in a downloadable ebook!
Our best crafts, formatted for perfect one page printing or easy reading on a tablet.
Learn more & get your copy today! Crafty Critters: Crafts to Go
More Easy Patriotic Crafts Like This One:
| | | |
| --- | --- | --- |
| Turn ordinary paper cups into country pride with this craft! Great way to decorate. | Whimsical and fun way to decorate to show pride for your country! | A fun and cost-effective way to decorate for your July 4th or Canada Day celebration! |
Our Crafty Critters had a ton of fun making these easy patriotic crafts but they have also made up some great patriotic activities for kids to keep the children entertained and have them learn about their country.
Easy Crafts for Kids is social too! Be sure to join us and keep up to date on what the Crafty Critters are up to:

Do you like these Patriotic Napkin Ring Crafts?