Hands up who wants to make their own Peter Rabbit Craft? He is so popular he has been in 2 great movies, and all the kids love him!
If you have been anywhere near a cinema recently chances are you have seen the trailer for Peter Rabbit 2: The Runaway (or maybe you have been lucky enough to see the movie).
It is already live here in the UK and comes to USA movie theatres on June 11th (get counting down the days)!
I am still trying to convince my husband to take the kids and I but we are waiting for the next wet day; it seems a waste to go on a sunny afternoon as we rarely get any decent weather where we live. I watched the first movie and my 5 year old loved it, so I am sure they will want to watch the second as much as me!
Bunny rabbits are not just for Easter however, they are for all year long. If you do want an Easter themed one I have an adorable Toilet Paper Roll Bunny for you to make! Why not make it as well as Peter and see which one your kids prefer. Good way to get them excited for watching the movie!
After watching the new movie though every kid want their own mini version of Peter not any old rabbit. The great news is that I can show you how to make Peter Rabbit from a used toilet paper roll and some other basic craft materials!
If you want a sneak preview watch the video below before you start making him!
Find out how to make Peter Rabbit below with my step by step craft process.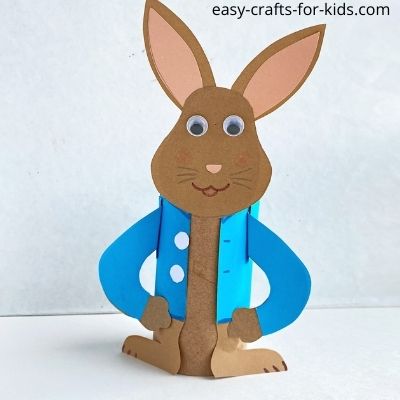 Peter Rabbit Toilet Paper Roll Craft
This Peter Rabbit Toilet Paper Roll craft will please all fans of Peter's new movie!
Materials
Tissue paper Roll.
Colourful Craft Papers.
Pencil.
Ruler.
Scissors.
Paper Glue.
Colourful Marker Pens.
Instructions
Step 1;
Gather All the listed supplies from above.

Use the PDF templates to trace the Peter rabbit's body pieces. Then safely use a pair of scissors to cut out the pieces from craft papers. This is a good test of kid's hand eye coordination and fine motor skills.
Step 2:
Glue the smaller ear-pieces inside the larger ones.

Then cut out the sleeves for the jacket using blue craft papers, and glue them over the rabbit's forelegs.
Step 3:
Glue the ears on the top part of the rabbit's head.

Then cut out the rectangular piece from the templates using the same blue craft papers as the sleeves.
Step 4:
Wrap the blue craft paper around the top part of the tissue paper roll.

Use glue to secure it.
Step 5:
Cut out two circular white papers and glue them on the jacket as buttons.

Then, use a blue marker pen to draw some details on the jacket.
Step 6:
Glue the hands on both sides of the tissue paper roll.
Step 7:
Glue two googly eyes on the rabbit's face

Use colourful marker pens to draw definitions like smile, whiskers etc. on the rabbit's face.
Step 8:
Then glue the feet on the bottom part of the tissue paper roll.

And finally, finish it off by gluing the head on top.
Would you like to see any other Peter Rabbit crafts on my website? How about Benjamin or Cotton Tail?
You could use the same templates as I have for Peter and just different colors of craft paper for his friends. Would you like Mr Tod? Guess WHAT I have great news my new Peter Rabbit puppets are ready to make and use!
I have other toilet roll puppets for you to explore on my site also. How about a Firefighter craft with paper roll.
Please remember to print my free PDF Template
If you like movie crafts why not make my Raya and the Last Dragon craft
I also have some cool toilet paper roll crafts featuring Fireman Sam and Care Bears for those that are fans.
Do you like my Peter Rabbit Toilet Paper Roll Craft?
Hi there, I'm Laura an avid kids crafter with two little ones of my own to keep entertained! I have been doing kids crafts since 2018! Here at Easy Crafts for Kids you can find seasonal crafts for all age groups, as well as drawing tutorials, coloring pages and some other fun printables!