Toilet Paper Roll Easter Bunny Crafts for Kids
These toilet paper roll Easter bunny crafts for kids are another versatile crafts that can be used on a number of occasions. These cute rabbits are fun for welcoming spring, celebrating Easter or just learning about animals!
You can make a family of bunnies – make them white, brown, black or spotted! The choice is yours, the more the merrier.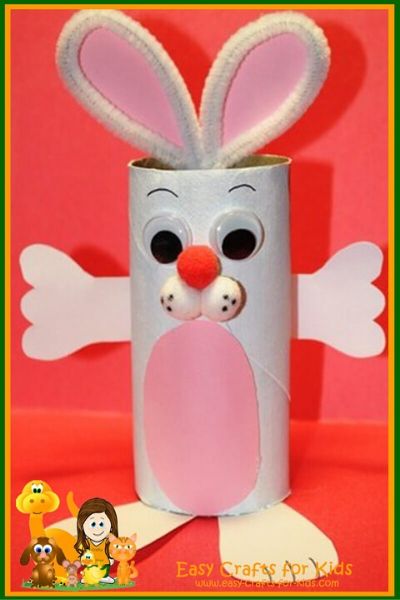 My house is coming down with spare toilet rolls as they are such a excellent craft material! I have lost count of the number of things I have made with these.
I adore Easter bunny crafts so let us get stuck into this one
How To Make an Easter Bunny From Toilet Paper Roll
Craft Supplies:
Paper roll
White paint
Paint brush
Pipe cleaner (white)
>Pom poms (white/pink)
Construction paper (white/pink)
Googly eyes
Black Marker
Scissors
Glue
Recommended Age Range:
3+ years and up
Time to Complete:
45 minutes to an hour (plus drying times)
Step #1:
Paint the entire outside of your paper roll with white paint. Set it aside to dry.
Step #2:
Bend a white pipe cleaner into ears for your bunny.This can easily be done by making a loop with each end of the pipe cleaner and twisting the ends together at the centre.
Step #3:
Trace the ears onto a piece of pink paper. Cut this out and glue it in behind the pipe cleaner to make a pink centre for your bunny ears.
Step #4:
Fold a piece of white paper in half. Cut out the shape of an arm, with a paw.
Unfold and you have a pair of arms for these bunny crafts for kids.
Step #5:
Fold another piece of white paper and cut out a rabbit foot. Be sure to leave a small edge uncut so when you unfold the paper you will have two attached feet.
Step #6
Now that your paper roll is dry, glue the feet to the bottom of the roll. Be sure to hid the back of the feet.
Step #7
Glue the arms you cut out around the centre of the paper roll. You want to glue them on the back side, so they wrap to the front (where your feet are).
Also glue a pom pom (or cotton ball) below the arms for its tail.
Step #8
Glue your rabbit ears onto the top of the paper roll, on the back side.
Step #9:
On the front, glue on goggly eyes. Below that glue on two white pom poms and a red one for your bunnies snout.
With a black marker add some eyebrows and whiskers.
Step #10:
Cut out an oval shape from pink construction paper, glue this below your bunny face for it's belly.
Now we have some adorable bunny crafts for kids! Great for Easter time, Spring time or just random animal fun!
Why not do my rabbit paper plate craft alongside this one and you will have two bunnies together!!
Print This Craft & Many More – Crafty Critters: Crafts to Go!"
We've made our site "to go"! No internet? No problem, we've got 100 crafts to go in a downloadable ebook!
Our best crafts, formatted for perfect one page printing or easy reading on a tablet.
Learn more & get your copy today! Crafty Critters: Crafts to Go
More Bunny Crafts for Kids and More:
Did you have fun making these Toilet paper roll bunny crafts for kids? Here's some more ideas for Spring, Easter and general Animal crafts:
Easter Crafts – these are an perfect accompaniment to your Paper Roll Bunny.
Easter Bunny Costume
Paper Plate Treat Basket
Kinder Duck Surprise
Rabbit Craft for Preschool – make an Easter treat cup
Toilet Paper Roll Easter Crafts
Animal Crafts
Paper Plate Frog
Squid Pencil Holder
Yarn Octopus
Will you be making a Toilet Paper Roll Easter Bunny?