Now that Spring has sprung and Summer is on the horizon there is no better time to learn how to make paper flowers craft for kids. These are so easy and make a great kid's Summer craft idea. These easy construction paper flowers for kids can be made in a variety of different colors and shapes!
[ez-toc]
Easy Construction Paper Flowers Craft
Who says we have to go outdoors to see some pretty flowers?! Not us at Easy Crafts for kids as we make lots of flower crafts indoors! My easy paper Roses are a huge hit all year long and my pop up flower card makes for a great Mother's Day or Birthday card for Mum.
I can show you how to make fabulous paper flowers which look dead fancy! These would be perfect stuck onto some cardstock for a Mother's Day card.
These are perfect for Kindergarten art projects and even preschool with some help from teachers.
Of course you can make as many of these as you wish. Why not make a brown pot shape and stick the flowers above it to make a beautiful plant craft.
I have lots of ideas for flower crafts for kids if you want similar activities
How to Make Easy Paper Flowers for Kids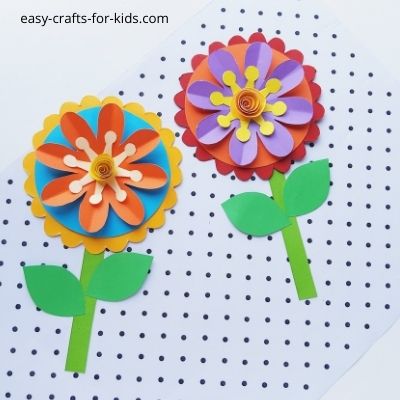 Paper Flower Craft for Kids
This easy paper flower craft for kids is the perfect indoor activity for preschool and Kindergarten kids.
Materials
1. Colored craft paper
2. Pencil
3. Scissors
4. Craft glue
Instructions
Step 1:
Select 4 or 5 different colored craft papers for this craft. Trace the template patterns on the selected craft papers and cut them out using scissors.
Step 2:
Take the spiral pattern cutout and start to roll the spiral from its outer edge.
Step 3:
Continue to roll the spiral pattern towards the center.
Step 4:
Once the rolling reaches the center allow the rolled spiral pattern to loosen up a little. Apply a drop of glue on the center to secure the spiral roll.
Step 5:

Grab the flower pattern cutout. Create crease from the tip of a petal towards the center of the flower pattern. Do the same for each petal.
Step 6:
Take the snowflake pattern cutout and glue it on the center of the creased flower pattern.
Step 7:
Glue the rolled spiral pattern on the center of the snowflake pattern. Glue the flower pattern on the circle shaped cutout. Apply a drop of glue on the scalloped border paper cutout.
Step 8:
Now place the round paper on the center of the scalloped border paper cutout.
Step 9:
Done! You can add more layers if you want, just make sure to adjust the size and pattern.
Cut out a stem and leaf patterns from green colored craft papers and attach them with the flowers.
I hope you enjoyed this simple paper flower making. As you will have noticed you can add your own spin to these and make them as easy or as intricate as you like depending on the age of the child completing the craft.
Another really easy paper flowers craft for preschoolers is my easy sunflower craft
Other Flowers Craft Ideas
Why not make lots of these in different colors. They would look dead pretty stuck on the wall. Make them sparkly by adding some sequins and glitter.
You can make flowers from virtually any craft material. I have seen adorable cupcake liner flowers, a pipe cleaner bouquet and paper plate flowers. Why not experiment with a few different materials and see what you can come up with.
Of course you can also draw using markers and paint using your handprint.
Paper Flowers Craft Template
Before you go please print off this free printable template to complete your easy paper flowers:-
Will you be trying this Paper Flowers Craft for Kids?
Hi there, I'm Laura an avid kids crafter with two little ones of my own to keep entertained! I have been doing kids crafts since 2018! Here at Easy Crafts for Kids you can find seasonal crafts for all age groups, as well as drawing tutorials, coloring pages and some other fun printables!